Mohamed Salah breaks 38-game goal record as Liverpool blow away Brighton to seal Champions League spot
Liverpool 4-0 Brighton and Hove Albion: Salah is the first player to score 32 goals in a 38-game campaign, surpassing the previous record first set by Alan Shearer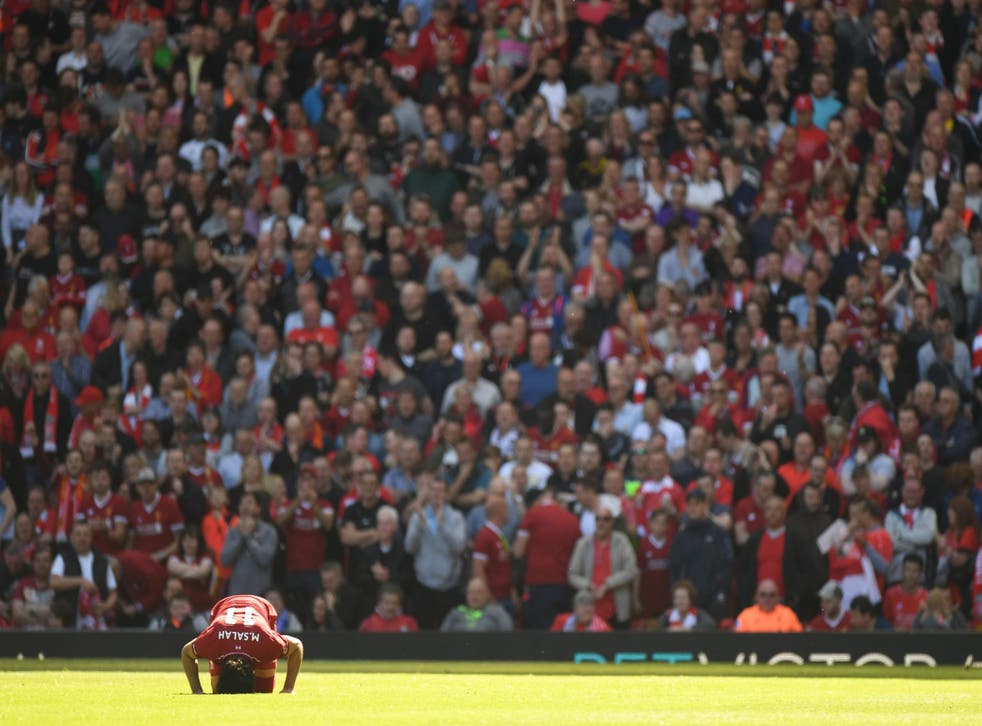 Mohamed Salah jeered by Anfield by his own supporters. There was, in fact, a touching moment after Liverpool had confirmed their victory, when Salah returned to the pitch accompanied by his three-year-old daughter, Makka, who started kicking a ball around while her dad received awards from Kenny Dalglish and conducted TV interviews.
The stadium hailed every touch and when Salah intervened, they booed. It made Salah laugh and prompted him to beat his chest in appreciation. You do not sense he wants to be anywhere but here, the place where he is realising individual fantasies. Liverpool's other players would soon join him on the traditional end of season lap of honour, yet their season is far from complete. In two weekends time, of course, we will see whether theirs and Salah's collective dreams can be realised in Kiev.
Salah's working day had involved kneeling down and blessing the turf by kissing it. Behind him, the eyes of the Kop were on one player, the one in a blood red shirt and the number eleven on his back. Salah had scored again – his 44th of an astonishing season. Liverpool were in need of an opening goal and the Egyptian had delivered it.
With Salah, it is sometimes difficult to know where to start when describing what has happened. Liverpool's win means they are guaranteed to play Champions League football again, so for Jürgen Klopp – that's the most important thing. Yet look at Salah: he broke a Premier League record, becoming the first player to score 32 goals in a 38-game campaign, surpassing the previous record set by Alan Shearer and also achieved by Luis Suárez and Cristiano Ronaldo.
Premier League final day in pictures

Show all 40
It is possible that Salah might even spend Sunday evening contemplating why he did not get closer to the golden number of 47 – the number set by Ian Rush in 1984 when his efforts in a year which concluded with European Cup glory in Rome, saw him score more times in a single season than any other player in Liverpool's history.
Rush's four at Coventry City in the third to last game helped him reach that figure. Afforded freedoms by a Brighton team that performed like they'd secured their safety ten days ago, Salah could have had a similar amount here. When he was substituted with five minutes remaining, his disappointment was clear, burying his head in his hands. To be critical of Salah, though – to be critical of Liverpool, indeed – would be harsh. Salah was a constant menace. Liverpool were not ruthless but they were energetic, convincing, utterly dominant and they did win 4-0.
This was the 14th time Liverpool had scored four or more in the season across all competitions; the second highest since its foundation, eclipsed only by the 16 times in 1895/96 – back when lots of goals was as natural a feature in football matches as breathing or sex in life.
Klopp was delighted. "Perfect," he said. "We could have scored more because we missed the better chances but I'm happy that we didn't because Brighton wouldn't have deserved that."
Klopp was being generous. The first half had been a mash of beautiful attacking chaos, only Brighton did not have it in them to join in. Liverpool should have had three penalties, two of them as obvious as you will see. Yet referee Kevin Friend did not see and twice, Shane Duffy escaped for a handball and then chopping down Salah – so did Lewis Dunk, who shoved Dominic Solanke. With a burning sense of injustice, Liverpool finally took the lead even though by the 30-minute mark, their lead could have been by as many as three open play goals anyway – and this reflected their control.
Liverpool were playing well but an advantage was established mainly because it needed someone to surge forward and attack Brighton's defence from deep. Trent Alexander-Arnold did that and in feeding Solanke – the surprise choice to replace an injured James Milner – a gap opened up for Salah. With a swipe of the left boot, Liverpool were ahead.
It was a delight to watch from there. Liverpool's play involved all styles: short passes and flicks; long passes and close controls: defenders joining the attack and attackers tracking back, helping the defence. There was crosses, corners, volleyed shots and headers. It became 2-0 when Robertson from his position far on the left reached Dejan Lovren at the back post. Thump.
The crazy thing about Salah is, he leaves you with an impression that more is possible. His unselfishness led to Solanke's first Liverpool goal. Salah could have carried on running but in releasing the forward, it allowed the 21-year-old to unleash a fierce shot past Matthew Ryan. Liverpool's fourth arrived late and again it was a first for the club, this time from left back Andrew Robertson.
For Liverpool, the attention now swings towards that trip to Ukraine and the prospect Real Madrid. Should Salah find a hat-trick there and catch Rush, surely Liverpool will be champions of Europe again and a Ballon d'Or award will follow. "The last few weeks have been really difficult for him because everyone has been telling him how brilliant he is, it has been like winning an Oscar every day," Klopp joked. "If he can carry on in Kiev, well…"
Register for free to continue reading
Registration is a free and easy way to support our truly independent journalism
By registering, you will also enjoy limited access to Premium articles, exclusive newsletters, commenting, and virtual events with our leading journalists
Already have an account? sign in
Register for free to continue reading
Registration is a free and easy way to support our truly independent journalism
By registering, you will also enjoy limited access to Premium articles, exclusive newsletters, commenting, and virtual events with our leading journalists
Already have an account? sign in
Join our new commenting forum
Join thought-provoking conversations, follow other Independent readers and see their replies