Mamadou Sakho's ups and downs lead him to a crossroads with the rouge et bleu of Crystal Palace
Beckenbauer or Ruddock? The defender has always divided opinions, but remains a talented centre-back and he showed that on his Crystal Palace debut on Saturday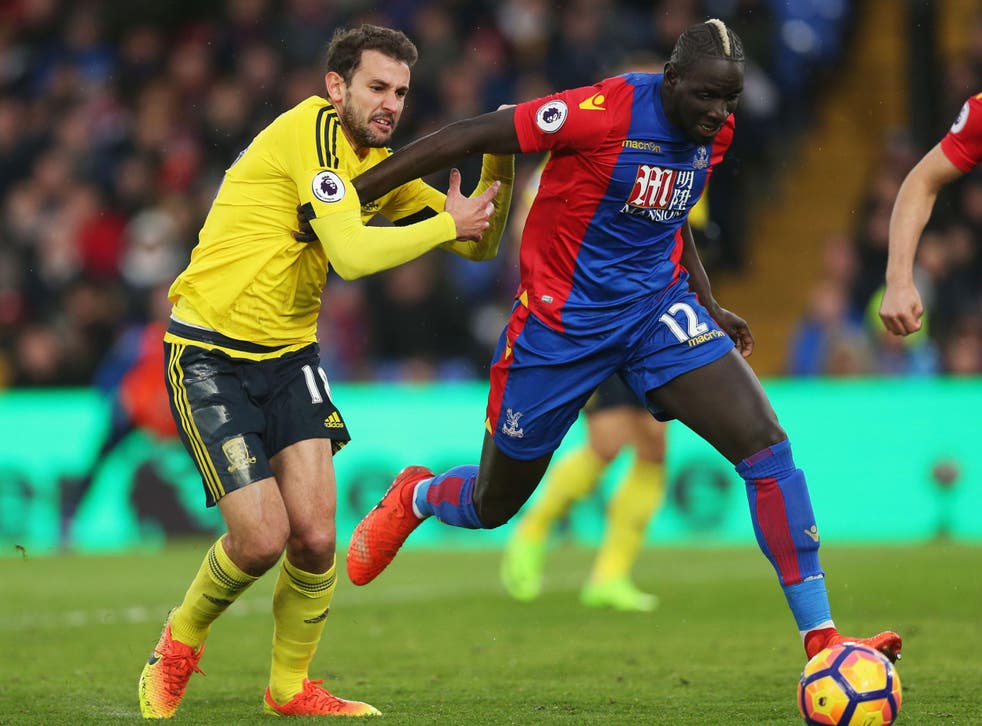 Mamadou Sakho has always been vocal about how he bleeds rouge et bleu, and having now swapped Paris Saint-Germain, his boyhood club and first love, for Crystal Palace via Liverpool, those familiar colours gripped his hulking frame once again on Saturday.
Barring a goal, Sakho could not have hoped for a better impact on his first start for Palace. The French international produced the key defensive play of the game, getting an tackle inch-perfect to prod the ball away when Christhian Stuani had seemed certain to hammer home from a couple of yards. The naked eye said it was a penalty as Stuani went down, but not that of referee Bobby Madley – who had an up-and-down afternoon at Selhurst Park but got this one as spot-on as the tackle itself.
That crucial intervention from Sakho is one moment you can point to in isolation that demonstrates his role in Palace's victory over a poor Middlesbrough side but there was, more generally, an air of authority that he brought to the Eagles' defence.
Or as Sam Allardyce had it, quality and composure:
"It's what Patrick [van Aanholt] and Mama Sakho brought to the team today, that bit more quality.
"Sakho's shown a lot of that, and a lot of composure. He played a lot of very nice, simple balls to midfield players and says 'go on, get on with it' when, perhaps before that, previously we were hurrying out a clearance or just clearing it.
"He had the composure to get the ball down and keep possession for us and that built more and more pressure on Middlesbrough."
Compared to Damien Delaney, a more blood-and-guts defender and the man Sakho ousted from the line-up, there is no comparison. For all Delaney's service to Palace, and it is considerable, he almost retired from football to take up triathlons before Dougie Freedman convinced him to give the Eagles' promotion push a go. That he has survived so long as a Premier League starter is testament to a first-class mentality and fitness levels but the arrival of a 27-year-old French international defender is the upgrade Palace needed.
Sakho comes with a far greater pedigree. He is a thoroughbred in footballing terms, a rare Parisian jewel that PSG managed to actually keep and develop, but also a divisive player.
In Paris there were great moments and he was considered a brilliant talent but, similarly, there were fall-outs, murmurs of indiscipline and comments from senior club figures about his weight.
Ultimately, most of these issues ended up following him to Liverpool where he split the fanbase, some seeing his composed play out of defence and considering him the next Beckenbauer while others regarded him more as a muscular but clumsy defender far more in the mould of Neil Ruddock.
The truth, as ever, is somewhere in between and those close to the Anfield club speak of a player who actually made very few mistakes but somehow always looked to be on the verge of one.
Sakho evidently takes some getting used to, then. And the same applies to his teammates.
There was a moment when, assuming possession in his own penalty area, the 27-year-old played a sharp pass to full-back Joel Ward. Ward, clearly expecting the ball to be launched upfield, was caught unawares and ended up hurriedly clearing for a throw-in under pressure from an attacker.
But these moments are just indicators of further integration needed into the squad, rather than anything deeper, necessarily, and Christian Benteke mentioned post-match that Sakho was assimilating nicely.
"It has gone really well," he said, "there are a lot of players who speak French. He speaks English too. He is very sociable and gets on with everyone so it is not a problem.
"He is a big boy, he has a lot of experience. He had to deal with his return and it went really well."
There is the somewhat awkward topic of 'the return' to broach, and Allardyce was keen to comment on how impressed he was with Sakho, surviving 90 minutes of football on his first club start since April.
Sakho had started Liverpool's 4-0 destruction of Everton, when he was a key part of Jurgen Klopp's side and they were in deadly form, disposing of the Toffees and Borussia Dortmund before rolling on towards Newcastle.
Then came a bolt from the blue, a suspension. Liverpool fumed but, more specifically, Klopp himself. The German felt the wind that had been gathering in their sails had been taken out somewhat by the distraction of Sakho's sanction, not to mention his subsequent absence from the team. Some feel Klopp blamed the defeat to Sevilla in the final partly on that unexpected derailment a month earlier. Sakho will almost certainly never play under this Liverpool coach again.
There is footage from the club's pre-season tour when the defender, tasked with filming a video diary at Alcatraz prison, irritates a pensive-looking Klopp who is admiring the San Francisco bay. Klopp loses his temper with the wind-ups and even needles him about turning up late for the tour. Within 48 hours Sakho had been sent home.
Fall-outs, heart-stopping moments and rugged defending appear to be part of the parcel with Mamadou Sakho.
"I feel really good," the man himself said post-match. "It was 10 months I went without playing."
10 months maybe, but he doesn't seem to have changed a bit. With Palace he has an opportunity to write a happier ending.
Register for free to continue reading
Registration is a free and easy way to support our truly independent journalism
By registering, you will also enjoy limited access to Premium articles, exclusive newsletters, commenting, and virtual events with our leading journalists
Already have an account? sign in
Register for free to continue reading
Registration is a free and easy way to support our truly independent journalism
By registering, you will also enjoy limited access to Premium articles, exclusive newsletters, commenting, and virtual events with our leading journalists
Already have an account? sign in
Join our new commenting forum
Join thought-provoking conversations, follow other Independent readers and see their replies