Liverpool drawn to Hodgson's experience and high reputation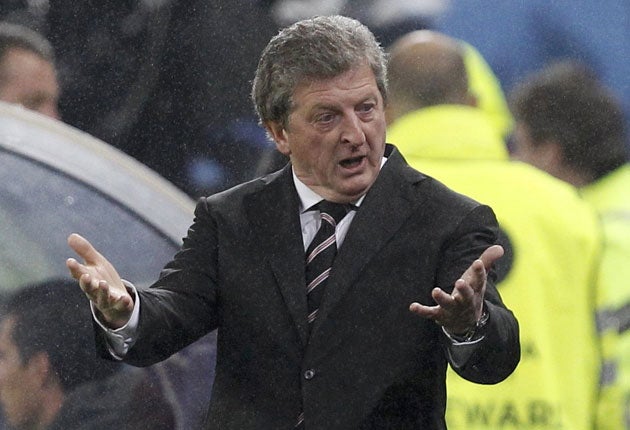 Roy Hodgson, the Fulham manager, has emerged as the preferred candidate to replace Rafael Benitez at Liverpool.
Benitez left Anfield by mutual consent on Thursday with a £6m pay-off after a season that saw Liverpool finish seventh in the Premier League, and fail to make much impact in the Champions League, FA Cup and League Cup.
Christian Purslow, the managing director, and former manager Kenny Dalglish, have been tasked with replacing the Spaniard and Hodgson has become the bookmakers' favourites to take over. The 62-year-old is thought to be widely liked at Anfield and not only because of the remarkable job he did at Fulham last season.
Hodgson guided them through a season that started on 7 July and did not finish until 12 May, and featured 63 matches, including the Europa League final where Fulham lost to Atletico Madrid. For his efforts on a tight budget at Craven Cottage, Hodgson was voted manager of the year by the League Managers' Association and his stock could not be much higher than it is at present.
Yet it is what he will bring off the field that is also thought to be highly sought by Liverpool. Benitez never disguised his determination to get involved in boardroom politics at the Merseyside club. Prior to Purslow's appointment last year, he repeatedly tussled with former chief executive Rick Parry overmore say into how the club was run. Hodgson, in contrast, is seen as a manager who will concentrate more on sorting out the many problems Liverpool face on the pitch rather than being involved in disrupting things behind the scenes.
His calm and thoughtful image is also believed to be a factor in Liverpool's interest. At a time of huge unrest among supporters, Hodgson is deemed to be a steady enough pair of hands to re-assert control and improve the reputation of the unstable club.
Yet it remains to be seen as to whether Hodgson, at his age, would be interested in confronting the difficult situation at Anfield. The club's owners, Americans Tom Hicks and George Gillett, are actively looking to sell Liverpool in the wake of a near disastrous three-year tenure that has seen debt increase to £351m while promises over a new stadium have failed to be met. Only last week, David Moores, the club's former owner, outlined his own "huge regrets" over selling Liverpool to the duo and called for them to relinquish their shares.
It may well be that, with a comfortable 12-month rolling contract and the widespread admiration of Fulham's fans, Hodgson decides to stay put. However, for a man who has twice managed Internazionale, the urge for one last shot at a world famous club may prove to be too tempting to resist.
Meanwhile, Xabi Alonso, the former Liverpool midfielder, has expressed an interest in being re-united with Steven Gerrard at Real Madrid.
In what appears to be a concerted effort to attract Gerrard, Alonso, who played in midfield with the 30-year-old on Merseyside during his five years at Anfield, has joined manager Jose Mourinho in underlining his admiration for the Liverpool captain.
Mourinho has never hidden his interest in Gerrard and tried to sign him when he was in charge of Chelsea. Although that attempt ended in failure, a new £30m bid is currently being proposed by the new manager at the Bernabeu.
"Steven is a legend at Liverpool and I have a lot of respect for Liverpool's fans and also the club," Alonso said. "But it is clear that he's an awesome player. He has incredible quality."
Join our commenting forum
Join thought-provoking conversations, follow other Independent readers and see their replies