Divock Origi's bizarre goal hands Liverpool late win against Everton in Merseyside derby
Liverpool 1-0 Everton: The Merseyside derby was set for a goalless draw but the forward's late intervention, aided by Jordan Pickford's mistake, decided this game in the hosts' favour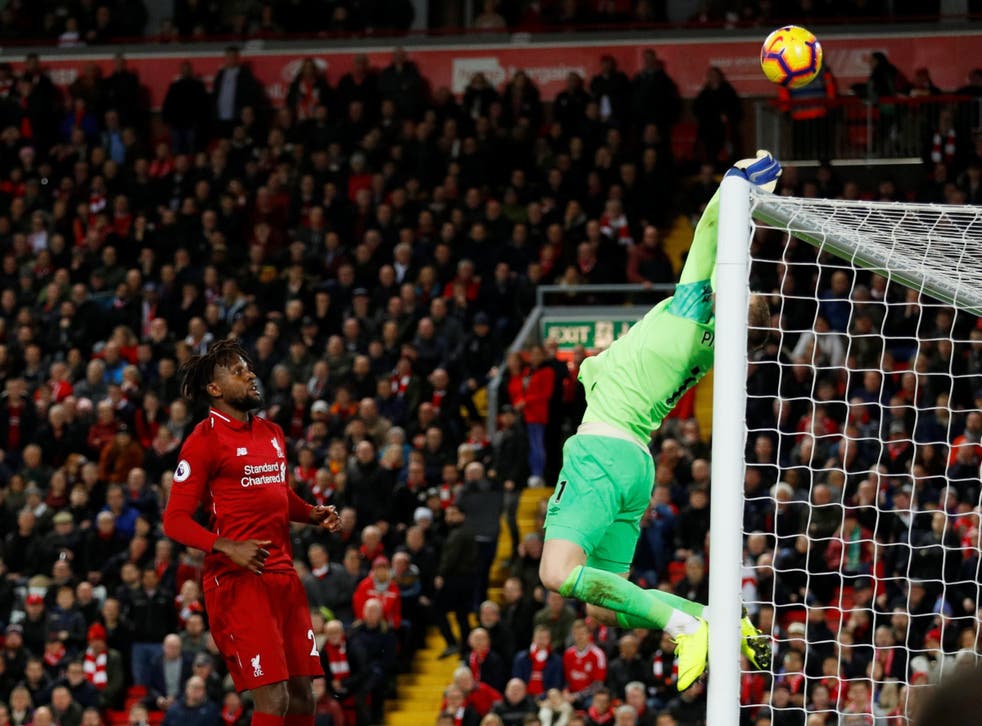 The history of the Merseyside derby is one built on open, aggressive football, hotly and evenly contested, played at a breathless and relentless pace, and if one side has to ultimately prove victorious, it will most likely be Liverpool.
In that sense, this frenzied 232nd edition of one of English football's most celebrated rivalries fitted the bill perfectly. Divock Origi's winner, facilitated by Jordan Pickford's questionable goalkeeping, came in the sixth minute of added-on time to provide a suitably frenzied end to an often-frenetic game.
The victory means Jurgen Klopp's side maintain pressure on leaders Manchester City at the summit of the table, remaining only two points behind. Their title challenge has been accused of lacking 'spark' up to this point. Surely, it has that now.
Liverpool vs Everton player ratings

Show all 22
For Everton, the spotlight falls on Pickford, who seemed wrapped up in the occasion's nervous energy more than most. Could he have allowed Virgil van Dijk's late, shanked attempt at goal to drop safely over his crossbar? Did he have to push the ball back onto the frame of the goal, before it rolled kindly roll onto Origi's head?
Some Liverpool supporters will remember Pepe Reina committing a similar error and conceding to Andy Johnson at Goodison Park in a 3-0 defeat in 2006. They will claim this is their turn to revel in the mistakes and the misery of their neighbours from across Stanley Park.
Yet for those Everton supporters who travelled here, more hopeful than usual of a first Anfield win this millennium, the manner of defeat will bring a familiar sense of crushing disappointment, combined with a feeling of what might have been.
Everton could have won this game, after all. They might even have won it inside 20 minutes, had two summer recruits Yerry Mina and Andre Gomes converted the best opportunities of a first half full of chances.
Yet it was Klopp triumphant after Origi converted. The Liverpool manager joined his players as they celebrated the goal, embracing his goalkeeper in the centre of the pitch. Alisson deserved a hug. It was his extraordinary save that had denied Gomes for that first-half chance, a moment arguably as important as the winner itself.
It was, in that sense, a match defined by the two goalkeepers. Pickford began it inauspiciously, rushing out to meet Mohamed Salah by the sideline and slicing his subsequent clearance for a corner. It was sign of anxiousness and the indecision to come.
The first chance fell to Mina. The towering Colombian centre-half came to Everton's attention when his threat from set-plays put him in contention for the World Cup's Golden Boot, but here he lacked that clinical touch, turning a fourth-minute free header wide of Alisson's post.
Gomes' opportunity is the one Everton will rue, however. The 25-year-old was dead centre of the Kop goal, no more than five yards out, yet denied by Alisson. The save was more instinct than skill, but perhaps when you pay some £66million for a goalkeeper, those instincts are that little bit sharper.
An excellent save, but not perfect. The rebound hit Gomes' chest and trickled back towards goal, though Joe Gomez was on hand to perform a goal-line clearance that was every bit as impressive as Alisson's stop. A deflection off Gylfi Sigurdsson then took the ball wide. Everton thought they were about to take the lead. They had not even won a corner.
It was soon Xherdan Shaqiri's turn to squander a gilt-edged chance. Fabinho's turnover in midfield started the move which ended with Shaqiri bearing down on Pickford, with most of the goal to aim at, his attempt deflected away off Pickford's left leg.
While this relentless pace was ideal for the neutral, there was a sense that what these two sides needed was a touch of composure. One cool head in their eleven, at least. Everton were certainly less feverish in the second half but this did not translate into chances, as Liverpool's defence also settled and shored up.
Klopp's attack, on the other hand, was still somewhat overwrought. Roberto Firmino's poor form persisted, Salah less effective than usual, while Mané continued to be wasteful. It required new blood. Enter Origi.
The Belgian's first significant contribution was a cross to force a corner. From the resulting set-piece, he turned Van Dijk's downward header against the underside of the crossbar. His chance to score his first Liverpool goal since May 2017 and his third in this derby appeared to have passed.
Yet when Van Dijk botched what appeared to be one final attempt, Origi reacted better this time. He saw the ball's back-spin and sensed Pickford's indecision. When the Everton 'keeper clumsily parried the ball in his direction, he pounced to bring an extraordinary to an extraordinary derby, even by Merseyside's standards.
Register for free to continue reading
Registration is a free and easy way to support our truly independent journalism
By registering, you will also enjoy limited access to Premium articles, exclusive newsletters, commenting, and virtual events with our leading journalists
Already have an account? sign in
Register for free to continue reading
Registration is a free and easy way to support our truly independent journalism
By registering, you will also enjoy limited access to Premium articles, exclusive newsletters, commenting, and virtual events with our leading journalists
Already have an account? sign in
Join our new commenting forum
Join thought-provoking conversations, follow other Independent readers and see their replies