Daily Express apologises and suspends journalist over 'ignorant and offensive' article about Liverpool fans
Police charge two Italians after 53-year-old father suffers serious head injuries in unprovoked attack outside Anfield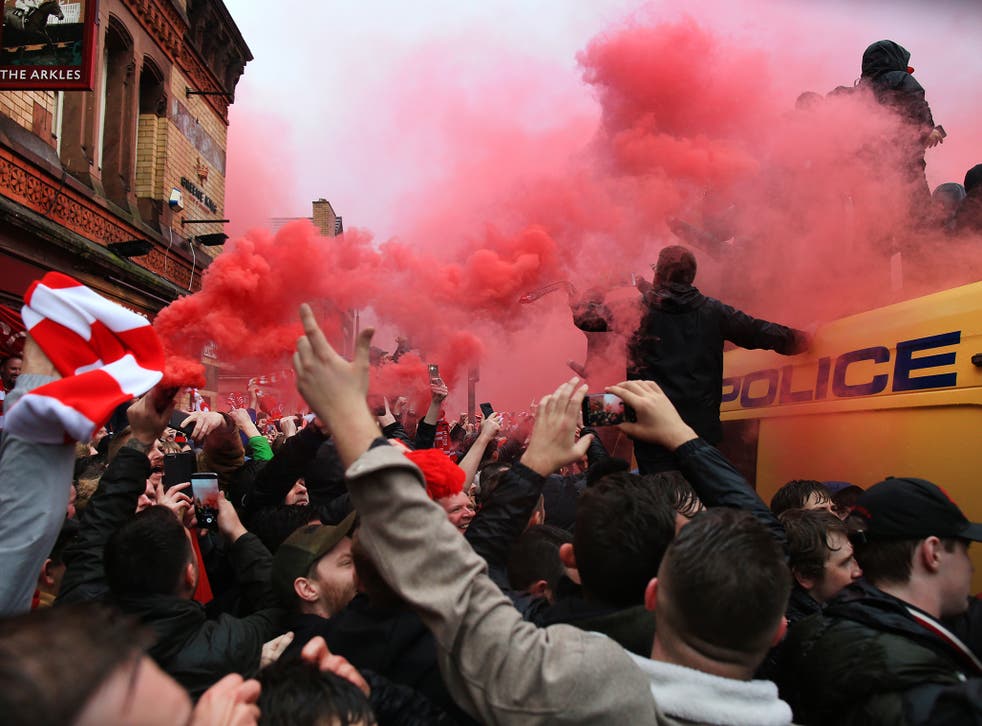 The Daily Express has apologised for an "ill-informed and wrong" article that implicated Liverpool fans in an attack, allegedly by Roma supporters, which has left a man fighting for his life in hospital.
Merseyside Police charged two Italians with violent disorder after 53-year-old Sean Cox suffered serious head injuries in an unprovoked attack outside Anfield, ahead of the Champions League semi-final between the two clubs.
Under the headline "Liverpool must take serious action after Roma violence or risk further trouble", freelance journalist Colin Mafham asked: "Why does trouble seem to follow them like bees round a honey pot?"
Mr Mafham, who has been suspended by the newspaper, said some Liverpool supporters "frighten the living daylights out of me" and accused them of being "always seemingly involved in such horrific altercations on big European nights".
He went on to mention the Hillsborough tragedy which claimed the lives of 96 people in 1989 and the 1985 Heysel disaster in Brussels, where 39 people died when a wall that then collapsed before the 1985 European Cup final between Liverpool and Juventus.
"Those two tragedies, in which the central figures were sadly mostly from Liverpool, are arguably football's most painful Achilles and hopefully will never happen again," Mr Mafham wrote. "So why do I fear that the latest generation of that club's supporters could well add another chapter to England's footballing book of condolences?"
Liverpool fans await team bus arrival outside Anfield stadium ahead of Roma game
The article, which was only published online, was "very quickly removed", a statement by the Daily Express said.
"This article was ill-informed and wrong," it read. "It did not, in any way, reflect the views of the Express. It should never have been written and was very quickly removed.
"We unconditionally apologise, both for the article itself and any offence, understandably, caused. The journalist who wrote the piece was immediately suspended."
Liverpool's mayor, Joe Anderson, branded the article "an appalling slur" and said he had expressed his "anger and outrage" to the editor, Gary Jones.
In an editorial, the Liverpool Echo accused the Daily Express of an "ignorant and offensive" response to the violence that went "against all reality".
UK news in pictures

Show all 50
Filippo Lombardi, 20, is charged with violent disorder and wounding, and Daniele Sciusco, 29, is charged with violent disorder following the attack on Tuesday night. Both men are from Rome.
Mr Cox, a businessman from Dunboyne, County Meath, remains in an induced coma at Walton Neurological Centre.
Join our new commenting forum
Join thought-provoking conversations, follow other Independent readers and see their replies