Liverpool urged to drop 'unethical' sponsorship deal with Tibetan water company as 27,000 sign petition
Tibet Water Resources Limited became Liverpool's 'Official Regional Water Partner' in China this summer, but activists say the club is legitimising a 'brutal military occupation'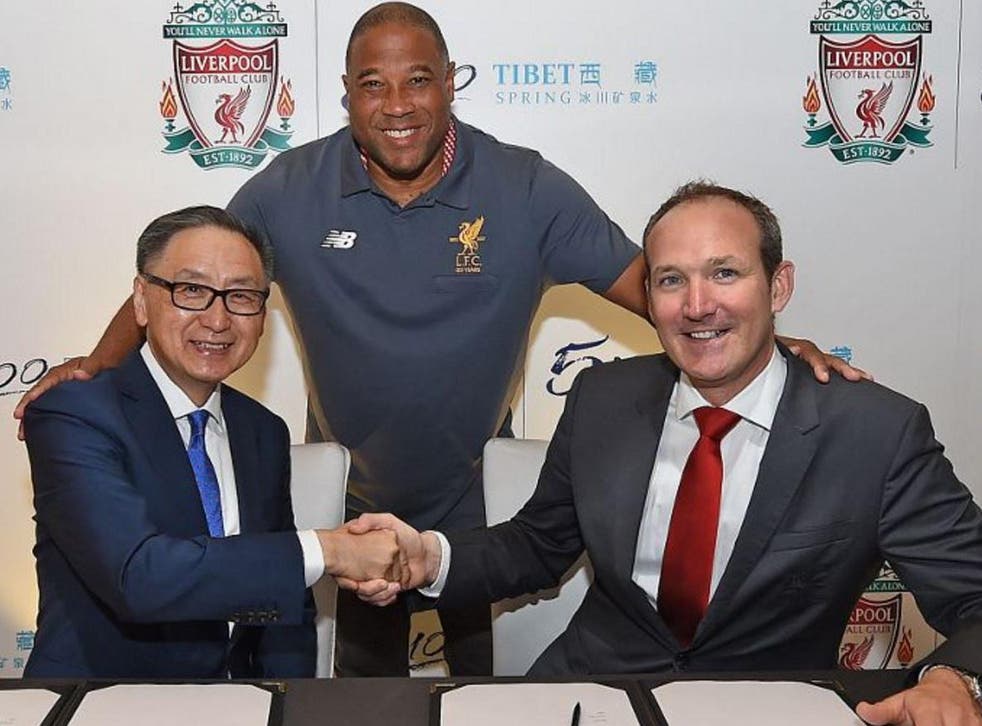 Pressure is growing on Liverpool to drop its sponsorship deal with a water company which activists claim benefits from the Chinese government's "brutal military occupation" of Tibet.
Liverpool signed an agreement with Tibet Water Resources Limited (TWRL) in July which saw the firm become its "Official Regional Water Partner" in China.
However, 27,000 people have now signed a petition calling on the club's owner John W Henry to cancel it.
The petition on SumOfUs, an international consumer advocacy organisation, reads:
"TWRL is only able to take resources from Tibet because the brutal Chinese military occupation allows it to - it owes its profits to the repression, torture and denial of political freedoms that have become commonplace there.
"In turn, its brand - and now Liverpool FC - lend legitimacy to the occupation, creating a cycle of violence and repression."
Liverpool struck a more triumphant tone when announcing the deal in the summer, with the club's chief commercial officer Billy Hogan saying they were "proud to welcome Tibet Water to the LFC family".
"We have so many supporters here in Asia as we've just seen from two sold out matches last week in Hong Kong," Hogan said.
"We look forward to working together with Tibet Water to create opportunities to further engage with our supporters whilst helping to further build their brand in China."
Sunny Wong, executive director of Tibet Water, said the deal "marks a major milestone" in the company's history.
Tibet, a remote territory wedged between China and the Himalayas, is an autonomous region ruled by the regime in Beijing.
However, many Tibetans pledge allegiance to the Dalai Lama, the exiled Buddhist spiritual leader of the region who China deems to be a separatist threat.
Behind the facade of Chinese rule in Tibet

Show all 3
Activists accuse China of human rights abuses in the territory and of political and religious oppression – something the central government regularly denies.
"Under the occupation, a new invasion of Chinese companies has taken place, with Tibet, once a remote country with a pristine environment, now crisscrossed with mines to dig up its natural resources," SumOfUs adds.
"There has been a boom in water bottling companies arriving in Tibet, drawn by the fact that Tibet is the source of some of Asia's largest rivers, which flow as far as Bangladesh and Vietnam and provide water to roughly a fifth of the world's population. The glaciers on Tibet's mountain peaks feed into these rivers and are prized by water bottling companies for their purity.
"Tibet Groups around the world have expressed concerns that these water bottling, mining and extraction activities in Tibet are only able to take place due to China's military occupation. Tibetans have been given no say over how their resources are used and have expressed widespread opposition to their natural resources being taken, regularly defying police to carry out environmental protests across Tibet."
John Jones, Campaigns and Communications Manager at Free Tibet, is one of those who wants Liverpool to cancel its deal.
"By terminating this deal, Liverpool FC's ownership and directors would be able to demonstrate to both these groups that the club's commitment to human rights and ethical conduct is founded on action, not just words," he said.
"This is an opportunity for them to show that Liverpool FC unconditionally rejects any association with human rights abuses."
Mr Wong said in response to claims made about Tibet Water's business operations in Tibet that the company has "measurably improved" a region that "historically has had a very low level of economic development".
"As recently as 2016 The United Nations Development Programme (UNDP) released a report 'China National Human Development Report', which specifically recognises that our company has helped measurably improve Tibetans' livelihoods by providing more job opportunities, building local facilities, as well as supporting local education, medical care and poverty alleviation," he said.
"As a Hong Kong-listed company, we comply with all regulatory issues with periodic disclosure of our operating performance. We have always been striving for a balance between our business growth and the economic development in the region, as well as to support the conservation and protection of water sources and the environment across the region."
Liverpool refused a request to comment.
Join our new commenting forum
Join thought-provoking conversations, follow other Independent readers and see their replies