Jurgen Klopp will not ask Liverpool to run down the clock despite letting leads slip against Sevilla and Chelsea
Klopp insists that he only wants his team to play in a sporting manner – despite recent results
Mark Critchley
Sunday 26 November 2017 21:10 Comments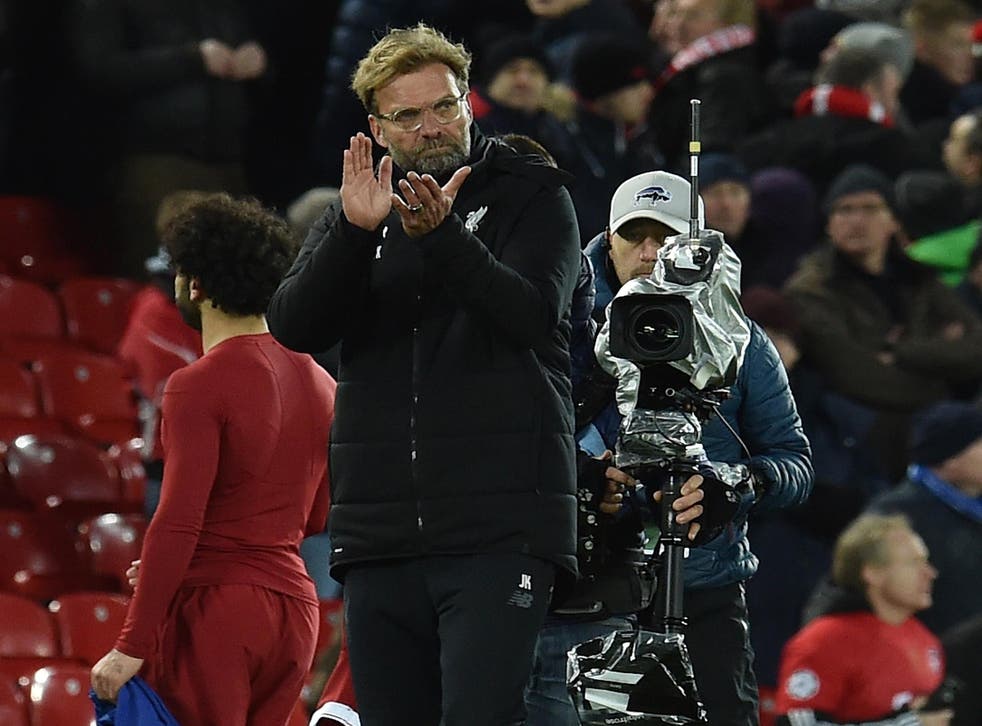 Jurgen Klopp will not instruct his players to be more 'streetwise' and waste time while in the lead, despite seeing Liverpool draw from winning positions twice in the space of four days.
After collapsing spectacularly from 3-0 up to share the points with Sevilla in the Champions League last week, Klopp's side surrendered a lead yet again against Chelsea at Anfield on Saturday.
Willian's cross-cum-shot five minutes from time looped over goalkeeper Simon Mignolet to cancel out Mohamed Salah's opener while Klopp was attempting to make a late substitution.
In his post-match press conference, Klopp said he was frustrated at being unable to introduce Adam Lallana when he wanted. However, it is understood that fourth official Craig Pawson gave the Liverpool bench the opportunity to make the change, asking whether they were ready to do so six times.
Klopp later denied that he had wanted to bring Lallana on in order to waste time and when asked whether he would ever encourage players to engage in gamesmanship while protecting a slender lead, he insisted that he only wants his team to play in a sporting manner.
"The day when somebody thinks like this [in my team], with not being a proper sportsman and being fair, then I stop," he said. "If it's not OK any more that we try our best, then it is something wrong.
"I'll give you an example. The problem with the elbow in the game these days is the rule. Since the rule existed, we have incident after incident after incident. When I played I got five broken noses through my football career and there was not one time on purpose.
"It just happened, I never thought: 'What are you doing?' I just took it. Now they are all on the ground. I watched a game yesterday and they were on the ground, on the ground, and you didn't know any more what they were doing."
Klopp added: "That's not my kind of game. Yes, you have to be smart, yes you have to be clever in different situations. Didn't see a lot of them tonight where we have to stay down. If you don't hear a whistle you have to stay up.
"If you stay on the ground, and there's a whistle then what happens then? They go on playing. With an English ref they do what they want. The British refs you never know, stay on your feet when you hear the whistle."
Register for free to continue reading
Registration is a free and easy way to support our truly independent journalism
By registering, you will also enjoy limited access to Premium articles, exclusive newsletters, commenting, and virtual events with our leading journalists
Already have an account? sign in
Join our new commenting forum
Join thought-provoking conversations, follow other Independent readers and see their replies