Liverpool manager Jurgen Klopp thanks the NHS as he returns to training after health scare in time for Saints clash
The Liverpool manager is back to full health and will take charge of his side against Southampton this Saturday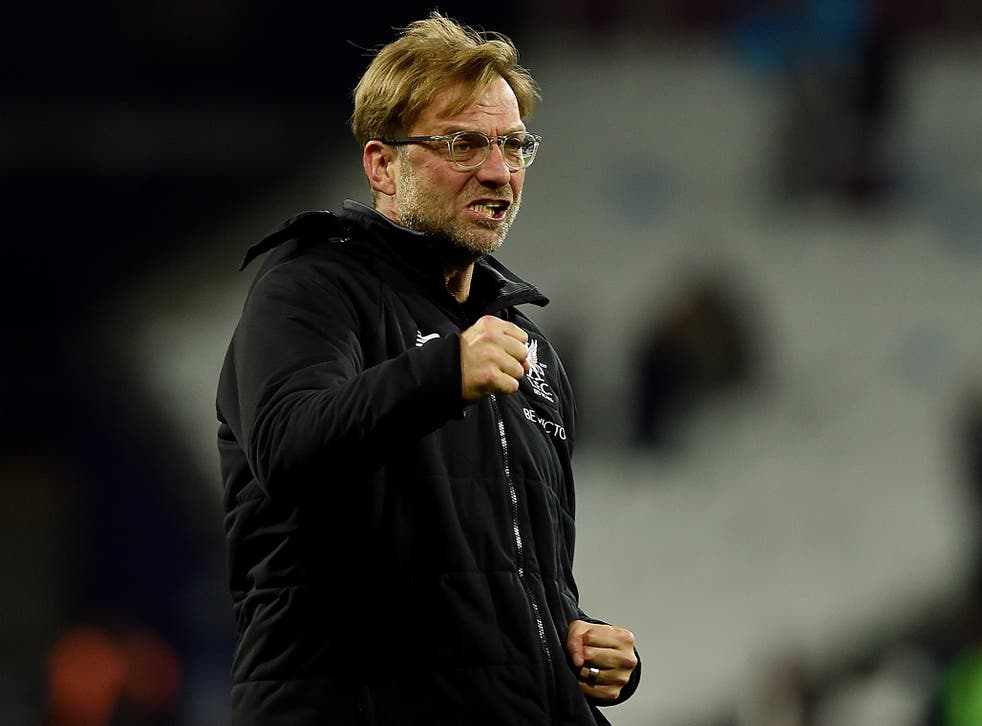 Jurgen Klopp has spoken up for the National Health Service after overcoming a midweek illness concern to return to work as Liverpool manager.
Klopp will be in the dugout for Saturday's Premier League home match against Southampton, having been to hospital on Wednesday after complaining of feeling unwell.
Neither the manager nor the club have divulged any details as to why he felt ill, but he has made clear that he has no worries about his health, and is "really good".
It was the second time since arriving at Liverpool two years ago that Klopp has needed to go to hospital, having had an operation for appendicitis in February 2016, missing a home match against Sunderland as a result.
This time, his visit was much briefer, and he was cleared to return to work after tests, but admitted surprise afterwards that the episode has attracted so much publicity.
"I feel really good," Klopp said. "OK, I'm 50 now, maybe I need to get used to it. Twice already, I have been in a British hospital. Whatever people say about it, the NHS is not as bad as you think.
"I really have to thank a lot of people, but not because it was anything that serious, only because they were that nice, and that's it.
"There's nothing to say about it. I'm not ill. The only problem is that you should not try to experience it as a public person. The whole world is talking about it. It was not a marketing thing by Liverpool.
"I came into the hospital, and when I passed the first few people, I saw a security man go: 'Klopp's in hospital! Did you see him?'"
Klopp has indicated that he will take a late check on the fitness of Sadio Mane before deciding whether to field him against Southampton.
Mane returned early from international duty with Senegal after aggravating a hamstring injury during a 2-0 win in South Africa last Friday that secured their World Cup qualification.
"At this moment we have pretty much a full squad," Klopp said. "We have to make some choices, of course, as it is after the international break.
"We did not have a lot of sessions but we will be prepared for this game. With Sadio, we have to wait and we will see today."
Adam Lallana, a former Southampton player like Mane, is also close to fitness after missing the whole season to date with a thigh injury, but Klopp has suggested that he will not rush him back.
The manager said that he was ready to play "the bad guy" by delaying the England midfielder's comeback, even though Lallana himself is desperate to return.
Klopp said: "He is a fantastic player but we want to have him for the season. This is the moment when the player wants to be back immediately and I have to be the bad guy and say: 'Not today, maybe tomorrow.'
"Obviously that is not too nice but I do it for him and for the club. We will see how things are. It depends how the other players are. We will use him for sure but bringing him for 90 minutes is not a good idea and will not happen."
Captain Jordan Henderson is fit to return, having recovered from a thigh injury that forced him to miss the win at West Ham, as well as England's friendlies against Germany and Brazil during the latest international break.
Saturday's match will see Southampton defender Virgil van Dijk appear at Anfield for the first time since a proposed £60m summer move to Liverpool fell through.
Asked for his thoughts on Van Dijk, Klopp said: "You really expect an answer? What happened in the summer? There is nothing to say on that, absolutely."
Klopp, though, was more willing to speak about the possibility of the centre-back facing a tough afternoon.
He said: "Hopefully. It should be difficult for every player to come to Liverpool – you mean on Saturday, right? Hopefully it is a difficult time."
Join our new commenting forum
Join thought-provoking conversations, follow other Independent readers and see their replies