Liverpool, Manchester City and Chelsea battle for the title: Why we are heading for a thrilling finale in the Premier League
Fixtures, fitness and form will decide both ends of the table in a vintage campaign. And then there is the race for promotion...
Jack Pitt-Brooke
Friday 04 April 2014 12:11 Comments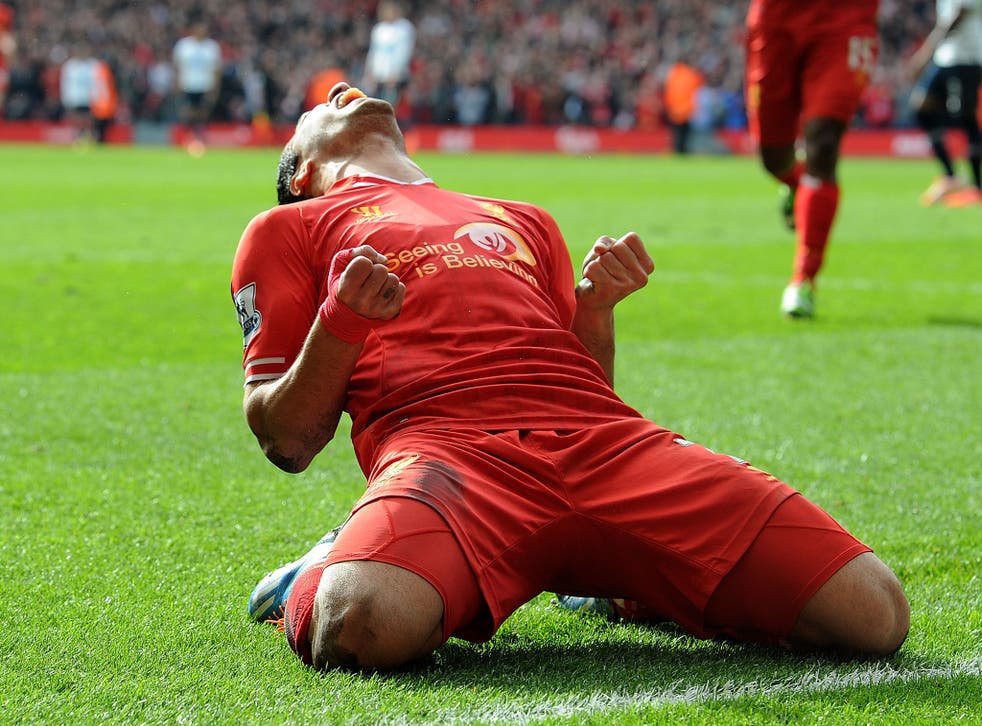 Three in contention for a nerve-shredding title race
The reason that this is the best title race in years is not just because there are three well-matched contenders but because there are two genuine title-deciding matches left to play, both at Anfield.
Liverpool are the side with the momentum as they chase their first league championship in a generation. They have won eight games in a row and have not lost in 2014. The last two teams to beat them, as it happens, were Manchester City and Chelsea, both over Christmas. If they can best those two at home this month then the title should be theirs.
More so than City or Chelsea, Liverpool have a fully fit squad and a settled side of players in excellent form. Brendan Rodgers can choose between Joe Allen – for more control – or Raheem Sterling – for more conviction – as well as tinkering with systems, but the foundation is clear. He has also, for the first time this season, found defensive stability, with the Flanagan-Skrtel-Agger-Johnson back four earning three clean sheets in their last five games.
There is little reason to think that Liverpool will not beat West Ham United on Sunday, setting them up for the game with City next Sunday. If they win that too, they will be within touching distance.
City, like Liverpool, know that they can earn themselves the title by winning all their remaining games, but their run-in is rather harder. After Anfield, they have trips to Selhurst and Goodison Park and their away form gives reason to worry. Having played so well for so long this season, City should be clear, but away defeats at Cardiff, Aston Villa and Sunderland, and draws at Norwich and Stoke, have cost them crucial points.
While Liverpool's Luis Suarez has spent all season shredding defences, City's Sergio Aguero has struggled with muscle injuries, starting just one Premier League game in 2014. He should return against Southampton on Saturday but City have already lost crucial ground in his absence.
Jose Mourinho fears that Chelsea have lost too much ground already but, even after a very difficult week, they are still just two points off the top. No one is better at negating opposition than Mourinho – as he showed in the brilliantly orchestrated win at the Etihad Stadium – and they are probably more likely to get a result in their crunch match at Anfield than City are. Should they win there, they would just need City to lose at Anfield and draw at Goodison to be back in charge.
The problem for Chelsea is the possibility that confidence has been shattered by three consecutive away defeats. As Mourinho made abundantly clear on Wednesday night in Paris, his team is short of "real strikers" and he has yet to find a stable combination in central midfield. Mourinho has said all year that the title will be just beyond his side this season and events, probably, will prove him right. City's Manuel Pellegrini will be hoping that they keep fighting for the next few weeks.
The most prolific partnerships in Premier League history

Show all 8
Battle to avoid drop is equally enthralling
No one needs a win this weekend more than Fulham. Felix Magath has targeted four more victories for survival – they have won seven all season – and while it seems implausible, five of their remaining games are winnable. With the exception of Craven Cottage and the Stadium of Light, almost nowhere in the Premier League is less of a fortress than Villa Park, where they play on Saturday, and Villa will be without Christian Benteke. Stoke City, not the greatest travellers, won 4-1 there two weeks ago. Norwich City, Stoke City and Crystal Palace all have to come to Craven Cottage too.
Magath said after last Sunday's defeat to Everton that they were playing well enough to beat the lesser teams. The problem, though, is that with Kostas Mitroglu still injured – what a disastrous signing he has been – there are hardly any usable forwards. Magath chose Moussa Dembélé, a very gifted 17-year-old, last Sunday, ahead of Darren Bent. His options are no better this time. With no goals, there is not much hope.
Cardiff City have an even more beatable opponent on Saturday, as Crystal Palace come to Wales. Ole Gunnar Solskjaer's team have not quite found the balance between attack and defence, and there is still a sense that for all Solskjaer's attacking instincts, he is not the man to grind out the results needed at the bottom. But, like Fulham, Cardiff have games that they can win if they go for: Stoke at home in two weeks, then two long but winnable trips to Sunderland and Newcastle.
If Palace lose in Wales then they will be just two points ahead of Cardiff. Tony Pulis should be able to welcome back Marouane Chamakh up front, providing much-needed class and composure, and they have played one fewer game than many of their rivals.
Sat in between Cardiff and Palace, and fighting another internal crisis this week, is West Bromwich Albion. Cardiff's equaliser with the last kick of last Saturday's game at the Hawthorns cost West Brom two points but so much more. In a relegation battle, you want to drag as many as possible down with you, so West Brom will be relishing the trip to Norwich City on Saturday. West Brom can move level on points with Norwich if they win. This is Norwich's penultimate winnable game – they have Fulham, then Liverpool, Manchester United, Chelsea and Arsenal – so there is no time for relaxation yet.
Then there is Sunderland, who have been in a curious position for a while. They have eight games left, rather than six, and clearly have a better top level than their rivals, as they have shown by beating Manchester City, Manchester United and Chelsea. They ought to have enough but one league point in their last six games suggests that Gus Poyet's early improvements have dissipated, and their lack of a competent goalscorer is the sign of many relegated teams. Their run-in is harder than most – they go to White Hart Lane on Monday – and they may need to wait until the last two games – West Brom and Swansea City – as long as it is not already too late.
Who will join Leicester in winning promotion?
The maths could well confirm this weekend what has been very clear for a while, that Leicester City will be back in the Premier League next season, after a 10-year absence. Nigel Pearson's side have threatened in recent seasons, losing in the play-offs in 2010 and 2013, but this year they have fulfilled their potential. They are unbeaten in four months, a remarkable 20-game run of the sort that often characterises Championship winners. If they beat Sheffield Wednesday on Friday night – and they certainly should – then favourable results will promote them on Saturday. They just need Queen's Park Rangers to lose, and Derby to fail to win, and they are up.
The story of the season, though, is second-placed Burnley. Sean Dyche's side were not particularly fancied at the start of the campaign, but they have surprised the whole division and are currently well set for automatic promotion. Their defeat to Leicester last weekend was their first since Boxing Day. Much of their success, though, owes to their strike partnership of Sam Vokes and Danny Ings, who have 20 Championship goals each. The problem for Dyche, though, is that they will both be absent this weekend, missing the trip to Watford. The Pozzo-owned club are starting to pick up again after a dismal autumn and winter.
If Burnley do slip up this weekend then they could let QPR back into the race they had seemingly already stumbled out of. Rangers' problem all season was having just one reliable goalscorer in Charlie Austin. He has 14 league this season, and next best is Ravel Morrison, who joined on loan in February, with five.
Austin's last game was on 28 January, and his absence triggered a traumatic February in which Rangers took just one point from a possible 12. They are only just starting to recover now, but Austin is close to a return after more than two months out and could be involved at Bournemouth on Saturday. If he is, and rediscovers his old form, he could score enough goals to put pressure on Burnley. Much will depend on who can keep their strikers fit.
One point behind Rangers, and hoping for a Burnley collapse, is Steve McClaren's Derby County. He travels to old club Middlesbrough on Saturday knowing that a string of wins is the only way to avoid the pain of the play-offs in May. Even if Derby and QPR miss out on automatic promotion, and that is the likeliest outcome, they should be safe for the play-offs. The other two spots are still being contested. Wigan Athletic were one of the form teams of recent months, Uwe Rösler dragging them up the table after the ill-fated reign of Owen Coyle. But they are already overworked, having played six Europa League games in autumn, and they have the added distraction of trying to defend the FA Cup – their semi-final against Arsenal at Wembley, next Saturday, looms larger than their league games.
Register for free to continue reading
Registration is a free and easy way to support our truly independent journalism
By registering, you will also enjoy limited access to Premium articles, exclusive newsletters, commenting, and virtual events with our leading journalists
Already have an account? sign in
Join our new commenting forum
Join thought-provoking conversations, follow other Independent readers and see their replies