Liverpool coach reveals Jürgen Klopp's methods and says he is '30% tactics, 70% team building'
Klopp has enjoyed success with Mainz, Borussia Dortmund and now Liverpool, and his Dutch assistant Pepijn Lijnders has revealed how he manages to get the best out of his players
Ian Herbert
Chief Sports Writer
Monday 16 January 2017 16:47 Comments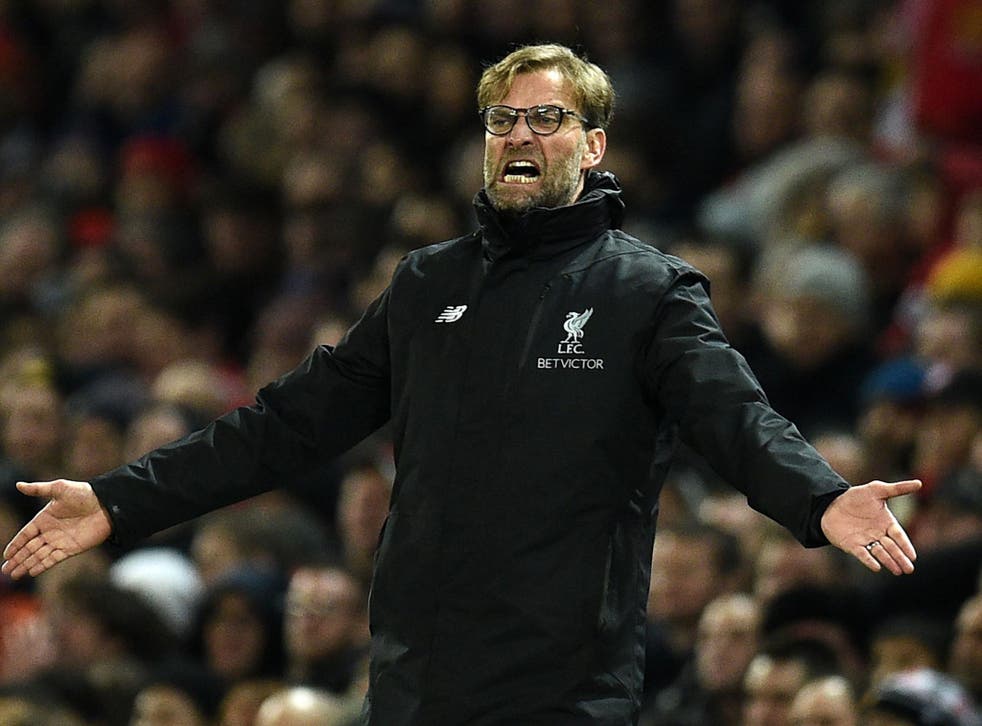 Liverpool manager Jürgen Klopp is only 30 per cent interested in tactics - with 70 per cent of his focus on team building, the German's Dutch assistant Pepijn Lijnders has revealed in an interview which sheds light on a philosophy which has taken the side to third in the Premier League table.
Though the intense focus on Klopp's success in the Premier League has centred on his strategic ideas, including the double press which was effective in the 1-1 draw at Old Trafford, 33-year-old Lijnders said the tactical element was a relatively small part of the strategy. "Jürgen creates a family. We always say: 30 per cent tactic, 70 per cent teambuilding," he said in an interview with the Dutch paper De Volksrant.
Lijnders said that the difficulty clubs have in retaining players for six or seven years made it more important than ever to have a coach who can create lasting 'clarity' of focus and he cited Liverpool's team building in Barcelona after the recent League Cup quarter final victory over Leeds United as an example of Klopp trying to build collectivism.
"Twenty years ago, PSV had six, seven players who played football seven years at the club, with two foreigners," Lijnders said. "Those six players decided what really happened. When coming into contact with a top coach, they won. Now there are not six, seven more players who remain six years. In modern football, the coach therefore [is] the most important person for clarity. He needs to bring all the cultures, all these identities, bring together. "
Lijnders is clearly an avid reader of the writing of former American basketball player and coach John Wooden and, in what sounded like one of the foundation stones of the successful Anfield teams of the 1970s and 1980s, cited his philosophy as the one to follow.
"I saw a book by Wooden in an American library," he said. "Then I bought four, five, and another ordered later. I use a lot of it, for definitions of success. Which are the best players in common, from a training mentality? Those who put in hard work. Not just hard work, but who work with all your heart. Earn respect from all and respect yourself."
Manchester United vs Liverpool player ratings

Show all 22
He also cited the Dutch coach Wiel Coerver, who developed his own coaching method. "Coerver said you need 20 per cent legs, 20 per cent head and 60 per cent heart," Lijnders said. "That is precisely why you need self-control. Liverpool are never boring. We play the game for those who view it. That is our responsibility as coaches. The worst thing about football is predictability. "
After two seasons working as a coach with modest Dutch side SVEB Broekhuizen he left for the PSV ranks, before moving to FC Porto for seven years in 2007. He joined Liverpool a year before Klopp arrived.
Register for free to continue reading
Registration is a free and easy way to support our truly independent journalism
By registering, you will also enjoy limited access to Premium articles, exclusive newsletters, commenting, and virtual events with our leading journalists
Already have an account? sign in
Join our new commenting forum
Join thought-provoking conversations, follow other Independent readers and see their replies