Jurgen Klopp keen to look on the positive side but nagging questions about Liverpool's leaky defence remain
The questions will not go away after a nervy win over Leicester, though the perception he is short on answers irked him enough to argue afterwards that he could "write a book" on defending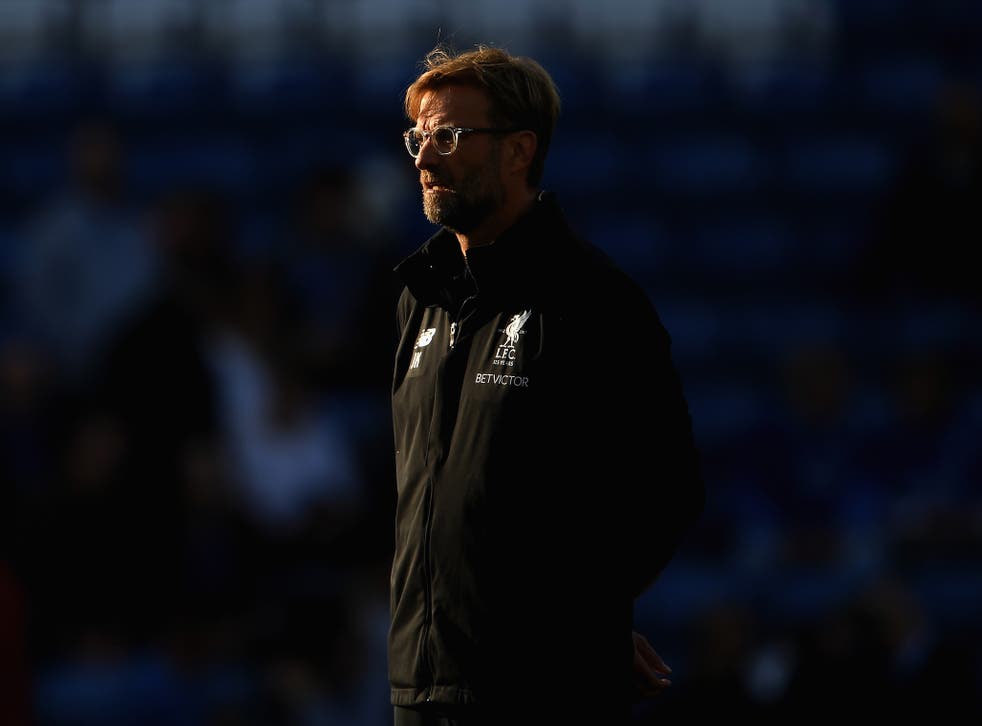 There was a big, friendly grin on Jürgen Klopp's face. He was standing in a corridor outside the Leicester City press room facing reporters' questions about his team's habit of doing things the hard way, after some all-too-familiar defensive lapses had turned an apparent cruise to three points at the King Power Stadium on Saturday into a fairground ride of a second half.
Then it was put to him that few teams will score three goals at Leicester and, suddenly, that beaming smile: 'Now that's positive!'
The problem for Klopp is that he will continue facing questions about the negatives so long as no remedy is found for the vulnerability which but for Simon Mignolet's 73rd-minute penalty save from Jamie Vardy would have meant two more dropped points.
In their first three Premier League games outside of Anfield this season, Liverpool, now up to fifth in the table, have conceded ten goals – their worst defensive record from their opening trio of away league fixtures since leaking 11 in 1937/38.
In ten games home and away in all competitions there have been only two clean sheets; by comparison, Manchester United have six, Manchester City five, Tottenham and Chelsea four.
The nagging questions will not go away after a game where his defence creaked once more, though the perception that he is short on answers clearly irks the Liverpool manager, who argued afterwards that he could "write a book" on defending.
When his Borussia Dortmund team won back-to-back German titles, for instance, they had the Bundesliga's best defensive away record with 14 and 13 goals against from 17 games played in 2011 and 2012 respectively.
Liverpool's Champions League group stage squad

Show all 22
Klopp said: "It's obvious we concede too much – there's no doubt. That's really hard for me. Usually, I'm a really good defensive coach but obviously that works not too good so far, but we will be fine.
"The main thing for defending is tactical discipline," added the German. "I don't know everything about football but I could write a book in the next two hours about which space we have to defend, why, when and where you have to be. When you have to step up, push up – all that stuff."
"I can't take a car and drive them out of the box. That's how it is. As long as not every player is doing it we'll work on it. When everyone is doing it I will make sure we're doing it for the rest of our lives. I have faith, not only [in our] offensive [play] but in our squad. I know we need results. I like this team. Maybe nobody else likes it, I really like it and I want to improve it together. "
Klopp's view was that the erosion of the complete control Liverpool had in the first half on Saturday was down to lapses in concentration and loss of their earlier aggressive rhythm.
Yet he praised his team's resilience, saying: "Sometimes you need a punch in the face and we get already a few. Not too hard. [The 5-0 defeat at Man] City was hard. That was the only one. We were not really on the floor but we always got up."
In fairness, much of Liverpool's attacking football on Saturday was magnificent – and they did it, as Klopp noted, "without Saido Mané". Mohamed Salah scored his sixth goal for the club with a bullet header. It was Philippe Coutinho, though, who brought the sprinkling of world-class quality summed up by his wonderful 25-yard free-kick. Clear evidence of why the club fought so hard to keep him out of Barcelona's hands.
Yet it still all came down to the late drama of Mignolet's conceding and then saving of a Vardy spot-kick. "He has scored two like that recently," said Mignolet who has as many saved penalties on his Liverpool CV now as Bruce Grobbelaar (eight).
Vardy, for his part, blamed himself for shooting down the middle. "What made it worse is I was going to change my mind and go the other way," said the striker.
It left Leicester with one win and four losses from their opening six league matches – and their own defensive concerns. Liverpool, by contrast, will have a spring in their step ahead of Tuesday's Champions League fixture at Spartak Moscow.
"Yeah, we can kick on and this can be a very good step forward," added Mignolet. "We know where we can improve. No one has to tell us that. We know inside the dressing room what we have to do."
Register for free to continue reading
Registration is a free and easy way to support our truly independent journalism
By registering, you will also enjoy limited access to Premium articles, exclusive newsletters, commenting, and virtual events with our leading journalists
Already have an account? sign in
Register for free to continue reading
Registration is a free and easy way to support our truly independent journalism
By registering, you will also enjoy limited access to Premium articles, exclusive newsletters, commenting, and virtual events with our leading journalists
Already have an account? sign in
Join our new commenting forum
Join thought-provoking conversations, follow other Independent readers and see their replies