Liverpool news: Jurgen Klopp not afraid to challenge Anfield's expectations to get best out of fans as well as players
Klopp is distinguished in using emotion to shake the buttresses of entire stadiums and it's something that sets him apart from his rivals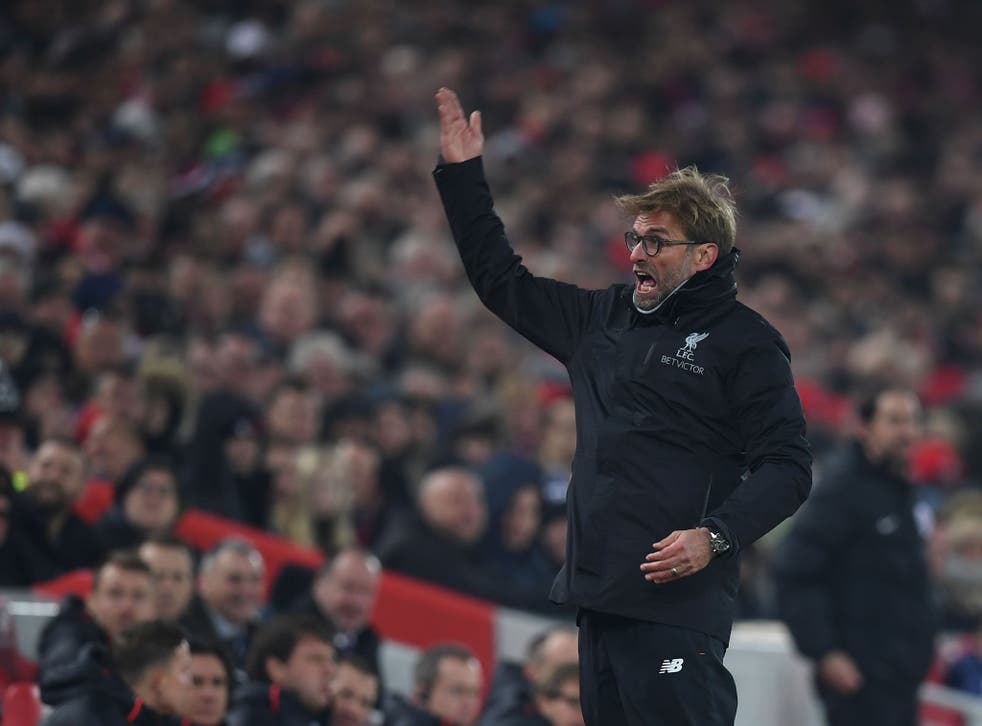 A theme is developing at Liverpool, one where Jürgen Klopp enters the press room having watched his team crush the opposition in a snappier frame of mind than you might imagine; the other where he takes the same walk having not achieved the result he desires but instead, you find him as charming and hospitable as an old count at the top table of a banquet hall.
Saturday's win over Sunderland arrived at a cost. Perhaps injuries to Philippe Coutinho and Roberto Firmino explained Klopp's state. With Adam Lallana and Daniel Sturridge also unavailable to him, he issued a debut to 17-year-old Ben Woodburn in the closing minutes, who in turn became the third youngest player in the club's history.
Depending on who you listen to, Woodburn could be the next Robbie Fowler or the next Michael Owen. Lucas Leiva later used social media to congratulate him, describing the forward as a "top young player." It would be understandable, though, if Klopp was concerned by his present options, for he is likely to be without the experience of five attacking players for Tuesday's League Cup quarter-final against Leeds United, when you add Danny Ings to the list of the fallen.
Perhaps Klopp is just trying to meet glory and disappointment by treating them equally as imposters. Seventeen of Liverpool's goals at home prior to Sunderland's visit had arrived across just four games and their success and the style with which it has been delivered has led to unrealistic expectations; that Liverpool can slaughter opponents every week.
At 0-0, Anfield was quiet until Klopp twice flew into a rage, screaming at supporters to raise the level of noise. What followed was two goals from Divock Origi and James Milner. Later, with the result settled in his favour, it would be understandable if Klopp was drained. He was also involved in touchline arguments with David Moyes and his assistant, Paul Bracewell. Some managers coldly deploy tactics to try and achieve their aims. Klopp uses emotion to shake the buttresses of entire stadiums.
It was significant that more than one Liverpool fan website proposed Klopp as an option for the man of the match award on Saturday night because it shows he is getting somewhere when he says things like, "We all need to handle situations like this. I believe in atmosphere. I think it's a big part of the game."
Klopp, indeed, has identified many problems at Liverpool and has not been afraid to challenge them, even if they are accepted norms considered widely as positives: like the one about the Anfield crowd being the most vociferous in the country when really it only applies on special occasion, considering it has long suffered from a sense of entitlement, and more recently - like every other Premier League ground - from the era of the selfie, when some spectators on day trips complain of the mood not meeting expectations, overlooking the notion they might even be taking the place of someone who would increase that sense of time and place if they could afford it.
It also says much about the job Klopp has done when the first question asked of him relates to the challenge of keeping top quality players like Origi happy when they are not selected. The Belgian has not started a league fixture this season and had Sturridge been named as a substitute here, it is likely he would have replaced Coutinho instead.
"That's up to the players. I'm not a magician - that's the character of the boys," he refuted. "The job is still nice even on the harder days, doing what you love. It's not a big challenge. I handle all the boys exactly the same. If you play 90 mins I like you as much as when you don't play a second. If you want to be happy in this squad it's very easy to be happy."
Register for free to continue reading
Registration is a free and easy way to support our truly independent journalism
By registering, you will also enjoy limited access to Premium articles, exclusive newsletters, commenting, and virtual events with our leading journalists
Already have an account? sign in
Register for free to continue reading
Registration is a free and easy way to support our truly independent journalism
By registering, you will also enjoy limited access to Premium articles, exclusive newsletters, commenting, and virtual events with our leading journalists
Already have an account? sign in
Join our new commenting forum
Join thought-provoking conversations, follow other Independent readers and see their replies