Liverpool must lose draw specialists tag in order to secure top four finish
Jürgen Klopp is confident his side bring their habit of dropping two points to an end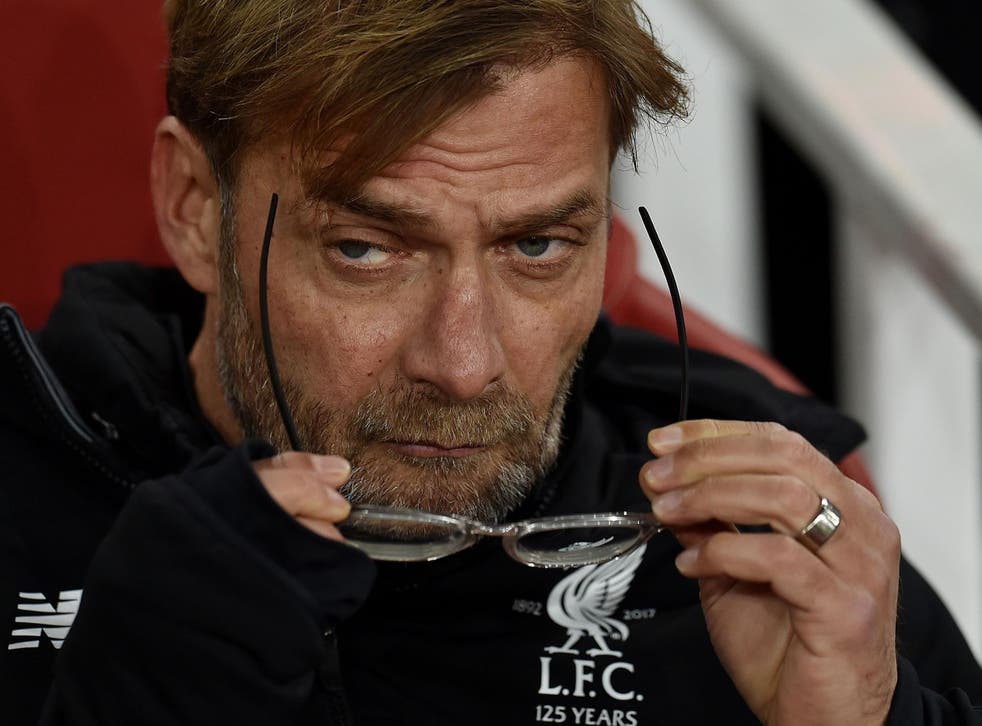 If not for a madcap five minutes at the Emirates on Friday night, Liverpool would have spent Christmas toasting their tenth league victory of the season. Instead, they were left lamenting an eighth league draw.
At the Premier League campaign's halfway point, only relegation-threatened West Bromwich Albion have shared the points on as many occasions as Jürgen Klopp's side. No team has drawn more games.
On the other hand though, only the unbeaten runaway leaders Manchester City have lost on fewer occasions. Liverpool have become difficult to beat under Klopp this season, but his challenge now is to make it difficult for opponents to get any sort of result against his side.
More consistency is needed to put a long streak of league wins together and kick their habit of dropping two points, but Klopp believes the signs are already there is his players' displays.
"We found it [consistency] already," the Liverpool manager insisted on Friday night. "Not result-wise but performance-wise. We cannot force results - the result is the kid of the performance.
Arsenal vs Liverpool: Player ratings

Show all 23
In defence on his team's cavalier style, Klopp added: "We have to perform to get a result as Liverpool. We cannot stand deep and defend with 10 players. That doesn't work at Anfield to be honest and doesn't work anywhere else, so we need to be creative in a few moments.
"I spoke about consistency of performance and I really think that we are there. Results-wise we can improve 100 per cent."
Critics might argue that the only consistent thing about Liverpool is the defensive frailties which regularly undermine their brilliant attacking football.
Klopp's vulnerable backline was exposed once again at the Emirates on Friday, with only 388 seconds between Mohamed Salah's goal increasing their lead to 2-0 and Mesut Ozil's strike to put Arsenal 3-2 ahead.
Swansea City, the Premier League's basement club and visitors to Anfield on Boxing Day, should pose less of a threat having only scored 11 times in the league this season. Yet much attention will still be on how Liverpool's defence - particularly goalkeeper Simon Mignolet.
In the latest of several high-profile errors that have pockmarked his Liverpool career, Mignolet allowed Arsenal's second - Granit Xhaka's long-range strike - to pass through his hands before it hit the back of the net.

Minutes earlier, Joe Gomez had allowed Alexis Sanchez to give Arsenal a foothold in the game. The young full-back failed to track his opponent's running, allowing Sanchez to blindside him, nip in and score.
Both were costly individual errors that could easily have been avoided but Klopp defended both players post-match and, in the case of Mignolet, insisted his goalkeeper will not make such an error twice.
"It's obvious that everyone saw the mistakes tonight and Simon… that will never happen again," Klopp said. "He never conceded a goal like that [before] so we don't have to make a big deal of it.
"Joe, so good, such a fantastic improvement, development, outstanding," he added. "Played for England, played for us, super. Today first goal and third goal, he showed a reaction like human beings do. He is still a young lad and we have to learn."
Register for free to continue reading
Registration is a free and easy way to support our truly independent journalism
By registering, you will also enjoy limited access to Premium articles, exclusive newsletters, commenting, and virtual events with our leading journalists
Already have an account? sign in
Register for free to continue reading
Registration is a free and easy way to support our truly independent journalism
By registering, you will also enjoy limited access to Premium articles, exclusive newsletters, commenting, and virtual events with our leading journalists
Already have an account? sign in
Join our new commenting forum
Join thought-provoking conversations, follow other Independent readers and see their replies