Liverpool striker Fabio Borini set for early return from injury
Striker may return from a shoulder operation before the end of the season
Carl Markham
Friday 22 March 2013 12:37 Comments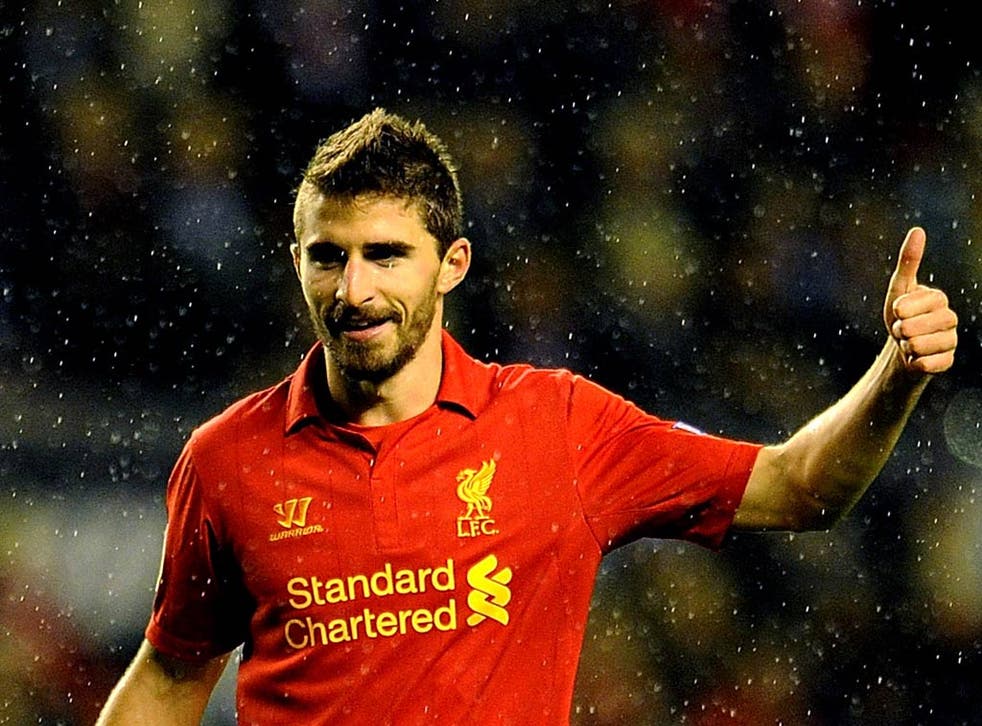 Liverpool forward Fabio Borini may return from a shoulder operation before the end of the season but it seems likely defender Martin Kelly will be held back until the summer.
Borini sustained a dislocation in February but is progressing well, however, Kelly's comeback from anterior cruciate ligament surgery in September will not be rushed.
"Fabio Borini was outside for the first time today so he's starting that progression - passing balls, running and doing ball work," said head of performance Glen Driscoll.
"He's due to be probably another six weeks from this point on.
"The injury he's had is normally eight to 12 weeks. He's quite a quick rehabilitator.
"At the moment, it's looking pretty positive for Fabio that he could be back ahead of schedule and maybe make the end of the season."
There are more issues to be taken into consideration with the type of injury Kelly suffered, which usually has about a nine-month lay-off period.
And while the 22-year-old has made such good progress the temptation may be to give him a run out before the end of the campaign Driscoll stressed that may not be in the defender's best interests.
"Martin is doing extremely well; he's probably at the late stage of his rehab," he told Liverpoolfc.com.
"We'll probably look to prioritise getting him back for pre-season 110% fit - 10% fitter, stronger and quicker, more powerful and agile than he was previously.
"He'll probably be in a position where it will be tempting to put him into games again this season but it will show class and quality if we make sure that he's in a very strong position so he can fly next season.
"Martin should look at what Steven Gerrard has achieved this season (playing every minute of every Premier League match so far): people would never have considered that he would be available for a full campaign.
"He should take great hope from that and know that if he continues to work and continues his professionalism, hopefully the future is bright. We hope to give him every chance.
"Martin has almost been a showcase for the quality of our medical science department.
"He's getting the best of all our staff and it's going very well."
Register for free to continue reading
Registration is a free and easy way to support our truly independent journalism
By registering, you will also enjoy limited access to Premium articles, exclusive newsletters, commenting, and virtual events with our leading journalists
Already have an account? sign in
Join our new commenting forum
Join thought-provoking conversations, follow other Independent readers and see their replies