Joe Gomez reveals what he has learned from Virgil van Dijk at Liverpool
Gomez was injured less than 10 minutes into Friday's head to head with Van Dijk's Netherlands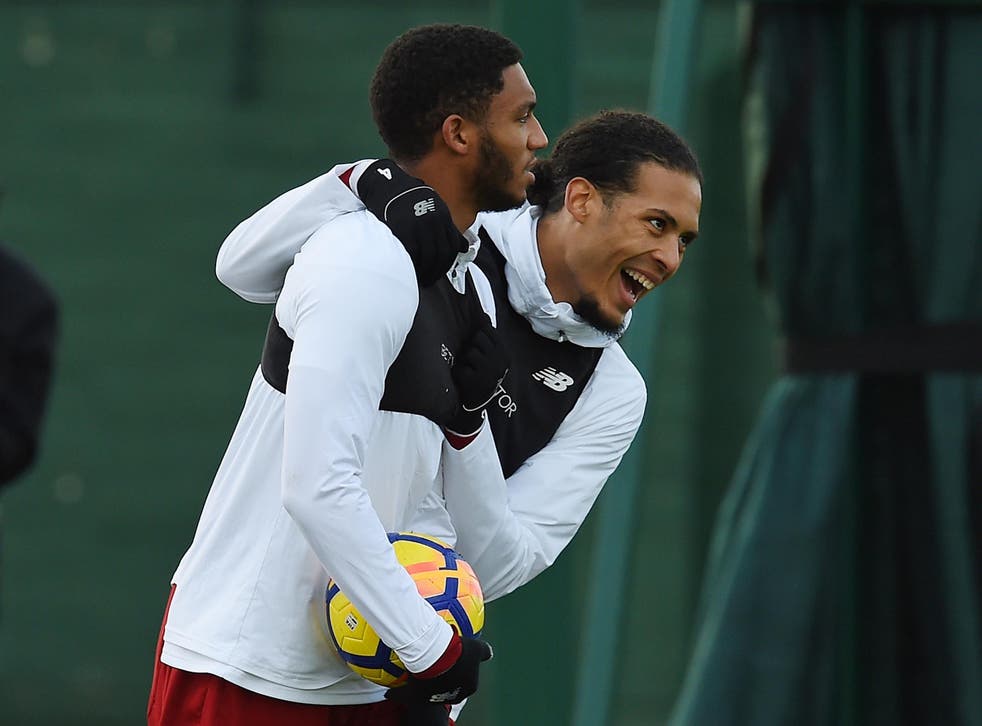 England's Joe Gomez is learning everything he can from Liverpool team-mate Virgil van Dijk and sees himself as "a sponge" soaking up lessons from the world's most expensive defender.
Gomez was injured less than 10 minutes into Friday's head to head with Van Dijk's Netherlands, which England won 1-0 thanks to Jesse Lingard's second-half strike, but will continue to be monitored by the Football Association's medical staff ahead of Tuesday's Wembley clash with Italy.
His trip to Amsterdam may not have gone quite as well as his man-of-the-match outing against Brazil in November but the 20-year-old believes playing alongside the £75m Dutchman over the past three months has already made him better.
World Cup 2018 official kits

Show all 51
That deal may have slowed Gomez's long-term ambitions of a move from right-back to centre-half but he believes watching one of the Premier League's most accomplished performers from close quarters can only accelerate his development.
"I didn't see it as blocking my path or anything like that. It's a great opportunity to learn from him," he said. "I am not overly stressing about it or paranoid about other people coming in. It's great to be in environments where I can learn from players like that. I am just trying to soak it all up and be the best sponge I can be.
"I think he has a great presence, everyone sees that. He is very dominant in the way he plays and his body language shows that he has quality on the ball."
Gomez does not have to look too far for the other side of his football education, sharing Liverpool's Melwood training pitch with the country's top-scorer Mohamed Salah on a daily basis.
Salah has been a revelation since arriving at Anfield last summer, plundering 36 goals in all competitions in his first season in red.
Having also shut out Brazilian star Neymar on his first England start, he is getting used to taking on the very best in the world.
"I'm not sure (who is better), they're both world class," he said. "They're both incredible players and it's a pleasure for me to come up against such talent.
"It has to be a balance of respecting the ability but also understanding that he's your opponent and you can't be in awe of him, otherwise that might not do you any good.
"I try to learn as much as I can about each opponent and study their threats."
Gomez's next mission at international level to is to win a place in Gareth Southgate's World Cup squad.
If he makes the the 23 it would represent a remarkable turnaround having opted to sit out last year's Under-21 European Championship to build fitness and focus away from the cut and thrust of tournament football.
Crediting Young Lions boss Aidy Boothroyd for his understanding approach, Gomez is convinced he made the right call.
"It was a very tough decision to make, probably one of the hardest decisions of my career," he said. "I didn't want to just not turn up or fake an injury, I made sure I sat down with Aidy and talked it through. It was me and him, no one else.
"I wanted to make it clear that I loved playing for my country. There were a few sleepless nights - I didn't downplay at all the opportunity or the honour to go to the Euro Under-21s - I knew what was at stake."
Register for free to continue reading
Registration is a free and easy way to support our truly independent journalism
By registering, you will also enjoy limited access to Premium articles, exclusive newsletters, commenting, and virtual events with our leading journalists
Already have an account? sign in
Register for free to continue reading
Registration is a free and easy way to support our truly independent journalism
By registering, you will also enjoy limited access to Premium articles, exclusive newsletters, commenting, and virtual events with our leading journalists
Already have an account? sign in
Join our new commenting forum
Join thought-provoking conversations, follow other Independent readers and see their replies