Philippe Coutinho situation 'hasn't changed', confirms Jurgen Klopp after Liverpool victory over Crystal Palace
Liverpool rejected a £119m offer from Barcelona on Friday, but Klopp will not have the midfielder back in his squad anytime soon as he remains absent with injury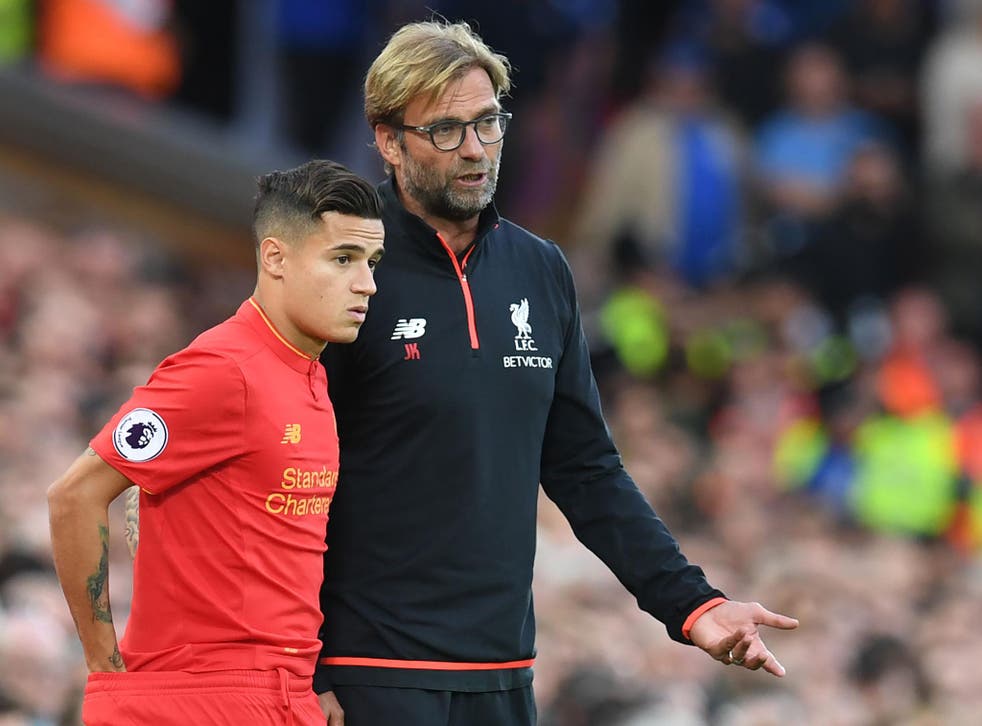 Jürgen Klopp insisted Liverpool's position over Philippe Coutinho's future has not changed despite Barcelona's latest offer for the player.
It was revealed yesterday that the Brazilian midfielder, who was absent again from the Liverpool team during their 1-0 victory over Crystal Palace, was the subject of a third bid from Barcelona – a bid that was swiftly rejected.
Coutinho has been suffering from a mysterious back injury ever since Barcelona's interest became public. The impression from Klopp is he will not be available when Liverpool face Hoffenheim in their key Champions League second leg qualifier at Anfield on Wednesday evening.
Hoffenheim vs Liverpool player ratings

Show all 11
"No nothing new from the injury side," Klopp said. "If I speak to the owners [about Coutinho] I don't think this is a situation I should talk about here but I am informed about everything in the club. Nothing has changed."
Klopp's defence was criticised last week for the way it conceded three scruffy goals against Watford but having rotated against Palace, he believed the subsequent clean sheet vindicated his decision.
"The defending was outstanding today," he said, though this assessment perhaps overlooked the absence of an attacking threat from a visiting side low on confidence after losing heavily at home to Huddersfield Town in their previous game.
Klopp's plan, though, had been to push Christian Benteke as far away from Simon Mignolet's goal as possible and this worked to an extent. One chance did fall to Benteke when the scores were level but he failed to capitalise on the opportunity. "If you know the other team will play long ball you know you have to try and stay as high as possible for as long as possible," Klopp added. "I think we did that very well."
With Gareth Southgate, the England manager, in attendance, Klopp also revealed that he would be happy if Daniel Sturridge received an international recall. The striker, who started in place of Mohamed Salah here, was substituted for the Egyptian with half an hour remaining. It was suggested to Klopp that Sturridge's injury record might mean rest at this stage of the season might be better for him.
"If Gareth wants to pick him, he can," Klopp responded. "Daniel had an outstanding pre-season and then was unlucky in the Bayern [Munich] game (where he got injured in the process of scoring. It is a long time Daniel had games. He needs each game he can get. I am very positive about him. Nobody asks me if I am happy if someone picks my players."
Register for free to continue reading
Registration is a free and easy way to support our truly independent journalism
By registering, you will also enjoy limited access to Premium articles, exclusive newsletters, commenting, and virtual events with our leading journalists
Already have an account? sign in
Register for free to continue reading
Registration is a free and easy way to support our truly independent journalism
By registering, you will also enjoy limited access to Premium articles, exclusive newsletters, commenting, and virtual events with our leading journalists
Already have an account? sign in
Join our new commenting forum
Join thought-provoking conversations, follow other Independent readers and see their replies