Opinion
Every fan that attended Liverpool vs Atlético Madrid was let down by the people supposed to protect them
The game should never have gone ahead and urgent questions must be asked, writes Neil Atkinson, a Liverpool fan who attended the game and host of The Anfield Wrap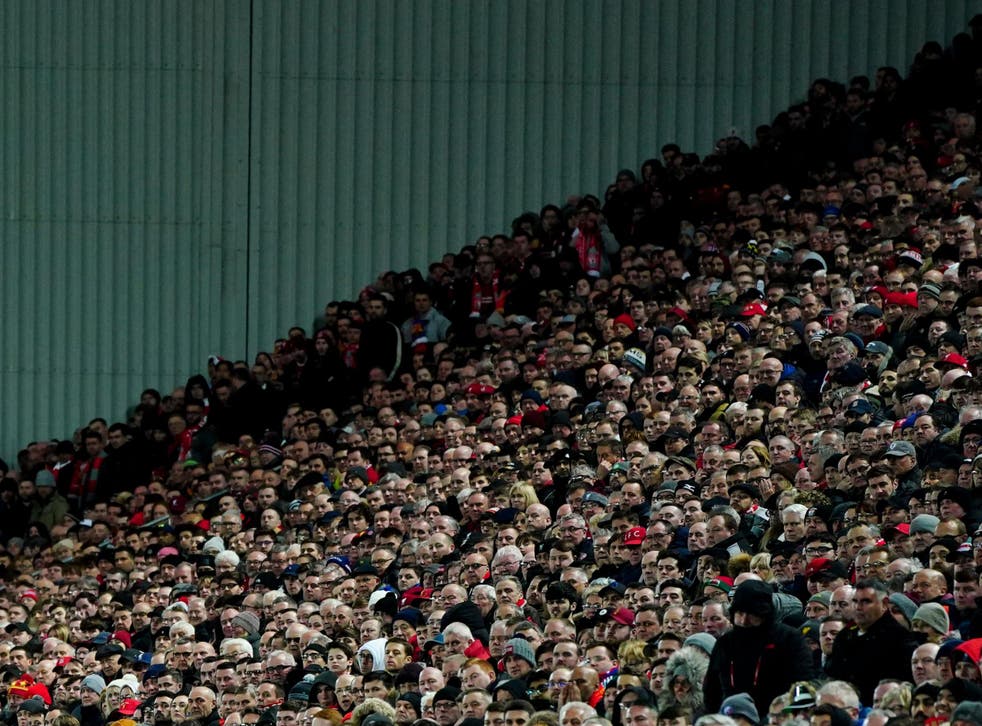 Did thousands of Atlético Madrid supporters help to expand and deepen the spread of covid-19 when they travelled to Liverpool to watch last month's Champions League match at Anfield? On Tuesday, the deputy chief scientific advisor Angela McLean acknowledged that it was an "interesting hypothesis" after being asked one question by the Liverpool Echo.
They don't get to ask follow up questions at these press conferences but if they could Liam Thorp may have wanted her to offer more detail on this observation. As well as pressing her to state on the record who was giving what advice and what the basis for it was and how that influenced the decision that Rishi Sunak yesterday stood by.
Almost everything that revolves around going to a football match makes doing it unsafe in a pandemic. It is staggering that the Atlético game was allowed to go ahead, with the Madrid supporters in the ground - and in Liverpool itself - for two or three days leading up to the game, knowing their own city was under lockdown and that these were their last nights out for a while.
Fair play to them: I'd have done the same. But it didn't feel right.
I think one of the things the whole fandango before and after the Atletico game shows is a lack of awareness, interest and care from decision makers in Government on what attending football matches - especially European ones - actually entails. Those of us who go to games know that it tends to be an enterprise. You do not magically appear in your seat and then magically disappear afterwards. Ministers and dignitaries may be whisked in and out of sporting events. You and I are not. You board public transport and planes, you eat and drink and share spaces, you congregate in pubs and on concourses. You go out after. We went out after. Went out because we knew it was the last time.
This should have been taken into account. Was it? We don't know. Nothing is on the public record. What we do know is it's worth remembering the Government was pushing for the following weekend's Premier League programme to be completed and it took Mikel Arteta falling ill to change that. The health of a participant rather than the health of the people was the catalyst for the weekend's games being stopped.
The leadership from the top, the clear thinking and clarity was lacking. It was lacking around Cheltenham - that explosion of humanity in a town ill-equipped to cope for it at the best of times - and lacking around football. It needed political leadership. We had none.
It's a strange thing - I was literally out after the Atletico game telling a couple of members of the Anfield Wrap team in between dancing that we were going to have to close the office the next day. We have about 60 people in and out of our shared office space a week to contribute to our videos and podcasts. The responsible thing to do was to lessen the risk for everyone.
That day I wanted the game and wanted the night out - but I knew the right course that would have to follow. I knew that it wasn't being followed even while in the ground. You can think two contradictory things at once. The people at Cheltenham, the people at Anfield aren't bad people or irresponsible people. They may well have known things weren't right even while attending - Jurgen Klopp was telling supporters to put their fucking hands away and he wasn't the only one.
It is Governments that have to draw lines, that have to set the tone by prohibiting things. And it is worth reiterating that this Government with all its knowledge wanted a full league programme of football to go ahead the weekend after Atletico and Cheltenham. Imagine where those horror shows of graphs we see now would be had that weekend of games happened then. On that Wednesday night people with mild symptoms - my friends - were at the Atlético game. The advice from the 111 helpline was to go about normal business. Normal business was to go to a normal football match as though it was normal.
It wasn't normal. It was wrong.
The advice was wrong. The Madrid supporters coming over was wrong. The game going ahead was wrong.
This isn't hindsight. After closing our office I was gobsmacked when it appeared the Premier League was going to play on the following weekend, gobsmacked by the statement that Thursday from the Prime Minister. Well I wasn't gobsmacked. I was arguing with my mother who wanted to take a trip away and was trumpeting the advice given by the Prime Minister as justification for her doing that while I begged her not to because everything pointed to it being unsafe.
The time for follow ups to Liam's perfectly valid question is now. Not in six months, not in whatever pathetic form an inquiry takes but now. Ministers, the Prime Minister should be on the record about what was decided, why and when. There is no enemy here, no knowledge that needs to be kept from any of us. The virus doesn't think. It doesn't plan. It doesn't have an approach which it can modify if we get to see the thinking from the people who have chosen to be the people responsible for keeping us safe, for making decisions, for leading.
There needs to be clarity. Clarity about what has happened, clarity about where we are now, clarity about what is to come. It isn't asking much but it may be asking too much.
Register for free to continue reading
Registration is a free and easy way to support our truly independent journalism
By registering, you will also enjoy limited access to Premium articles, exclusive newsletters, commenting, and virtual events with our leading journalists
Already have an account? sign in
Register for free to continue reading
Registration is a free and easy way to support our truly independent journalism
By registering, you will also enjoy limited access to Premium articles, exclusive newsletters, commenting, and virtual events with our leading journalists
Already have an account? sign in
Join our new commenting forum
Join thought-provoking conversations, follow other Independent readers and see their replies