Jürgen Klopp warns Mohamed Salah against getting a reputation for diving after Liverpool's defeat by Chelsea
Salah was shown a yellow card for simulation at Stamford Bridge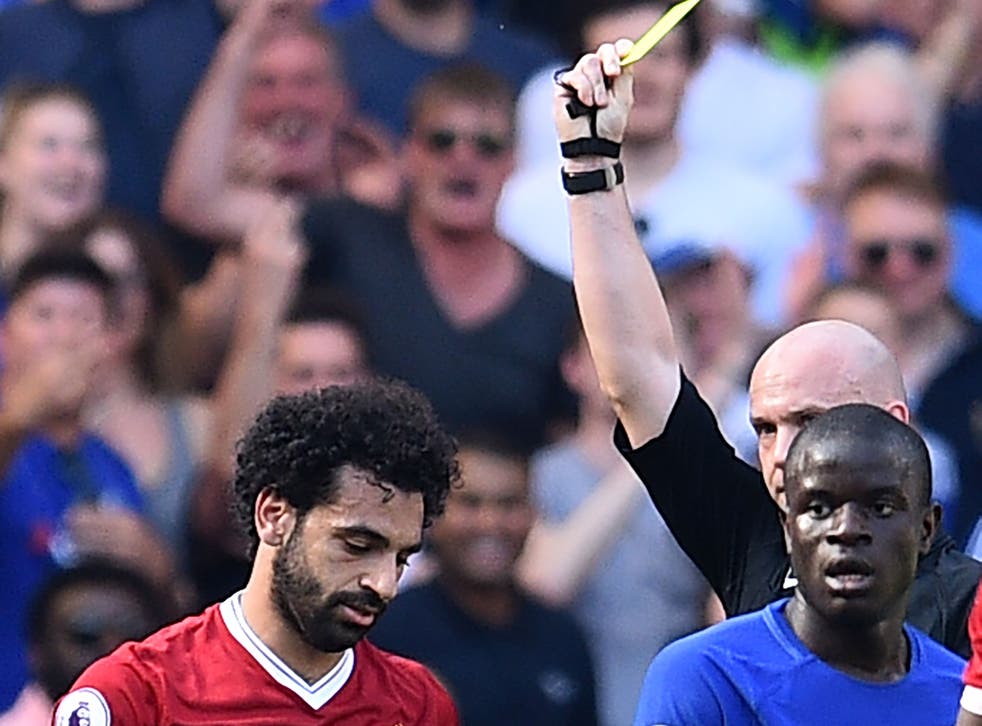 Liverpool manager Jürgen Klopp has warned Mohamed Salah not to develop a reputation for diving after the Egyptian was shown his first yellow card of the season for simulation in the 1-0 defeat away at Chelsea.
Salah was booked for going to ground in a challenge with Gary Cahill in the first half of a frustrating game for the striker, who barely had a scoring chance.
Klopp pointed out that, while bookings are undesirable in themselves, referees are also wary of giving decisions in favour of those they think likely to dive.
"Yes I think it was a dive, wasn't it?" Klopp said. "Or he waited for the contact, I am not sure, so that is not what I want to see, that is not what he wants to do.
"But obviously it happened. With all the other situations, in that situation he couldn't get any foul any more. That is not right as well." The German mimed shirt pulling and added: "It was always like this and you have to deal with that. He has to be much better, he can do much better and he will score again, there is no doubt about that."
Chelsea vs Liverpool Player Ratings

Show all 24
Chelsea did better against their former striker than AS Roma, his previous club, had in the Champions League semi-final, but Klopp pointed out that he had endured rough treatment in both games.
"Now we have played twice against former team-mates," he said. "Before the game they are very friendly and 'Hello Mo, how are you?' and hug. But then during the game, bang. The same with Antonio Rudiger today."
The result means that the gap between the clubs is now down to three points, Chelsea having a game in hand but an inferior goal difference, with Tottenham a point behind the Reds. Liverpool face Brighton at Anfield on Sunday while Chelsea host Huddersfield then visit Newcastle, and Klopp insists that his team has the advantage.
"Chelsea have to win their games as well," Klopp said. "Newcastle is not a holiday trip. I saw Brighton against [Manchester] United and they don't look like an easy game, but it's football. If you want guarantees, do something different. The boys have shown me they will try and try and try."
Chelsea manager Antonio Conte recognised the reality that his men have an uphill task to claim fourth place, but remains positive.
"One month ago it was impossible to imagine we'd arrive at the end to fight for a place in the Champions League," he said. "Now there is hope. We are getting three points in every game. Our opponents are dropping points. But our future is not in our hands. We have to try, though. We have to try to get three points to put pressure on the teams ahead of us."
Join our new commenting forum
Join thought-provoking conversations, follow other Independent readers and see their replies