Liverpool claim deserved Merseyside derby victory over Everton but Sadio Mane injury overshadows celebrations
Liverpool 3 Everton 1: Goals from Mane, Philippe Coutinho abd Divock Origi provided a sense of déjà vu for an Everton side that can't work out how to win the Merseyside derby
Simon Hughes
Anfield
Saturday 01 April 2017 14:17 Comments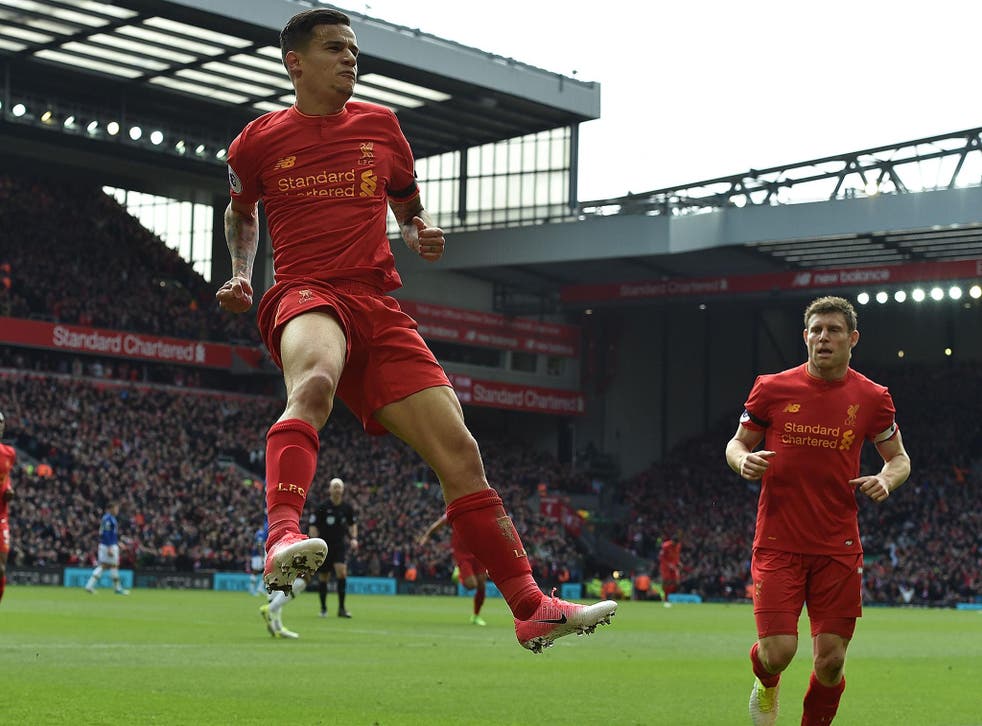 It was not en masse but minute sixty and already, it was time for some individuals in the away end to make for the exit gangway and hit the wet tarmac of Anfield Road; chins nuzzled into breasts, hands in pockets.
It had been a Merseyside derby with fury, goals and a possible recovery making what would have been a brilliant story. But ultimately, it was the same old outcome for Everton, whose winless run at Anfield stretches into a nineteenth year. Three-one down, the early leavers considered the matter unsalvageable. They have been here so often.
Everton were not well-beaten here but they were beaten deservedly by a Liverpool team that in theory, should qualify for Champions League when you weigh up their current position in the league and the opponents they must face between now and the end of the season.
It was not a perfect afternoon, however. Sadio Mané's injury was agonising and the way he went down, the way he tried to carry on, the way he realised he could not by falling for a second time because of the pain in his leg suggested he might not appear for Liverpool in a while, adding to Jürgen Klopp's injury problems.
Klopp, indeed, had spent Friday mulling over the advantages of a tactical shift in light of Adam Lallana's absence through injury and the short amount of time he had to prepare for the game. The same thoughts must have crossed Ronald Koeman's mind considering three players that featured in their most recent victory over Hull City were not available after "the worst" international break in his career as a manager.
The upshot was, Klopp decided to stick with the formation he has used throughout the campaign while Koeman tried to hide the gaps across his team by deploying a back three. Perhaps the lack of preparation time available to the managers made it a better spectacle than it might have been otherwise. Perhaps it meant defensive strategies were not overthought and this led to a more open game. The first half was gloriously chaotic and not the type of derby anyone would have expected.
Liverpool led, Everton pegged them back but within a couple of minutes Liverpool were in front again. By half-time, Everton were in a nightmarish sort of position because it had seemed the day was going their way, having clawed themselves back into the contest following Mané's opener, which involved a sprint from deep and a calm left foot finish.
So, when a twenty-two-year-old locally born centre half scores his first goal for the club in only his third start – when it's an equaliser and it's right in front of the Kop - you imagine the glow of the moment to last a little longer than it did. You imagine that this will be your day.
Instead, Liverpool's response was spectacular. Matthew Pennington, the scorer of Everton's goal after Liverpool's defenders failed to clear Leighton Baines's corner, afforded Philippe Coutinho too much space before he unloaded his curling shot in the top corner of the net. Earlier, Pennington was not punished when Coutinho was allowed to release a similar effort only for Joel Robles to save him but this time, the quality of the Coutinho's strike did not mask what had happened.
David Unsworth, who has been doing great things with Everton's Under-23 team this season, a team that sits comfortably at the top of its league, has been pushing Koeman to give Pennington his chance. Warrington born, Pennington was Coventry City's player of the season a few years ago but it would be unfair to judge him solely on his performance here: in Everton's most important game of the season, in a slightly unfamiliar position to the right of a defensive three and without Seamus Coleman to offer him protection. Not every opponent has Coutinho's hypnotic skill.
Liverpool scoring so soon could have sucked the life out of Everton's performance. It did not. But even with Mané's injury, Liverpool were in control. Their victory was secured by Mané's replacement, Divock Origi, who combined with Coutinho to send Robles the wrong way.
For Liverpool, all the need to do now is find a way to beat the lesser sides. For Everton, their atrocious twenty-first century history at Anfield continues.
Register for free to continue reading
Registration is a free and easy way to support our truly independent journalism
By registering, you will also enjoy limited access to Premium articles, exclusive newsletters, commenting, and virtual events with our leading journalists
Already have an account? sign in
Join our new commenting forum
Join thought-provoking conversations, follow other Independent readers and see their replies