Liverpool vs Hull match report: Jurgen Klopp's side hit five past ten-man Tigers
Liverpool 5 Hull City 1: The Merseysiders were at their ruthless best to smash five past the ten-man Tigers and maintain their positive start to the season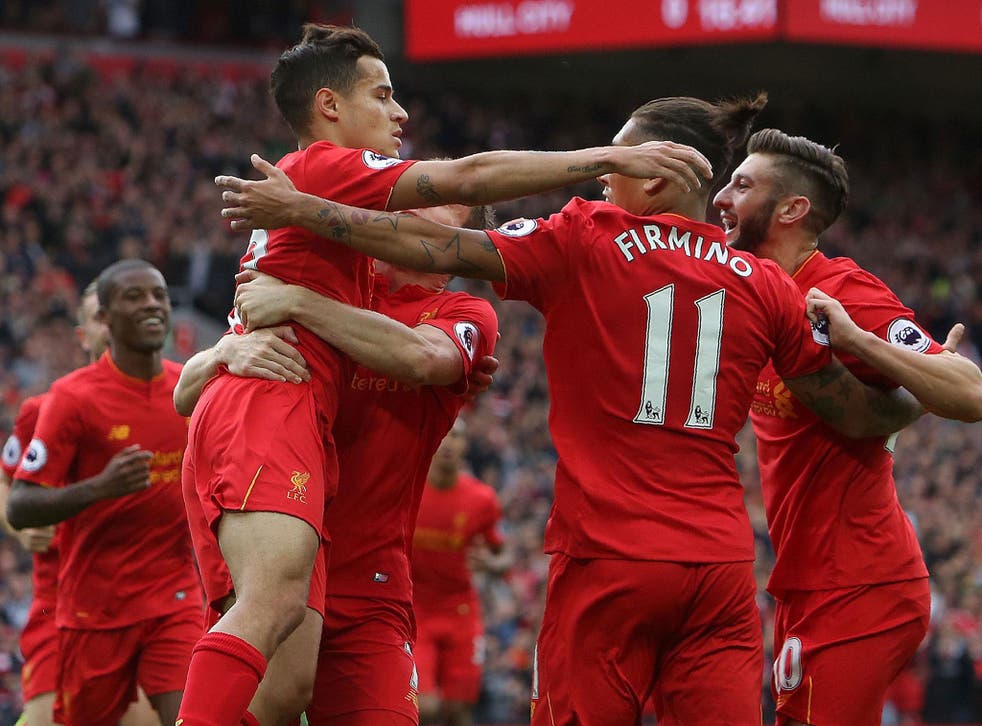 Way down Everton Valley, where the old terraced homes of Walton Breck Road meet the rubble of the bulldozed Notre Dame school, a billboard promises regeneration: 'A brighter Anfield is coming,' it reads confidently.
In sporting terms, it does not feel far away. Maybe it's nearly here. Under Jürgen Klopp this was Liverpool at their most cunning and their most cold-blooded.
When Sadio Mané rolled Liverpool into a 3-0 lead not long after the half hour mark, Mike Phelan turned away and grimaced, fiddling with the knot in the tie; loosening the pressure on his neck.
For Hull's caretaker manager – on his 54th birthday – the day could not have been any more uncomfortable. Ahmed Elmohamady had already been sent off for his team by then after handling Philippe Coutinho's shot on the line. Yet even before, the mismatch in quality and planning was patently obvious.
The gap between the new the new main stand and the Kop means Anfield's pitch is now susceptible to wind blowing in from the Irish Sea. On occasions, this might prove to frustrate Klopp but here – and for Hull's defence – it must have felt like attempting to play under the wing of a jumbo jet, such was the energy in front of them. It would not have been unjust had Liverpool's lead at the break been as great as seven.
Adam Lallana was at the source of everything that Liverpool did well. He scored once and set up another two before being given a rest with 20 minutes remaining. Phelan had the sense to put an extra defender on, replacing Tom Huddlestone with Harry Maguire, as he tried to cut off the angles where the England midfielder's passes were proving so effective.
But then there was the threat of Sadio Mané as well. His arrival from Southampton has transformed the way Liverpool play. If defences go high, trying to squeeze the space where Lallana and Coutinho are so dangerous especially, the room left behind releases the Senegalese. Go deep instead, and Lallana and co – on this form – are irresistible. Mané's pace means bad passes often turn in to good ones. Not since Michael Owen have Liverpool had someone who marries such raw and basic qualities with effectiveness.
Before, there was a sense that this game could be a season defining for Liverpool, one which determines whether Klopp's team is really one to trust.
Win, and smash the supposed mental block that takes hold when facing deep sitting and opponents of lesser means like Hull. Any other outcome, and when Liverpool meet West Bromwich Albion next month, the encounter would be approached with reasonable trepidation.
Klopp had asked for the temperature inside Anfield to reach that of fresh lava. His team was able to get the crowd on side from the beginning because Liverpool's domination was overwhelming.
James Milner's right boot was the genesis of Liverpool's first goal in front of the new main stand against Leicester City. It was here too, his pass in-field from the left back position, releasing Coutinho, who then found Lallana. The shot that followed from Lallana was one of those scuffed efforts that may not have been as affective had it been clean. It was enough to beat David Marshall, though.
Liverpool were one-up. It should have really been three but it wasn't because Joel Matip connected with Milner's corner with his shoulder rather than his head, and then Coutinho appeared to completely break down from five-yards out when it was probably easier to score.
After Elmohamady was ordered off and Milner drilled home the subsequent penalty, Lallana supplied Mané for Liverpool's third and after that, their fourth – swept in majestically by Coutinho. That came after the little black mark on Liverpool's performance, a Hull goal from David Meyler after a poorly defended corner that means Liverpool are yet to keep a clean sheet this season.
Roberto Firmino was favoured instead of Daniel Sturridge but when the forward was sent on, his impact was instant; his trickery leading to a foul by Andrew Robertson and a second penalty converted in exactly the same fashion by Milner as the first.
Sturridge had appeared to want to take it and though Klopp has not said it publically, his presence in this Liverpool team will be determined by his team work and reaction to disappointment.
That Sturridge handed the ball over to Milner and celebrated in the aftermath suggests that maybe times are, indeed, changing at Anfield for the better.
Liverpool (4-3-3): Karius; Clyne, Matip, Klavan, Milner; Lallana (Sturridge 70), Henderson (Can 75), Wijnaldum; Mane, Firmino, Coutinho (Grujic 75). Subs not used: Mignolet, Moreno, Origi, Lucas
Hull City (4-3-3): Marshall; Elmohamady, Livermore, Davies, Robertson; Huddlestone (Maguire h-t), Clucas, Mason (Henriksen 74); Snodgrass, Hernandez, Diomande (Meyler 33). Subs not used: Jakupovic, Maloney, Mbokani, Keane.
Referee: Andre Marriner
Attendance: 53, 109
Register for free to continue reading
Registration is a free and easy way to support our truly independent journalism
By registering, you will also enjoy limited access to Premium articles, exclusive newsletters, commenting, and virtual events with our leading journalists
Already have an account? sign in
Register for free to continue reading
Registration is a free and easy way to support our truly independent journalism
By registering, you will also enjoy limited access to Premium articles, exclusive newsletters, commenting, and virtual events with our leading journalists
Already have an account? sign in
Join our new commenting forum
Join thought-provoking conversations, follow other Independent readers and see their replies