Signing of the season Mohamed Salah shows his class as Liverpool put Southampton to the sword
Liverpool 3 Southampton 0: The outstanding Egyptian scored his thirteenth and fourteenth goals for Liverpool in just eighteen games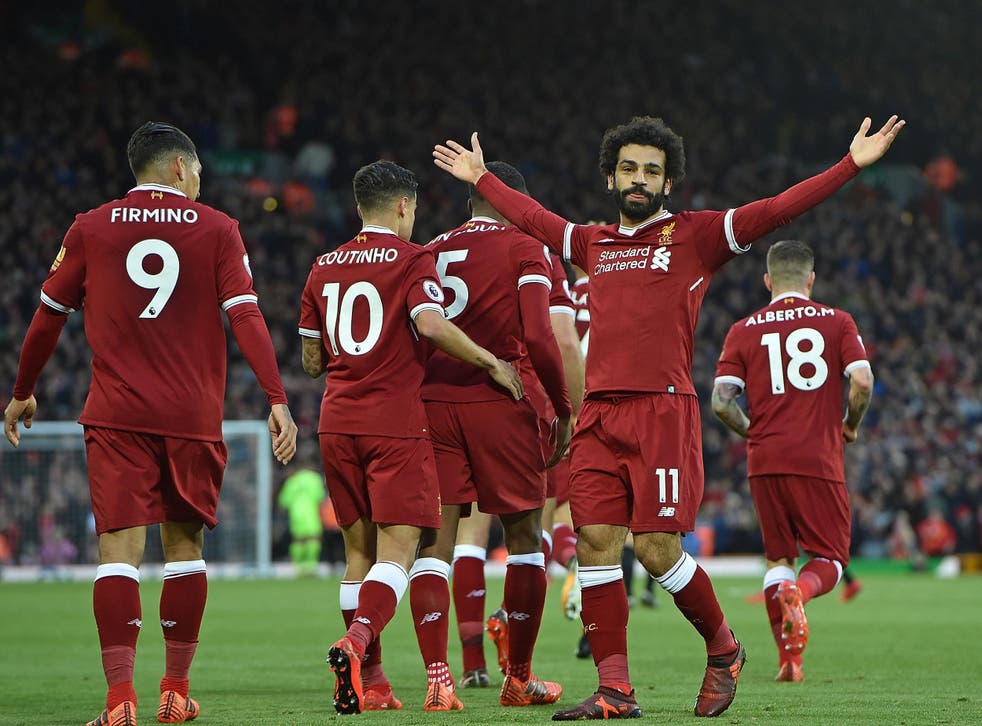 When a manager wants to pay a world record fee for a defender and the deal ends up collapsing dramatically, with his club offering a public apology for clandestine meetings that happened near Blackpool's winter gardens, it is understandable why the story confiscates the focus of an entire summer.
Jürgen Klopp did not sign Virgil van Dijk and so, the significance of Mohamed Salah's arrival was lost somewhat – even though the finance that secured his move from Roma represented the most Liverpool had spent on any player in their history.
Michael Edwards has been criticised for both his ability to identify targets and negotiate his way through a transfer process since becoming a key figure in Liverpool's recruitment department. But credit is due with Salah.
Mohamed Salah signs for Liverpool

Show all 6
It would have been tempting to believe that because the Egyptian was cast aside by Chelsea so quickly, that the Premier League was not the platform for him. And yet here, he scored his thirteenth and fourteenth goals for Liverpool in just eighteen games.
Statistically, Salah is converting chances at a quicker rate than Robbie Fowler when he entered Liverpool's first team in sensational fashion twenty-three years ago. Salah's feat is made more remarkable that he is not even a centre-forward. It would also be unfair to describe his opener in this game as a chance. There was so much he needed to get right when the ball arrived at his feet twenty-five yards from goal. What followed was not really a shot. In technical terms, it was more of a caressed left-foot pass, with accuracy favoured over power. Even if he had two-sets of arms, Fraser Forster would not have saved it.
The highly-respected Monchi was only a month into his job at Roma when he sanctioned Salah's departure for £36.9million. What was he thinking? Salah's qualities are Lionel Messi-eque. He is left footed, plays on the right but has the speed and ingenuity to concern entire defences. He has been the best-value signing of any Premier League club for this season, if not the most outstanding. The Kop has a new hero to worship.
There are signs that Liverpool are maturing under Klopp. The response to a chastising afternoon at Wembley in defeat to Tottenham last month has been excellent: four games, four wins, thirteen goals scored, one conceded.
It has been said that Liverpool will struggle to qualify for the Champions League this season because of improvements at both Manchester clubs as well as Tottenham. With all of their key players now fit at the same time, they are now level with Tottenham and just three points off second place.
Patience was required in this victory because Southampton's set-up initially could have contributed towards a surge of frustration inside Anfield. Once behind because of Salah's brilliance, Southampton's response was flat. Watching them here made you wonder why Les Reed decided to replace Claude Puel with Mauricio Pellegrino, two coaches with similar defensive mindsets, albeit one being more experienced at imposing his methods more impressively. Pellegrino is not that coach.
Liverpool were 2-0 ahead at half-time because of Philippe Coutinho's pass and Salah's cross-field sprint and subsequent finish. It became 3-0 when Coutinho was perfectly positioned to slide in a rebound after Roberto Firmino had drilled a shot into Forster's chest. Liverpool were as convincing as they have been at home all season. For Southampton, the doubts about Pellegrino linger.

Register for free to continue reading
Registration is a free and easy way to support our truly independent journalism
By registering, you will also enjoy limited access to Premium articles, exclusive newsletters, commenting, and virtual events with our leading journalists
Already have an account? sign in
Register for free to continue reading
Registration is a free and easy way to support our truly independent journalism
By registering, you will also enjoy limited access to Premium articles, exclusive newsletters, commenting, and virtual events with our leading journalists
Already have an account? sign in
Join our new commenting forum
Join thought-provoking conversations, follow other Independent readers and see their replies