Liverpool vs West Ham match report: Defensive lapses allow Hammers to take a point at Anfield
Liverpool 2 West Ham United 2: Loris Karius' goalkeeping was questioned for the second consecutive week as the hosts had to come behind to salvage a point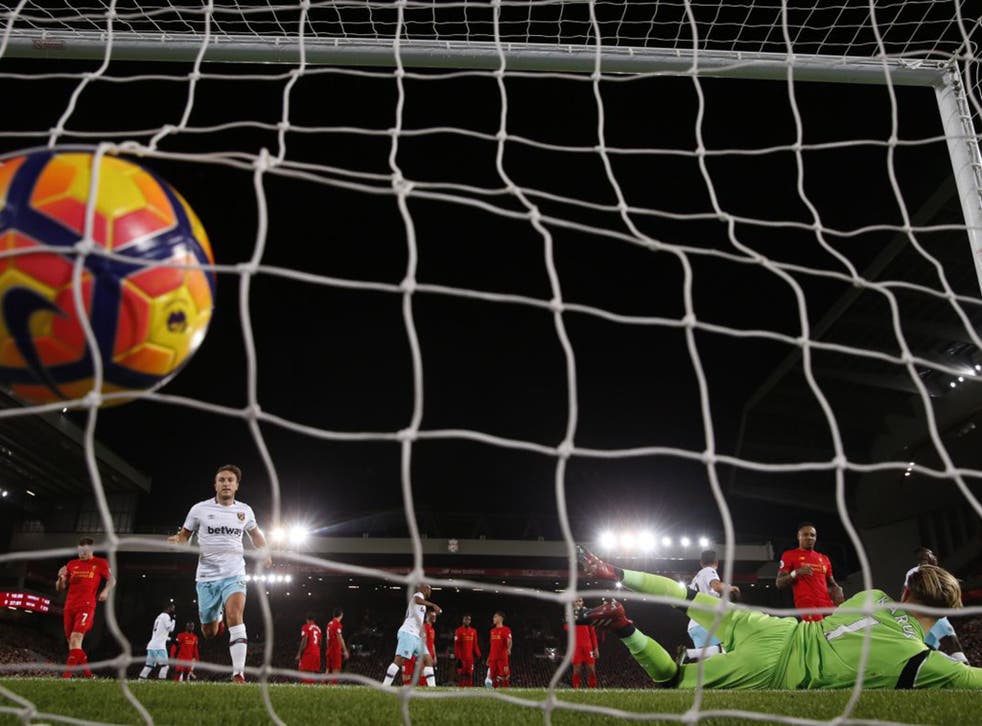 Ray Clemence was sat conveniently next to Bruce Grobbelaar in Anfield's new main stand; Liverpool's greatest goalkeeper accompanied by its most decorated. Both were quiet and staring into the middle distance when the cameras panned their way. Perhaps their thoughts were focused on why each of the last five goals conceded by their former club have been avoidable. Perhaps they were wondering whether someone better in their old position would have been able to stop it happening.
Undoubtedly, this was another bad day for Loris Karius with blame being levelled at the German for his contribution towards West Ham's lead. Jamie Carragher's assessment at half time was brutal but probably worth listening to, unless Karius wants to draw more attention to himself.
"My advice to him would be just shut up and do your job," Carragher warned after Karius responded to Gary Neville's review in the aftermath of Liverpool's defeat at Bournemouth by giving an interview where he said the former Manchester United player was back to being an "expert," having been sacked as Valencia's manager.
Karius's performance should not deter from that of West Ham's. Despite conceding two themselves – and considering Liverpool's equaliser was a consequence of dreadful handling by Darren Randolph – they appeared altogether more organised this week, following their dismantling by Arsenal in their last outing.
A thrashing here might have been the end of Slaven Bilić. Not far away from Clemence and Grobbelaar was David Gold, the owner; his eye watching everything closely.
Bilić now appreciates that the next four league fixtures against opponents in and around the relegation zone could be defining, not least for West Ham's entire season but his own future as well.
"It's a really great point for us," he realised. "We now have a crucial week ahead. I know we will have to show that togetherness again."
Had it not been for Karius, Bilić may have had some rather more difficult questions to answer. The goalkeeper's first half nightmare undermined the comfort Liverpool had enjoyed previously. He began reasonably enough, tipping away a shot you'd expect most Premier League goalkeepers to save from Michail Antonio, the utility player dispatched by Bilić as a centre forward. Liverpool had already taken the lead by then, a moment that came early and threatened to shatter West Ham's brittle confidence. Their defence had conceded five against Arsenal and here, Adam Lallana's opener may have been avoided had four the West Ham players surrounding him cottoned on to the danger. Lallana was standing no more than 10 yards in front of the Kop stand.
The role of Karius became significant after Lallana conceded a free-kick. From Dimitri Payet's release, Lallana also failed to jump when everyone else did and that was his second mistake. Three criticisms could be at levelled at Karius, though: the wall in front of him was set up in a fashion that meant he only saw the ball late. He had given Payet way too much of the goal to aim at and from there his hand was not strong enough to stop it going in. Payet's has supplied numerous world class goals in the last 18 months. This was not one of them.
Klopp used his pre-match press conference to try and spread the blame after Liverpool conceded four at Bournemouth; three of which, Karius could have done better with. West Ham's second goal here was another case of Karius being culpable of joint enterprise: he was there at the scene but not necessarily the person that should take absolute responsible for the crime. On this occasion, Joel Matip was the guilty one. Perhaps Karius was expecting him to deal with Havard Nordveit's cross field pass. Then again, his reaction to the sight of Antonio baring down on him was slow and seconds later, the ball was trickling over the line.
The narrative around Karius's involvement will probably hide just how awful Randolph's mistake was, allowing Liverpool to level. Sadio Mané's cross was not of the testing variety and yet but Randolph dropped it. Fortunately for Liverpool, Divock Origi was standing right there.
Randolph, however, had still had the necessary level of confidence to redeem himself. Liverpool were much more convincing in the second half than they were in the first. Despite their domination, the closest they came to scoring again was through a 30-yarder unleashed by Jordan Henderson. Somehow, Randolph's reflexes stopped it from flying in.
Register for free to continue reading
Registration is a free and easy way to support our truly independent journalism
By registering, you will also enjoy limited access to Premium articles, exclusive newsletters, commenting, and virtual events with our leading journalists
Already have an account? sign in
Register for free to continue reading
Registration is a free and easy way to support our truly independent journalism
By registering, you will also enjoy limited access to Premium articles, exclusive newsletters, commenting, and virtual events with our leading journalists
Already have an account? sign in
Join our new commenting forum
Join thought-provoking conversations, follow other Independent readers and see their replies