Diogo Jota shows why Liverpool and Wolves have both missed his unique talent this season
Liverpool have sorely missed Jota's incisive attacking play during his injury lay-off while Wolves have struggled to replace him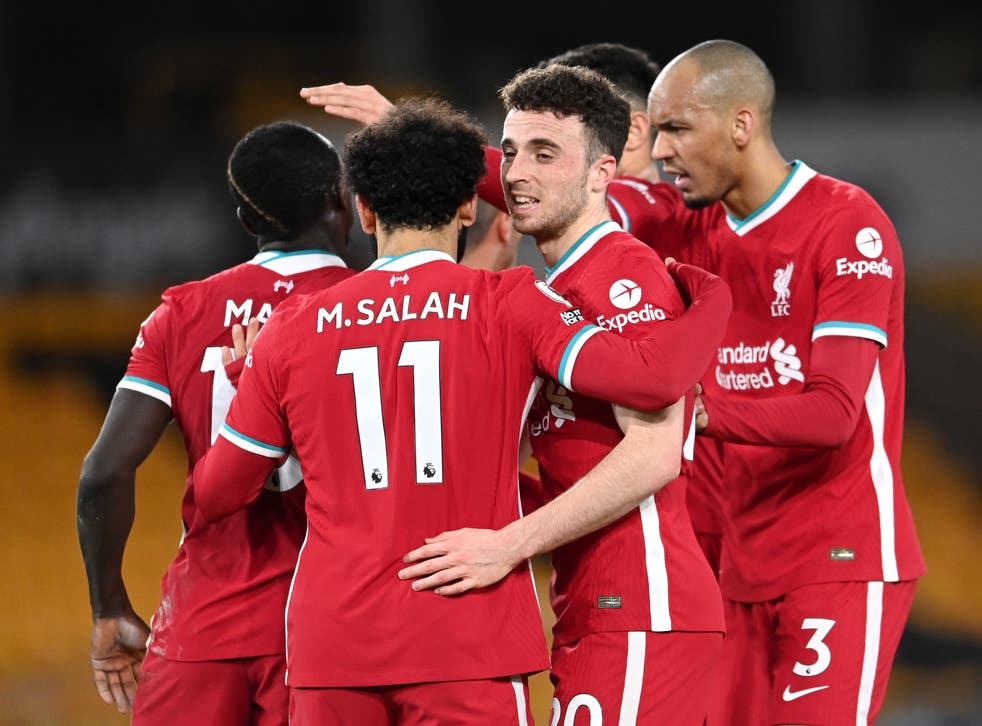 In the long list of damaging injuries suffered by Liverpool this season, there is no doubt Virgil van Dijk's ranks top. Given the importance fit centre-backs have acquired, Joe Gomez and Joel Matip surely take the podium places. And yet the knee problem Diogo Jota sustained in the dying minutes of a dead rubber against Midtjylland feels a factor in their wretched winter.
Liverpool were stripped of incision when they failed to score eight times in 13 games. Jota was limited to 118 minutes of those 1170 and if a seismic slump was a tale of fatigue, of Roberto Firmino's diminishing returns and of the knock-on effects of using midfielders to compensate for the loss of defenders, the Portuguese's return to Wolves saw him back on the scoresheet for the first time since November. Liverpool arrived at Molineux with two goals in open play from their last 67 shots in the league and if Jota benefited from unusually weak handling from Rui Patricio to improve that record, his winner was nonetheless testament to his sharpness. It was a welcome antidote to Liverpool's recent bluntness.
"Diogo is just a class football player but we cannot take it for granted that a boy who's been out for three months – or maybe even a little bit longer – is coming back and has an immediate impact again," said Jurgen Klopp.  "That is rare. It was a perfect moment for the goal."
It stemmed from slick combination play, the sort a different Liverpool front three have trademarked. It was "quick triangulation" in Jota's terminology; there was something symbolic about the front three combining, Mohamed Salah to Sadio Mane to the scorer, but this was a different front three. Perhaps it was a glimpse into life after Firmino.
Klopp can feel something of a paradox, a former forward, albeit one who was then converted into a defender, who can be the scourge of the specialist striker, a manager who was instrumental in Robert Lewandowski's rise but who normally eschews anyone who resembles a conventional No 9.
Firmino is so idiosyncratic that there were questions about the succession even before he appeared to be running on empty. There is no like-for-like alternative. Jota offers different differences to the normal front men. He tended to pop up on the left, parts of the Molineux pitch he knows well. He is more wispy than Firmino, less likely to materialise in midfield, but the common denominator is that they do not give defenders a static target to mark. He has an elusiveness and relentlessness.
And he can finish. Jota has six goals from 23 games in this season's Premier League, Firmino six from 64. The Portuguese has four goals in other competitions, the Brazilian none. The autumnal indications that Jota could displace Klopp's talisman from the strongest side are supported by some statistics: perhaps he will replace the irreplaceable.
But other comparisons can be drawn; with the man Liverpool could have signed, the boy Wolves did, the winger they did not sell last summer. Liverpool have prospered in the transfer market in part because of a reluctance to compromise. Yet Jota was at best a second-choice signing. Had finances permitted, they would have bought Timo Werner. As it is, Jota has outscored the German in the league, despite a 10-week lay-off. Werner's past shows more pedigree and suggests he may have a higher ceiling, but thus far Liverpool need not regret this result of pandemic economics.
Wolves, meanwhile, spent many of their Jota millions on Fabio Silva, the teenager with a solitary goal for Porto and now just two for them, only one of them in open play. There was a second piece of symbolism when he missed a late chance to equalise: Wolves are unfortunate that Raul Jimenez's absence has meant they have needed more from the youngster but while Silva has potential, Jota is more potent now.
And then there is his old sidekick. Whereas Jota appears to have progressed, and Wolves have regressed since his departure, Adama Traore remains an enigma. He can feel irrepressible but still has not registered a league goal or assist this season. Perhaps Wolves sold the wrong one. Traore was their most eye-catching winger last season. Jota was the more productive one. And at a time when goals had dried up for Liverpool, the finishing prowess that Firmino, Silva and Traore, in their various ways, have lacked, illustrated why his past and present employers have both missed him.
Join our new commenting forum
Join thought-provoking conversations, follow other Independent readers and see their replies