Gary Neville 'having a right laugh' as Liverpool's disastrous title defence hits point of 'absolute collapse'
'Dip' was to be expected, said the former Manchester United defender, but not such a staggering slump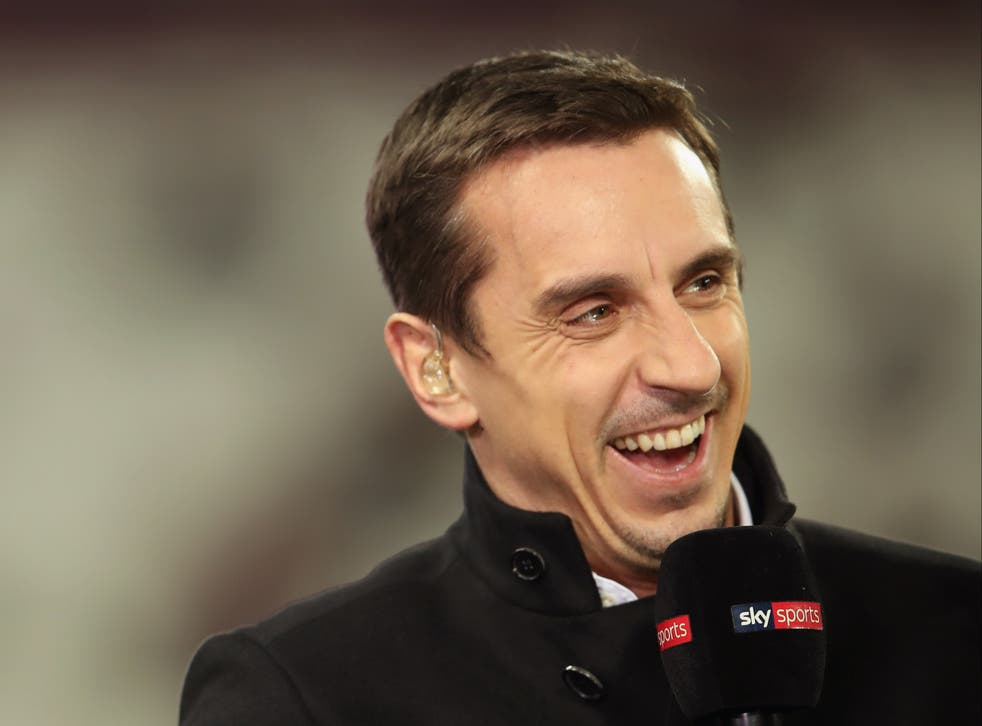 Gary Neville has admitted he is "having a right laugh" observing the depth of Liverpool's decline this season following last year's Premier League triumph.
Jurgen Klopp's side ended the club's 30-year wait for a top-flight title last term, but the Reds are eighth in the table with 10 games left to play this season, 22 points behind leaders Manchester City.
Liverpool lost 1-0 to relegation-threatened Fulham at Anfield on Sunday as their worst ever home run extended to six defeats in a row, and Neville has said the team's abysmal form goes beyond an expected "dip" in quality.
READ MORE: Is Klopp the right man to rebuild broken Liverpool?
"Liverpool have been absolutely outstanding and reached unbelievable heights [in recent seasons], and I said a few weeks ago that it was acceptable and I would go easy on them that they would have a little dip after three years," he told the Gary Neville Podcast.
"This is the fourth year. We could never do it a fourth year at United, there was always that dip. But this isn't a dip. 
"If we had a dip at United, we might have finished second or third. This is a collapse, it's an absolute collapse. They're woeful at the moment in every single way. I'm not sure what it is.
"[But] I'm sure there's no panic there at the moment; Jurgen Klopp has the experience and the quality and he'll know ultimately he needs to get this season finished, get this season over and limp over the line – wheelbarrow them over the line if he has to."
Neville suggested, however, that this summer's rescheduled Euros will make it difficult for Klopp's players to rest and regroup properly ahead of next season.
"You think about the Euros and then the season will start again," he said. "His players aren't going to get much of a rest. But they're going to regroup and make sure the damage that's being done in terms of the confidence isn't long-standing. The fact they won the title and won the Champions League – it's still the same group of players.
READ MORE: How do you measure the depths to which Liverpool have sunk?
"I never think in football it's as bad as it looks. We always punish ourselves when we make a mistake [in punditry] – that's what Liverpool players will be doing, they'll be punishing themselves. You can't do what they've done in the last two years without being great professionals and great players. You don't get to two Champions League finals and do what they've done without being a fantastic team.
"But what's happening right now is bizarre. It is bizarre."
Given the rivalry between Liverpool and Neville's former club United, the 46-year-old has enjoyed watching the English champions' disastrous defence of their title.
"I'm having a right laugh to be fair, I'm having a bit of a joke with the fact it's been a difficult three years watching them do what they've done. But they're awful," Neville said.
"They've just lost everything. It feels like they've lost absolutely everything they had. The speed of play, the confidence, the way in which Anfield was such a difficult place to go, the determination, resilience to win when they weren't playing well. There isn't anything there at the moment.
"I don't know how they get that back other than getting to the end of the season. They really are going to struggle to get into the top four. The mood in the dressing room must be really low, absolutely drained out of them."
Join our new commenting forum
Join thought-provoking conversations, follow other Independent readers and see their replies