Ill-disciplined Thiago Alcantara is an unfortunate emblem of Liverpool's decline
The Spain midfielder was at fault for James Maddison and Harvey Barnes' goals as the champions lost to Leicester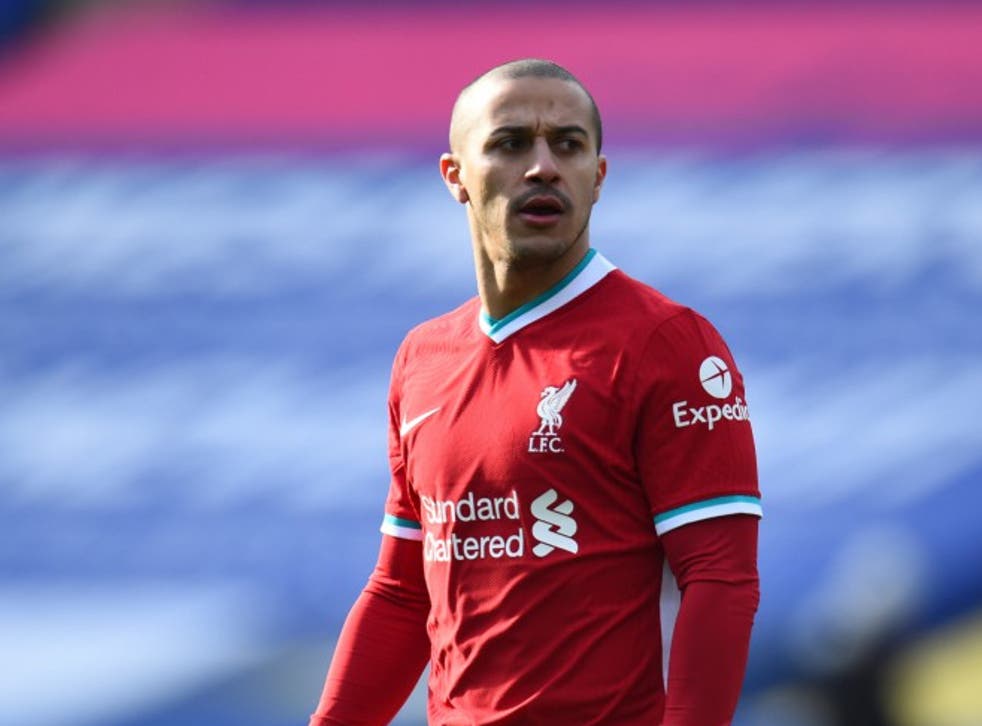 "Everything was fine and then penalty, free-kick, offside, not offside, goal," said Jurgen Klopp. It was as succinct an analysis as any of the remarkable passage of play that led to Leicester's equaliser. But there was an omission: foul. Committed by Thiago Alcantara, initially assumed by Anthony Taylor to be inside the box, shown by replays to be just outside but resulting eventually in James Maddison's goal nonetheless.
Foul. Another one. Signed to be Liverpool's playmaker, Thiago has instead emerged as the foulmaker. It is an indication of how Klopp's best-laid plans have gone awry. Bought to unlock defences, he has instead put his own under greater pressure by conceding free kicks.
Only Sadio Mane has been penalised more often, and the Senegalese has played more than twice as many minutes. In the division as a whole, no footballer who has been on the pitch for as few minutes has conceded more free kicks. All of which feels a little out of character – Thiago never fouled at such a rate for Barcelona or Bayern Munich – for a passer hired more for his constructive than destructive abilities.
READ MORE: Premier League fixtures and table — all matches by date and kick-off time
Not that the spate of offences exactly renders him the spiritual successor to Tommy Smith, Graeme Souness or Steve McMahon as the resident hard man. Perhaps it is a consequence of trying to hard to impress; conspicuous commitment can backfire when it is not allied with judgment. Certainly his ill-fated start to life at Liverpool has involved a struggle to get up to speed. The pace of the game can feel a culture shock, even if the penalty he conceded on debut at Chelsea was for a foul on another arrival from the Bundesliga, Timo Werner, and Bayern played a high-energy game.
Klopp's Liverpool can feel a contradiction: forever in opponents' faces, they play a high-octane style of football while getting the fewest bookings in each of the last two seasons. They closed opponents down without chopping them down. Then there is Thiago, perhaps their least fervent presser but their player with the second most cautions. He lost Harvey Barnes for Leicester's third goal and brought him down for their first. He was bought to be the antidote to the workhorses and so he has proved; just not in the way envisaged.
Jordan Henderson has shouted at him to be less rash, advice Thiago did not heed at Leicester. He has proved the anti-Henderson. The captain can offer urgency when used in midfield but without drawing sanction from referees. He ran part of the game from the back at Leicester; one 50-yard pass to release Mohamed Salah was the sort that was expected from Thiago.
Except Thiago was not on the pitch then. Even with Henderson deployed in defence, even with Fabinho injured, he started as a substitute for what always threatened to be a defining game in Liverpool's season. It made him in effect the sixth-choice midfielder, behind a rookie in Curtis Jones, a footballing pensioner in James Milner, and a player who is likely to leave in Gini Wijnaldum. It was a vote of no confidence from Klopp, an indication that the man signed to add another dimension has cost them something. The Jones-Milner-Wijnaldum trio showed an emphasis on energy and solidity over creativity. It was an attempt to go back to basics. But for one impulsive challenge, it may have succeeded.
READ MORE: Liverpool left in crisis of confidence and identity after Leicester defeat
Liverpool used to excel at allying doggedness with discipline; he has provided less intensity and more indiscipline. He was a celebrated figure when signed and sidelined, now an emblem of a decline, a man who has lost more league games at Anfield than the 2016 buy Mane.
And yet, as Ilkay Gundogan shows, midfielders who have played for both Pep Guardiola and Klopp tend to possess something special, even if there can long be a debate how and where to use them.
Thiago was the supposed superstar who has been ill-starred, cursed by injury. That foul on Werner apart, he oozed class on his debut. Even if neither that challenge nor the misjudged one on Harvey Barnes remains the most significant of his time in England: that was committed by Richarlison on Thiago, ruling him out for 10 weeks.
Though, given Jordan Pickford's lunge at Virgil van Dijk, it was not even the most important foul of that Merseyside derby.
Register for free to continue reading
Registration is a free and easy way to support our truly independent journalism
By registering, you will also enjoy limited access to Premium articles, exclusive newsletters, commenting, and virtual events with our leading journalists
Already have an account? sign in
Register for free to continue reading
Registration is a free and easy way to support our truly independent journalism
By registering, you will also enjoy limited access to Premium articles, exclusive newsletters, commenting, and virtual events with our leading journalists
Already have an account? sign in
Join our new commenting forum
Join thought-provoking conversations, follow other Independent readers and see their replies