Trent Alexander-Arnold stunner snatches late win for Liverpool over Aston Villa
Liverpool 2-1 Aston Villa: Mohamed Salah had earlier cancelled out Ollie Watkins' opener with the three points lifting the champions up to fourth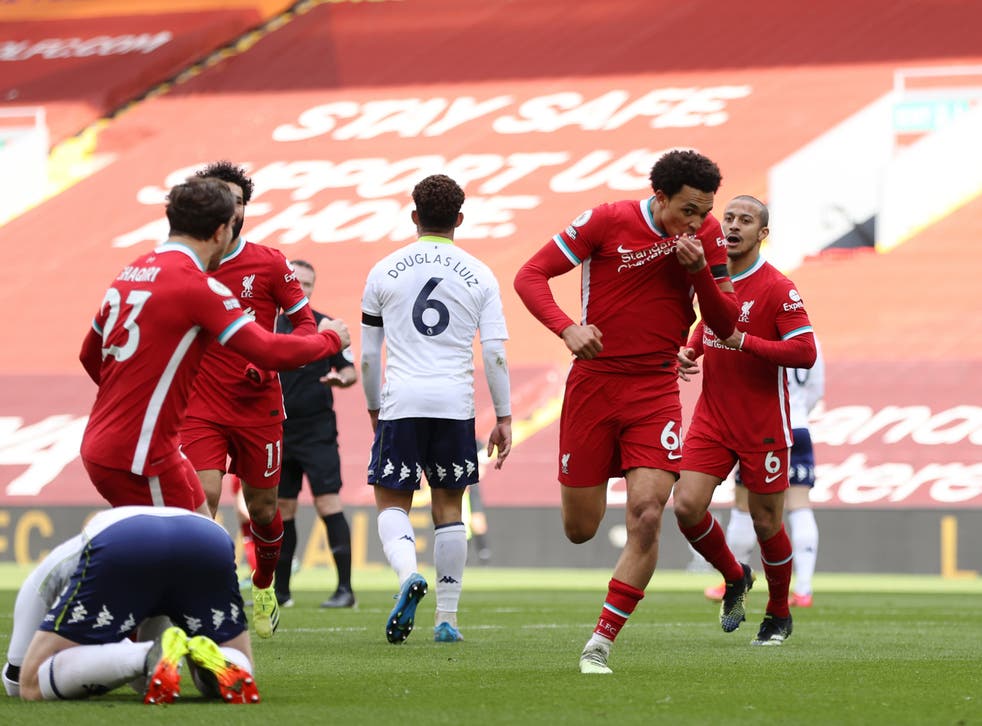 A late Trent Alexander-Arnold belter banished Liverpool's Anfield blues, ending a winless run on the ground that spanned four months, slicing through Aston Villa's European ambitions.
Jurgen Klopp's men were on the verge of adding a latest episode to their How to Create, Dominate, but Lose series this season, but the relentless Mohamed Salah cancelled out an Ollie Watkins opener before the right-back morphed into a game-changer again.
Liverpool have been their biggest enemies this season, along with injuries and then followed by head-scratching VAR calls.
Klopp had more choice words for the technology on Saturday afternoon, when it ruled out Roberto Firmino's goal for offside.
It would have served as an equaliser before the break, but the decision served as another example as to why the top flight needs to get in line with the Champions League approach and only rule for offside when the graphics prove a clear call.
This fixture was to be Liverpool's platform to right a wrong that stands as one of the Premier League's greatest shocks, but it devolved into a rescue mission before Alexander-Arnold's curling beauty.
When Villa dismantled Liverpool 7-2 in early October - before their centre-back apocalypse, at a time when Manchester City were labelled a spent force, and after Jose Mourinho's Tottenham seared Manchester United 6-1 at Old Trafford - it was filed as a crazy quirk of pandemic football.
An absurd result; an embarrassing jolt for the defending champions but little more.
If, back then, there had been a prediction that the humiliation at Villa wouldn't be Liverpool's nadir this season, ridicule would've accompanied it.
But on Saturday, Dean Smith's charges arrived at Anfield with the intention of extending the hosts' winless streak at the stadium, which stretched back to December 16 and included six consecutive defeats.
Just when it looked as though Liverpool turned the corner, moving to within two points of the top four with an impressive 3-0 triumph over Arsenal - marking their third win on the spin - Real Madrid battered them back to reality.
Klopp's men had forgotten how to play football in Spain, but were afforded possession by Villa - sans their fulcrum Jack Grealish - to be offensively aggressive.
They were getting between the lines and generating chance after chance. Tyrone Mings was relieved when his failed attempt at keeping a pass under control ended with Salah's effort moving the wrong side of the far post.
Emiliano Martinez's work between the sticks deserved much of the credit for that. He rushed out, cutting down the Egyptian's options and angles.
Before and after that key moment, Liverpool could and should have altered the scoreboard. Firmino, Diogo Jota and Salah were regularly in decisive positions, but either failed to test Martinez or aimed straight at him.
Alexander-Arnold watched a free-kick perch on the top-netting and just when it seemed it was a matter of time before Liverpool found the breakthrough, they were broken through.
John McGinn supplied Watkins, who created space around Ozan Kabak to strike. Alisson got a hand to it, but it was not strong enough. Poor defending was crowned by weak goalkeeping and Liverpool found themselves in the middle of a familiar script: dominating, but falling behind.
With half-time approaching, they looked to have shredded that plot line with rapid interchanges between Jota, Salah and Andy Roberston ended up with Firmino scooping in the loose ball after a Mings intervention.
A long VAR check - lines, recalibration, confusion - adjudged Jota as being offside in the build-up despite the frame rate not being able to make such a close call with certainty and a question over whether Matty Cash touched the ball preceding that.
Liverpool were denied, but eventually crafted a goal. A fine strike by Robertson was brilliantly palmed away by Martinez, but it fell to Salah at the back post. He motioned ahead of Mings to turn home from close range, marking Liverpool's first home league goal from open play in 765 minutes.
That relief was almost short-lived. Watkins did superbly to oust Nathaniel Phillips down the left, before directing the ball back to Trezeguet.
He dinked a stunner with the outside of his right foot that cannoned off the right post before bouncing the wrong side of the line. Trezeguet then tried and failed to nod in the loose ball.
Both teams pushed for a winner, but one did not seem forthcoming. Then Liverpool's substitutes Xherdan Shaqiri and Thiago combined, the latter's volley superbly saved by Martinez.
Anwar El Ghazi could only clear the ball to the edge of the box, where Alexander-Arnold met it and gloriously manoeuvred it into the far corner.
Register for free to continue reading
Registration is a free and easy way to support our truly independent journalism
By registering, you will also enjoy limited access to Premium articles, exclusive newsletters, commenting, and virtual events with our leading journalists
Already have an account? sign in
Register for free to continue reading
Registration is a free and easy way to support our truly independent journalism
By registering, you will also enjoy limited access to Premium articles, exclusive newsletters, commenting, and virtual events with our leading journalists
Already have an account? sign in
Join our new commenting forum
Join thought-provoking conversations, follow other Independent readers and see their replies