Loneliness of the away-day manager
Ferguson speaks of strain he feels as he takes title charge to hostile turf at Bolton / United manager expects league to be decided on final day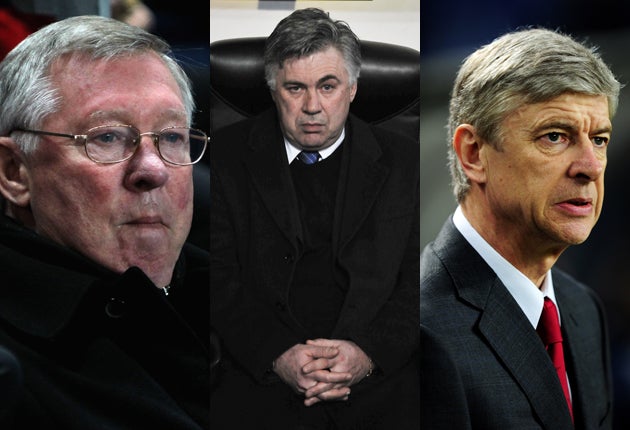 There are many misconceptions about the legend of Sir Alex Ferguson, including the suggestion that he once described this phase of the football cycle as "squeaky bum time."
The words were actually "squeeze-your-bum time" though the Glaswegian vernacular was as impenetrable as it can be at times and history furnished us with something different for posterity.
Evidence arrived yesterday of another flawed notion about the man: that his 11 championships at Old Trafford equip him with nerves of steel when spring comes around and that those funny little jigs around the touchline which we have become accustomed to seeing in early May are a simple matter of routine.
Ferguson, whose side carry all the Premier League momentum with the quest for a record four successive titles in their own hands now, provided a revealing insight yesterday into the loneliness of the long-distance manager as he reflected on how he is still beset by fears and anxieties before games – and in particular those, like today's, away from Old Trafford. "I think you still get keyed up for games; that's part of it," he said. "It's probably that time when the players are doing the warm-up; when you're sort of on your own in a sense. Your staff are out doing their jobs. It's all right at home because you have your office but when you're away from home there's always that killing time, walking about and sitting in your dressing room or whatever. We're all the same, whether you're at the top of the League or the bottom of the League. That's what football does to you. If it wasn't that way we are all in the wrong job."
Different managers find alternative answers to those infernal waits for kick-off. Don Revie would often go off for a spot of carpet bowls, while Roberto Mancini sometimes lurks conspicuously at pitchside, watching his players warm up. For Ferguson, the anxiety doesn't dissipate with time. "It depends on the make-up of the person," he continued. "Some people are relaxed about the game and don't show great emotions, but they still care. Deep down, they are probably turning inside out like the rest of us because that is what the game does to you. That's the emotional aspect. But the thing, I think, for managers is the win, lose, draw situation. You're in it to win; if you lose, you can't lose too many or you lose your job. There is no one in the game more directly responsible for results than the manager. No matter which way you look at it, we're all subject to winning games of football and if not, we're on the dole line. Players carry on, coaches carry on, directors carry on, journalists carry on." The last of those examples was posited with half-grimace and half-smile.
The bitten state of his nails as he spoke told the story. We are facing possibly the closest title run-in for years and Ferguson, having sat down with the league tables and a sharp pencil as he always does, is certain of only one fact now: that the race will go down to the last day of the season. "I'm trying to work out the run-ins and what the eventuality could be," said the manager, who sees Arsenal's as the easiest run-in on paper. "I can't see anything other than possibly the last game unless somebody blows up."
History tells us that would not be an entirely disastrous prospect for him. Four times in Ferguson's 23-year Old Trafford career, the race has gone down to the last day and three of those afternoons have concluded with his captain hoisting up silverware. The single disappointment came in May 1995, the season of Blackburn's famous title win when United's draw at Upton Park handed Kenny Dalglish success despite defeat at Anfield. Ferguson still talks of it often. A year later, United's 3-0 win at Middlesbrough saw them overhaul Kevin Keegan's Newcastle, who had collapsed that spring. In 1999, Tottenham were dispatched 2-1 at Old Trafford to break Arsenal hearts, while two years ago the 2-0 win in the rain at Wigan beat off Chelsea, who drew.
But before the finale the dogfight. Today's trip to Bolton for a 5.30pm kick-off may be less than 20 miles door to door for United, but the physical, aerial football – "the free-kicks, the corners, we are used to all that," Ferguson said with a wince – makes for more fretting. It is two years since United's manager was sent off by Mark Clattenburg at the Reebok during a tempestuous 1-0 defeat.
It has certainly been a week for spring managerial pressures to reveal themselves in the Greater Manchester conurbation, with Ferguson and Rafael Benitez going toe-to-toe six days ago and Roberto Mancini then running the serious risk of a Glasgow kiss on Wednesday evening. "It just tells you that you care," Ferguson said of Mancini wading into David Moyes to get a ball back during Everton's 2-0 win. "I mean, Mancini wanted to rush the game, David was happy; he was 2-0 up and maybe kept [the ball] for a second or two longer. The good thing was that Roberto apologised, which was good of him. I think that was big [of him] and they had a glass of wine after."
Ferguson, whose winger Nani has signed a new four-year deal having seemed to be on his way out of Old Trafford earlier this season, can reflect on the return of John O'Shea in a fortnight. In a week when Chelsea's injury troubles mounted, he was also peremptory about the notion that Wayne Rooney limping heavily out of Old Trafford on Sunday evening offered cause to worry ("Limping six days ago? Jesus!"). But the striker seems like a doubt for the Reebok.
The real nerve-tingler will come a week this lunchtime, when Chelsea arrive at Old Trafford, but Ferguson is comforted that, even though Chelsea and Arsenal have home advantage on the final Sunday of the season, facing Wigan and Fulham respectively, he will be at Old Trafford to receive Stoke. "If we have to win our home game to win the title, I'd be happy with that," Ferguson said, comforted that 9 May will not be one of those days when he is wandering around trying to kill time on someone else's manor.
*****
1st: Manchester United
Remaining Fixtures
Bolton (a): Today / Chelsea (h): Sat 3 Apr / Blackburn (a): Sun 11 Apr / Man City (a): Sat 17 Apr / Tottenham (h): Sat 24 Apr / Sunderland (a): Sat 1 May / Stoke (h): Sun 9 May
Injuries
Anderson, Hargreaves, Welbeck (all knee), Brown (foot), O'Shea (thigh), Owen (hamstring)
Why they can...
Hugely experienced having been over the course before winning the last three titles. Leading at present and in good form, especially Wayne Rooney. Most balanced squad with widest range of attacking options. Kick-off times favour them. At home against Chelsea.
And why they can't...
Over-dependent on Rooney? And how fit are he and Rio Ferdinand? After losing in last season's Champions League final is Europe the priority? Tricky run-in with Chelsea and Manchester City capable of derailing them.
2nd: Chelsea
Remaining Fixtures
Aston Villa (h): Today / Manchester United (a): Sat 3 Apr / Bolton (h): Tues 13 Apr / Tottenham (a): Sat 17 Apr / Stoke (h): Sun 25 Apr / Liverpool (a): Sat 1 May / Wigan (h): Sun 9 May
Injuries
Carvalho, A Cole (both ankle), Ivanovic, Bosingwa, Essien, (all knee)
Why they can...
Didier Drogba is the best centre-forward in the country, and seems in the mood to maintain his recent form. European exit means they have fewer fixtures and a greater focus on the league – one FA Cup tie is none too distracting. Carlo Ancelotti appears an imperturbable figure. Good record at Old Trafford.
Why they can't...
The chronic instability at the club means every false result is a crisis. The defence is patched up with the off-field problems of the only surviving first-choice, John Terry, well-known. Struggling away from home, and they face trips to Old Trafford, White Hart Lane and Anfield. Carlo Ancelotti new to the English game.
*****
3rd: Arsenal
Remaining Fixtures
Birmingham (a): Today / Wolves (h): Sat 3 Apr / Tottenham (a): Wed 14 Apr / Wigan (a): Sun 18 Apr / Man City (h): Sat 24 Apr / Blackburn (a):Sat1 May / Fulham (h): Sun 9 May
Injuries
Van Persie (ankle), Gallas (calf), Gibbs (foot), Djourou, Ramsey (both knee)
Why they can...
Building momentum with six straight wins and a rising sense of belief having been twice written off. They have the easiest run-in of the trio and should be given a lift when Robin van Persie returns to action. Manager exudes confidence and has been there before, if not recently.
And why they can't...
Inexperienced team in title-chasing terms with the added pressure of trying to end a four-year barren spell. Rarely keep a clean sheet, with Manuel Almunia often unconvincing and doubts about central defence. Over-reliant on Cesc Fabregas for goals and inspiration. May be distracted by Europe. Two points behind.
*****
Five key factors in the title race
1. Injuries: All three challengers have concerns, Chelsea's defence is ravaged, Arsenal wonder if and when Robin van Persie will return, and United fret over Wayne Rooney and Rio Ferdinand. The unknown is who gets injured next.
2. Spurs: The Kingmakers: The only club due to play all three candidates but with a Champions League slot to chase Spurs cannot just seek to spoil Arsenal's hopes. The derby, however, follows an FA Cup semi-final weekend when Arsenal rest and Spurs play.
3. The Six-Pointer: Next weekend's Old Trafford showdown between Manchester United and Chelsea is too soon to be decisive, but whoever loses could find it hard to recover. Arsenal, meanwhile, will hope for a draw.
4. Cup Distractions: Arsenal and United have European quarter-finals approaching, Chelsea an FA Cup semi-final. Losing dents confidence but winning, for the Champions League pair, means a potentially distracting semi-final.
5. Kick-Off Times: Setting the pace is easier than playing catch-up and United have the advantage. Today is the last time they kick-off behind their rivals, Arsenal play last on each of the next three weekends.
By Glenn Moore
Join our commenting forum
Join thought-provoking conversations, follow other Independent readers and see their replies