Lose on Saturday and I'll be out, says Mark Hughes
QPR manager admits home game against Southampton will be make-or-break time
Jon Culley
Monday 12 November 2012 00:00 Comments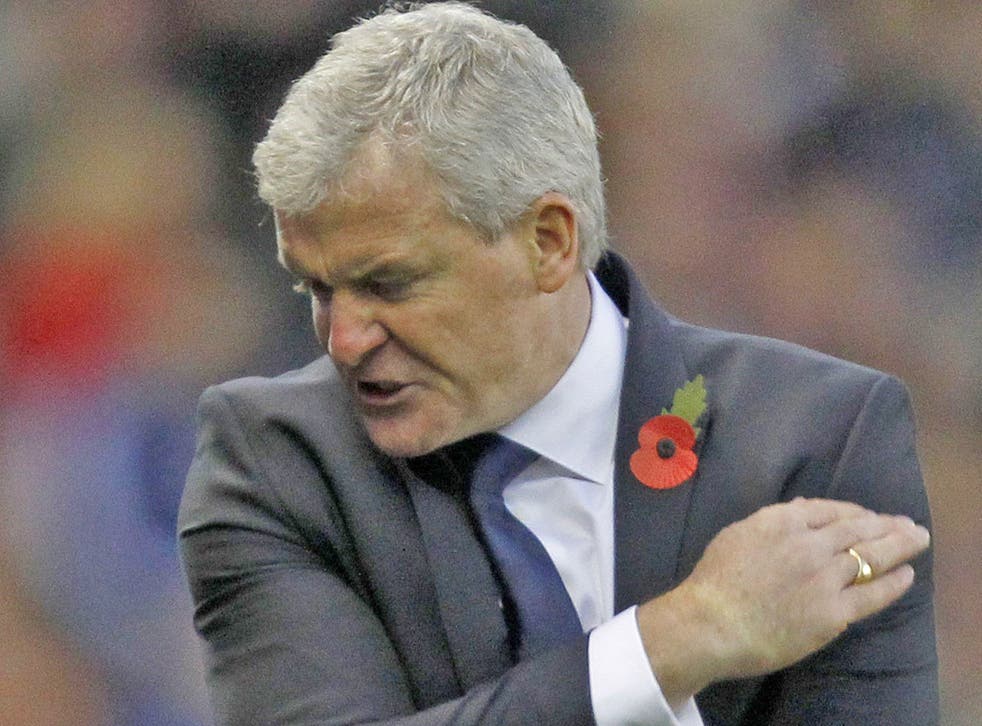 Mark Hughes has accepted he may be Queen's Park Rangers manager for only one more match despite winning more support from the club's directors before and after sliding back to the bottom of the Premier League.
The Welshman, who has presided over Rangers' worst start to a top-flight season, believes he is under greater pressure to deliver results even than he faced in his 18 months at Manchester City, and that Saturday's home fixture with next-to-bottom Southampton will be his make-or-break moment.
"Everyone knows the significance of that game now," Hughes said. "I have confidence in the players to turn this round, but it needs to happen next week."
The QPR chief executive, Philip Beard, insisted Hughes had the club's full backing in a lunchtime radio interview on Saturday and chairman Tony Fernandes, who stressed his "complete faith" in the manager only last week, appeared still to back him on Saturday night.
Fernandes watched Rangers suffer their seventh defeat of the season with a 1-0 loss against Stoke City at the Britannia Stadium but tweeted afterwards: "One error cost us. No panic. Table is compressed."
However, Hughes fears boardroom patience will run out if his side fail to beat Southampton. They were jeered off after being held 1-1 by Reading in their last home game and their tally of four points from 11 matches is two fewer even than Derby County had at the corresponding stage five years ago in a season that would end as the worst in Premier League history.
"It's still early in the season but the longer that it goes on, it becomes more difficult for us to have the season that we hoped to have," Hughes said. "The chairman was here today and at Arsenal [where Rangers lost by a single, 84th-minute goal] and he saw positive things in our play and that encouraged him, it encourages us.
"But the disappointment is that we are not getting the reward that he is looking for and that we are all looking for because the aim of the season is to have a really progressive season."
Hughes took charge in January after Fernandes sacked Neil Warnock following a run of eight defeats in 11 matches, although Rangers were outside the bottom three at the time. Hughes won six and drew two of the remaining 18 games as Rangers avoided relegation, although the title-winning goal for Manchester City that condemned them to a last-day defeat would have sent them down if Bolton had not been held at Stoke.
Asked how his current predicament compared with the demands he faced at Blackburn, where he won a relegation battle in his first season in charge, 2004-05, and at Eastlands, where he was the first manager entrusted with Sheikh Mansour's millions, Hughes said it was "tougher".
"We've been in this situation before, at Blackburn and Manchester City, when we came in and had to address certain things in the club, change personnel and that was a difficult time," he said.
"It's tougher at the moment because there is a lot of focus on us, we're a high-profile club now and the perception of QPR has changed. We're more newsworthy than other clubs in situations where they haven't got many wins on the board.
"We are where we are at the moment but I am confident, given the effort and determination of the players to turn this round, we'll be fine. But it needs to happen next week."
Rangers, who have won only two points away from home in 10 months under Hughes, lost to a 52nd-minute Charlie Adam goal on Saturday as the former Liverpool midfielder scored for the first time in Stoke colours.
Register for free to continue reading
Registration is a free and easy way to support our truly independent journalism
By registering, you will also enjoy limited access to Premium articles, exclusive newsletters, commenting, and virtual events with our leading journalists
Already have an account? sign in
Join our new commenting forum
Join thought-provoking conversations, follow other Independent readers and see their replies