Louis van Gaal slams Manchester United tour of United States, claiming it is hitting preparations
The new manager fears travelling across the country is putting success for the forthcoming season at risk
Paul Hirst
Wednesday 23 July 2014 09:53 Comments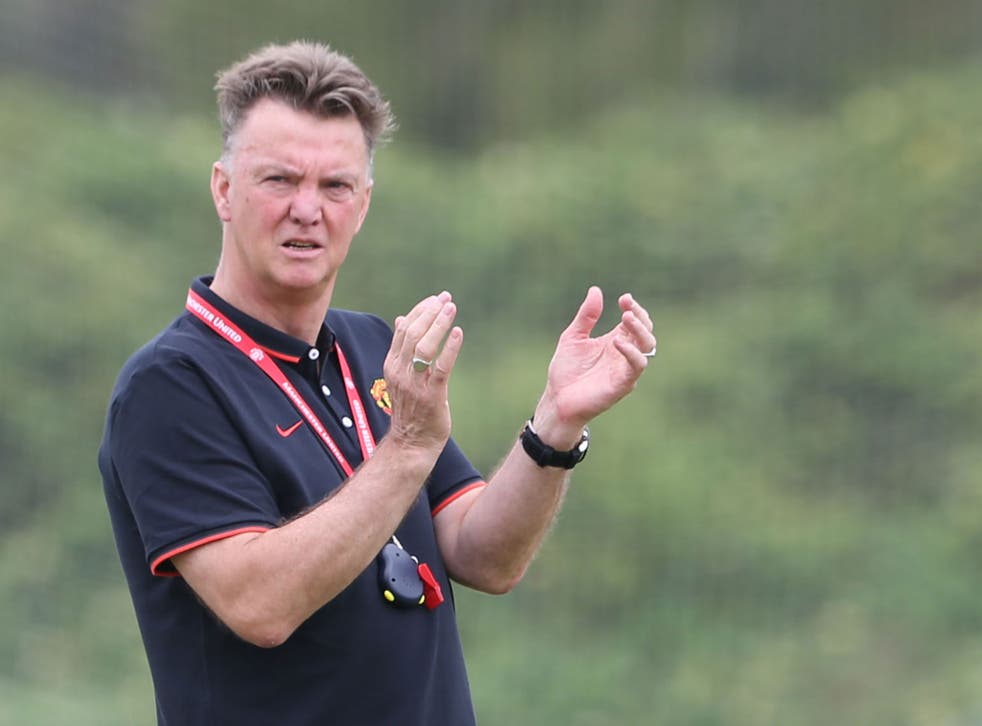 Louis van Gaal thinks Manchester United are putting his chances of success in jeopardy by dragging the first-team squad across the United States on their pre-season tour.
United start their pre-season campaign in the early hours of Thursday morning when they face the Los Angeles Galaxy at the Pasadena Rose Bowl in California.
It will be the first game of a two-and-a-half-week long tour that could see United travel almost 13,500 miles if they reach the final of the International Champions Cup - the pre-season tournament which includes some of the best clubs in Europe.
After the game in LA, United travel to Denver, Washington DC, Detroit and they will then make the three-hour flight to Miami if they top their group, which contains Roma, Real Madrid and Inter Milan.
In between the matches, the players have to appear at sponsor events while they are also duty-bound to conduct interviews for the club's in-house TV channel.
It all seems too much for Van Gaal, who made his annoyance perfectly clear at his first pre-match press conference in the US.
When asked whether United's commercial commitments were impinging on football matters, Van Gaal said: "More or less, yes because we have to prepare the season and when you have a lot of commercial activities also for the players, and you have to travel distances, you have to fly a lot, you have also jet lag, and that is not very positive for a good preparation.
"But the tour was already arranged so I have to adapt, I shall adapt."
Manchester United: Potential summer transfer targets

Show all 10
Van Gaal has only been in place for a week, but he has already made his disquiet about United's commercial activities clear on two occasions.
As well as Tuesday night's complaint, Van Gaal said at his unveiling: "Within two days I know already how important Manchester United is, but also how important the sponsors are and I have to work and prepare a team and I have to adapt to this big club. It will not be easy."
Van Gaal's blunt and honest assessment flew in the face of comments made his boss Ed Woodward less than 24 hours earlier.
Responding to the comments made by Van Gaal at his unveiling, United's executive vice-chairman said on Monday: "It doesn't disrupt the football club."
Woodward said he was open to discussions with Van Gaal about where he thought the club should go on tour next year.
Keen to maximise their profits and broaden their fan-base, United have been on long-haul tours for the last 10 years.
Last summer they clocked up 23,000 miles travelling between Australia, Thailand, China and Japan.
The club have been keen to tap in to the Asian market in the last few years and South Africa, as well as the States, has been a regular destination for the squad in pre-season.
Van Gaal has made it clear he will not accept such a draining tour as the current one next summer.
"Manchester United shall do everything to adapt to my rules for good preparation," the Dutchman said.
When asked if he would like a shorter tour next year with less travelling, Van Gaal said: "Yeah, I hope that. They have already said that to me. And I am very confident that it shall be."
The message to the club's hierarchy was clear from Van Gaal - 'I am the boss and I know how to get the best out of these players'.
One only had to turn up on the eve of the friendly in LA to see how big an attraction United are.
Around 2,500 paying customers sat in the stands at the 90,000-capacity Rose Bowl just to watch the squad train.
And just as Van Gaal had made it clear he is the boss in the press conference, he also did so on the pitch, standing tall and observing his players as they went through shooting drills.
There were a few hairy moments for Phil Jones when he kept missing the target, but the defender did get a double high-five from his new boss when he finally beat David de Gea from 18 yards.
There was a professional and thorough approach from the squad as they were put through their paces in the California heat.
Since they landed on Friday night, a succession of players have said they have been impressed with Van Gaal's coaching sessions, and the manager himself has been pleased with the response of his squad.
"I have to say that it has been fantastic," said the 62-year-old, who started his job last Wednesday after taking Holland to the last four of the World Cup.
"Maybe you think every coach who is new should say that but I mean it.
"The players are anxious to follow the instructions of my assistants. The focus I have seen in the training sessions, it is top level but we have to see if the performance (in games) is top level.
"But I am very happy with the labour that my players do in the days I have been with them."
A crowd of over 70,000 is expected at the Rose Bowl for the friendly, which kicks off at 2.30 am UK time.
PA
Register for free to continue reading
Registration is a free and easy way to support our truly independent journalism
By registering, you will also enjoy limited access to Premium articles, exclusive newsletters, commenting, and virtual events with our leading journalists
Already have an account? sign in
Join our new commenting forum
Join thought-provoking conversations, follow other Independent readers and see their replies