Lucas suggests his decade-long stay at Liverpool will end in the summer
The midfielder has no intention of ending his decade-long spell at Anfield this month but admits he is currently taking things 'day-by-day'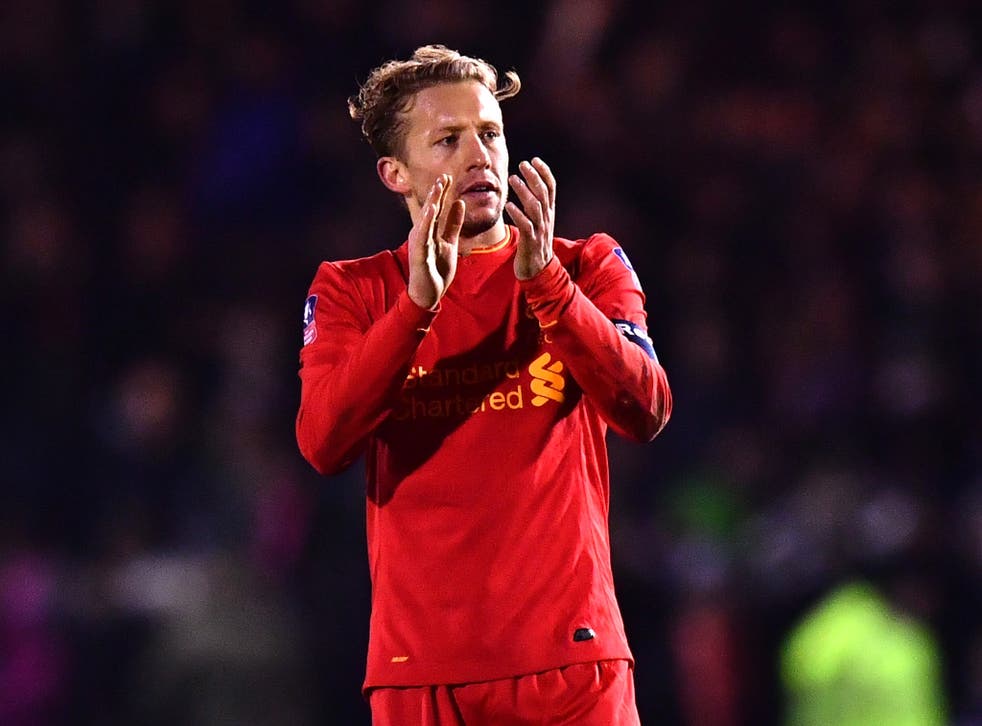 Lucas Leiva has committed his short-term future to Liverpool but the longest serving player on the club's books has indicated he will leave Anfield in the summer.
The Brazilian has been linked with move to Internazionale but is willing to remain on Merseyside for the time being at least to do his bit to bolster the club's three-pronged quest for honours.
"If, by the end of January, I am here, it will be great," Lucas said. "This is the best place for me to be right now.
"But I cannot tell you in two months' time, four months' time or one year's time. I have to think about my future. But it is all good. I am happy in this moment and I just have to go day-by-day."
Lucas, who turned 30 earlier this month, underlined his worth as a squad player as his first goal in seven years settled the FA Cup third-round replay at Plymouth Argyle.
Liverpool manager Jürgen Klopp openly admitted afterwards that he hopes Lucas, who joined the club ten years ago, does not leave during the current transfer window and it would appear their warm working relationship has won over the player.
"I have always been very honest in terms of the trust with him," Lucas added. "I had a few options to go.
"I have to think about my long-term. I know I don't have many years left here. I have to start to think about it. Liverpool is a place I love; there is no doubt about that. But this is more about thinking about my future as well. Game-time, things like this. I have to deal with it.
"The manager and I have a fantastic relationship. I have learned a lot from him. He is someone I appreciate working with. I am learning all the time. It is not just in terms of football, I am learning from him as a man."
Liverpool's potential January transfers

Show all 10
Lucas has played just 16 times this season but with Liverpool vying for honours in the Premier League, FA Cup and EFL Cup, he is clearly ready to put the club's priorities before his own.
Indeed, he showed his commitment to the cause at Plymouth, where he was only allowed to captain Klopp's team from central defence, after a fitness test due to a knee injury
"I really enjoyed it," he said. "I was very in doubt about my fitness before the game. I did a session on Tuesday and I had a bit of swelling on my knee.
"But I spoke with manager and I told him: 'I want to play – I want to be involved.' I know how much the FA Cup means in this country and how important it is to this club.
"Of course I want to play in the Premier League every week but it's important to play well when you get the chance. I led the team as captain with a lot of young players."
Re-discovering his goal-scoring touch at Plymouth clearly put a spring in his step. "It was my first official goal in a while," he told reporters. "I scored in pre-season, remember (at Fleetwood Town in a 5-0 win) and I'm the top scorer in 'young versus old' which is a game we have the day before matches.
"But, listen, all jokes apart, it was great to score. I don't score many, so I am very happy and I'm very happy we got through. It was a difficult game.
"A lot of people probably expected we would go out of this tournament because it is hard to come and play against a physical side with a young team. But it was a good experience for the young players. We have to improve, that is clear. But the main thing is to get through to the next round and we did that."
Join our new commenting forum
Join thought-provoking conversations, follow other Independent readers and see their replies