Luke Amos interview: 'These last nine months have been the toughest of my life. Now I'm ready to kick on'
Exclusive: The Spurs starlet, whose breakthrough was cruelly derailed by an ACL injury this time last year, is raring to return on a season-long loan with Queens Park Rangers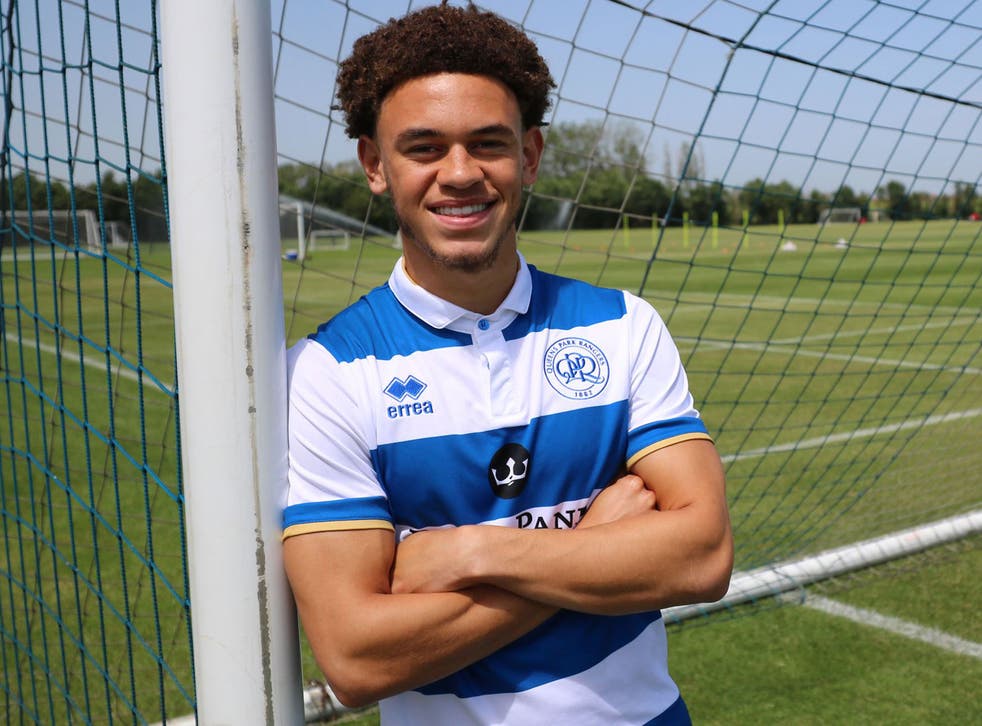 Luke Amos hunches over a little as if being hit by the pain all over again. "You go through your entire life with a dream and just as you get there," he trails off. "… it's just taken away from you."
Thumb smudged courtesy of the last half-hour spent signing autographs in White City, the 22-year-old midfielder is filled with a sense of euphoria and anticipation he hasn't felt in far too long.
After breaking into the Tottenham first team last summer, starting against Barcelona and AC Milan on the pre-season tour and making his Premier League debut, Amos tore his anterior cruciate ligament on what was supposed to be an idle run-out with the U23s, an injury that left him "feeling destroyed".
"The last nine months have been the toughest of my life," he admits, still uncomfortable with the memories of a time spent split between specialists, physios and gyms. "I can remember every single day of the rehab." He is not a crier, but there have been lots of tears. Nor is he impatient but has spent much of each day feeling restless. He's light and laidback but can't hide from the havoc that made everything stall just as his life's ambitions began to rev into reality.
"When the news came, I was just crying," he says. "When I had the surgery, my dad was crying. There were days in the gym, it was just me in there doing balance exercises against the wall and I'd break down. I have always been a little bit of a pessimist. I expect things to turn suddenly," he pauses. "But not like that. When I was cleared in May by the physio, I cried just because I'd got through it."
***
Amos' father picked the beat up bumper off the pavement, pulled the coarse sticky tape from his pocket and strapped it back onto the end of the car. After back-to-back shifts and too few hours' sleep, the pair began the drive from Hoddesdon to training once again. "I owe my dad about four or five cars," he laughs.
Raised on the outskirts of North London, Amos' mum was convinced he would become a dancer until the furious bundle of energy spilt into stabbing kicks at every object in the house. Football rapidly became an arena encompassing life, a constant chase of winning – the feeling he has come to miss most – without quite knowing what he was getting into. Even at that age, he was a poised and persuasive talent, skilful on the ball with a style that outshone his confidence, but he was always harsh on himself and riddled by lingering doubts.
When Amos first went on trial at Leyton Orient, he froze in the cold and barely finished the warm-up. So when a Tottenham scout handed his father a calling card two years later, his first thought was 'is this even genuine?' Even when he passed a six-week trial with Spurs' U10s and the academy coaches sat him in a room and said they wanted to sign him, it was unthinkable until his dad opened the glove compartment in that same car and pulled out a congratulations card.
It was a trait which threatened to dilute his talent. In a youth team at Tottenham alongside the likes of Harry Winks, Kyle Walker-Peters and Josh Onomah, he didn't have the uninhibited swagger and brash youth of some of his teammates. "Throughout my life, I can remember comparing myself to people," he says candidly. "At 17, I've still got Osgood-Schlatters, I could barely run, and I'm seeing people training with the first team. At 18 and 19, they've got 40 league games and I don't have one. I wasn't very confident. When I first trained with the first-team, I thought 'what am I doing here?' Being brutally honest, I wasn't even sure if I could play for Tottenham. "
As others crossed the threshold onto the fringes of the first-team, Amos packed his bags and prepared to move to the other end of the country and join Carlisle midway through their push for promotion in the fourth-tier. "I had a trial and they didn't even want me," he says. "Everyone around me was saying you can make it at Tottenham but when you go to Carlisle and get sent back, it's a big reality check. It put me in a dark place." Eventually, he joined Southend on loan where he was ground to a standstill, making just three appearances over the next five months. "The lows in football are so low," he adds. "Certain situations make you grow up fast. It's not like you suddenly step into a league changing room and you're a man. It's a tough game. If I have a son who wants to play, fair enough, but there's no way I'd force him into it."
Amos should have felt discouraged. He might have even felt like turning his back altogether but, beneath the self-doubt, he began to cling on and believe those words of encouragement. The turning point wasn't to come within the comfortable confines of Tottenham, living in digs a short stroll from the training ground, nor by any favour or fortune, rather the trial of another gritty loan spell; this time at Stevenage. "Something clicked," he says. "I turned into a man. These things take time. When I came back, I really believed I was good enough. I will always have that confidence now. I might have a bad game, but that doesn't mean I'm not a good player."
***
Every time Amos sat on the bench after returning to Tottenham, he strapped his shinpads and tightened his boots in hope, long before being told to warm up. At 21, he was still yet to make his Premier League debut and had gone through the same optimistic routine on each occasion. But when Eric Dier collapsed with injury in the centre-circle on the opening day of the season, Pochettino turned around and finally said: "Lukey, come on".
"I whipped off my top so fast," Amos laughs. "In photos, I look windswept because I took it off so quickly my hair is all standing up on end." As he stood on the touchline, shaking 11 years' worth of suspense from his legs, Pochettino turned to him and whispered in his ear, "Luke, make sure you believe."
"It went so quick, it was crazy," he continues. "Of course, as soon as you've got a box ticked it's onto the next one, but I can tell my kids about that day. I played for Tottenham. That's something millions of kids dream about and I did it. I don't want to push that under the carpet."
Amos has managed to separate the exhilaration of that day from the blur of agony that followed just a few weeks later. The lingering breathlessness at the thought of having everything taken away again. His comeback has been tireless but detached, even turning down an invitation to Madrid to watch the Champions League final because of not wanting to "feel like a downer on the team". For almost a year, the highs have been restricted to just being able to escape those lows.
His season-long loan to QPR marks a new dawn. The sweeping away of the monster of those memories, the chance "just to play again; to win again". He breaks into broad smile that stretches beyond his jawline and shows no haunts of the past. "It feels like I've been here for ages," he says, sinking back into the sofa as a member of the coaching staff walks by and scrunches his hair.
It's not quite a freedom, because of the pressure he's put himself under. He's no longer shy to say he wants to play 100+ Premier League matches; he wants to push to play regularly for a top-six team; he wants to return to Tottenham and compete with the best players in the world for his position.
"I'm honest with myself, this is a great opportunity and I'm here to play," he says. "I'm not here to be a squad member. I want to be fighting to be the first name on the team sheet. I know, to get where I want to get to, I can't afford to not train properly even for one day. I've got to aim for the top and it's going to be tough to make it at Tottenham. I know who I am now, I know what I am ready to do. I might not be the real deal yet but I'm ready to kick on. I'm not afraid of anything."
Join our new commenting forum
Join thought-provoking conversations, follow other Independent readers and see their replies