Luke Shaw enduring 'difficult period' at Manchester United, unlike Marouane Fellaini, admits Jose Mourinho
Shaw has only started six league games this season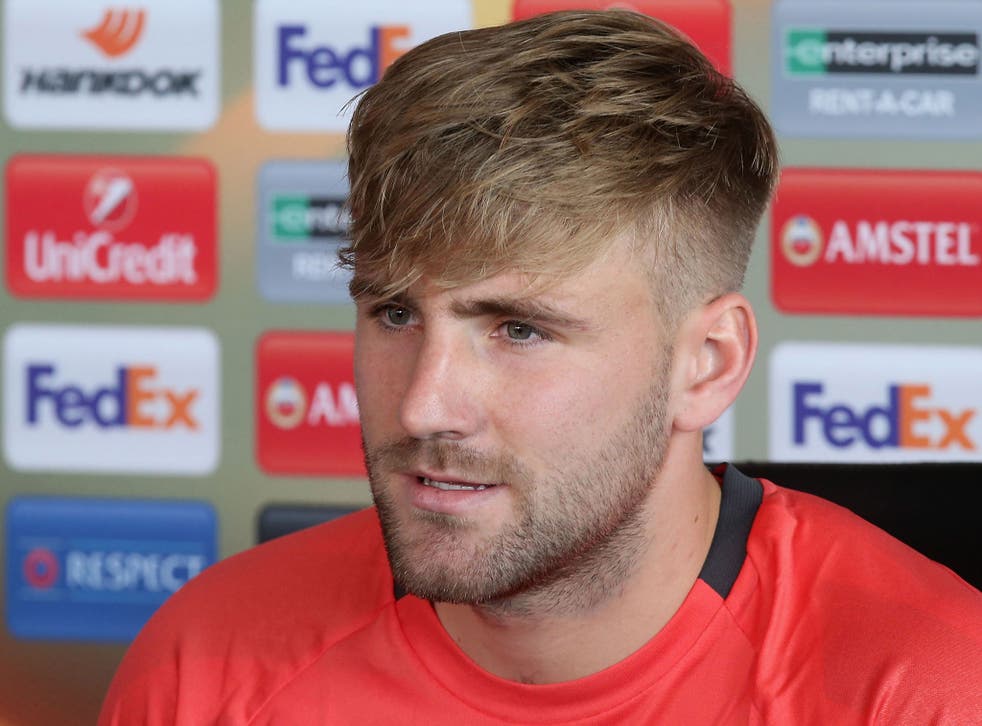 Luke Shaw, the Manchester United full-back, is enduring a "difficult period" in his bid to resurrect his career at Old Trafford according to the club's manager Jose Mourinho.
The England defender, 21, has been plagued by injury and illness this season as he attempts to recover from the horrific leg break he suffered against PSV Eindhoven in September 2015 and which sidelined him for 11 months.
It means that he has started just six league games, and the same number in the cup, since Mourinho took over the club in the summer with Shaw even losing the chance to start the recent FA Cup win over Reading due to illness.
Shaw's future has been the subject of speculation during the current transfer window and Mourinho has recently repeated his position that any unhappy player can leave United as long as he receives an acceptable fee.
And while Mourinho did not suggest that Shaw currently fits into that category, the United manager did admit that, after spending all last season rehabilitating his leg break, the defender is again facing a tough period in his career.
"Injuries? Of course. You try to have in the squad the players with more minutes, the players in better shape, in better condition," said Mourinho when asked if Shaw's history of injuries is counting against him.
"In Luke Shaw's case, even in the game against Reading, when he could have started the game and had 90 minutes, in the morning of the game he was ill and not ready to play.
"So even in that match, which could have been good for him, he was not able to play, so he's having a difficult period."
Shaw's fortunes contrast with those of Belgian midfielder Marouane Fellaini who appears to have won over his critics, having been booed by his own supporters after conceding a costly penalty at Everton before Christmas.
An important goal in the League Cup semi-final against Hull undoubtedly helped raise Fellaini's standing with United fans and he has emerged as an unlikely key part of Mourinho's squad, with United even activating a one-year contract extension this month.
"I think the fans turned back in his favour after he went back to good performances," said Mourinho. "He's showing great character and the fans are showing great respect and great knowledge about his contribution.
"In the last matches he has been very important for us. He played very well the last match he started, coming in and being important in other matches in the last 20, 25 minutes. He's contributing well and he's a player who can be very useful.
"He can be more positional and more defensive. He can be more offensive and an extra man in the opposition box. He can be dangerous there. With me, he started the season and played some matches as a positional midfield player.
"In late matches when the team needed a goal, like against Middlesbrough, Liverpool, Hull City, he was playing in more offensive positions.
"He's a player who has a good understanding of the game and now I know him better than before I know where he can help the team."
United's visit to Stoke this weekend appears tailor-made for Fellaini's combative skills as Mourinho looks to extend his team's unbeaten run to 17 games.
"I don't care about the unbeaten run, I don't care about it," insisted Mourinho. "We are not going to play any match to try to be unbeaten for one more match, or to try and reach 18 or to do try and reach 20, not at all.
"We want to win matches, we try to win matches, we risk to win matches. If we lose, we lose and we lose the unbeaten run. But we are not going to Stoke to defend our very nice unbeaten run, I have to admit."
Join our new commenting forum
Join thought-provoking conversations, follow other Independent readers and see their replies