Manchester City vs Watford: Five things we learned as champions hit eight in record-breaking win
Manchester City 8-0 Watford: Ruthless champions post record Premier League win over basement-dwellers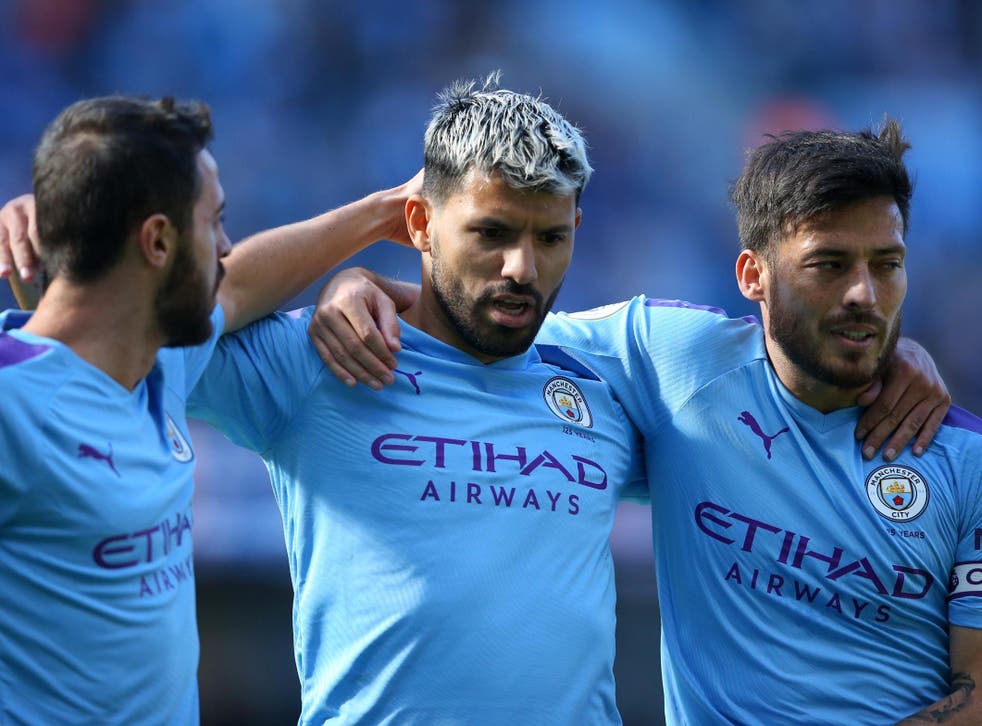 City smash Watford to return to winning ways
The first setback of Manchester City's Premier League title defence may only have come a week ago, but it is a distant memory after this emphatic return to domestic form with basement-dwelling Watford hit for eight without reply
In a reprise of May's FA Cup final at Wembley, City mercilessly ran up the score without a second thought for their opponents.The champions scored their first five goals in only 18 minutes, the fastest any Premier League side has ever gone 5-0 ahead.
Bernardo Silva took home the match ball and almost appeared embarrassed to score his third. David Silva, Sergio Aguero, Riyad Mahrez, Nicolas Otamendi and Kevin de Bruyne shared the rest of the spoils.
City were brilliant, irrepressible and dominant from the first whistle, but if you ever needed a reminder of the aching gulf in class between the top and the bottom of the Premier League table, here it was.
Unplayable De Bruyne is division's best
There were too many goals to break each down individually, but watch back the first and you will see City's most effective weapon used to devastating effect.
De Bruyne has perfected the art of taking up space in the inside-right channel, arcing the ball across the face of a retreating defence for a far post finish. So he did with here after just 53 seconds, with Silva tapping in to establish City's lead.
The sheer precision of these passes make them almost unplayable. Any touch by a defender risks scoring an own goal, but allow the ball to pass through and you are just as likely to concede.
No other player in the Premier League has such a menacing delivery. No other player in this country is on his level.
Foulquier's afternoon to forget
For defeats this heavy, there has to be someone to blame and at Watford, this day will forever be associated with Dimitri Foulquier.
Having signed from Granada in the summer of 2017 and spent the time since on loan, the right-back has waited two years to make his Premier League debut. It lasted 33 minutes.
Foulquier was no more at fault for City's goals than the rest of his team-mates. Flores could have hauled any one of them off, but managers need to be seen to be doing something after shipping five in the first half. Poor Foulquier was the fall guy.
Mendy's return cut short
The main pre-match talking point was the return of Benjamin Mendy, who replaced Oleksandr Zinchenko at left-back to make his first start of the new campaign, and the brevity of his appearance was the only concern at full time.
Mendy acquitted himself well in the first half but lasted only those 45 minutes, with Angelino brought on at half time. There was no injury to be worried about, but City's best left back was not ready to last a ful 90.
It was wise to substitute a player recovering from a lengthy lay-off when nothing was at stake. No need to risk anything, but City fans will have to wait a little longer to see the best of Mendy.
Deulofeu's chance goes begging
There were around eight seconds of this game which were marginally competitive, yet they came to nothing.
Not long after City's first, Gerard Deulofeu broke through at pace, bypassing an over-committed Nicolas Otamendi to go one-on-one. He missed the target.
Would the result have been different if Deulofeu had converted? In a word, no. But would Watford have been so thoroughly embarrassed if there had been a semblance of parity at one point? Probably not.
Register for free to continue reading
Registration is a free and easy way to support our truly independent journalism
By registering, you will also enjoy limited access to Premium articles, exclusive newsletters, commenting, and virtual events with our leading journalists
Already have an account? sign in
Register for free to continue reading
Registration is a free and easy way to support our truly independent journalism
By registering, you will also enjoy limited access to Premium articles, exclusive newsletters, commenting, and virtual events with our leading journalists
Already have an account? sign in
Join our new commenting forum
Join thought-provoking conversations, follow other Independent readers and see their replies