Manchester United vs Leicester: Five things we learned as Marcus Rashford ends penalty woe
Manchester United 1-0 Leicester City: Rashford's early spot kick proves enough for Ole Gunnar Solskjaer's side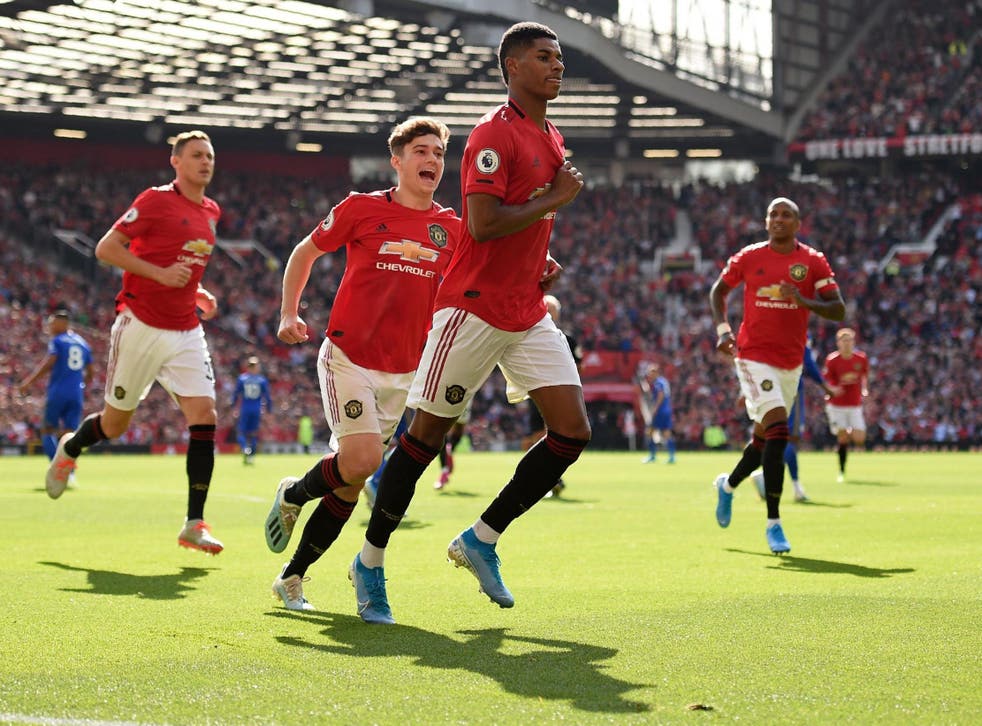 Leicester leave with regrets after narrow defeat
One question dominated the build-up to this meeting between one team who may be concerned about their top-six status and another hoping to replace them in the Premier League's elite. That question was: how many Leicester City players would get into the Manchester United side?
Ben Chilwell, probably. James Maddison, almost certainty. In fact, you could make a case for more than a few. Football is rarely that simple, though. United have struggled against sides who sit deep and let them have the ball. That was always unlikely to be Leicester's game plan.
Brendan Rodgers' side ignored the recent rule at Old Trafford: give United the ball and they will not know what to do with it. Instead, they admirably attempted to play their own game and can say they came close to taking a result back to the east Midlands. But still, they may leave Manchester with the sense they played into their opponents hands.
United making opponents pay the penalty
Marcus Rashford's penalty was United's fourth of the Premier League season already. It meant they had won 40% of all the penalties awarded in the top flight this season. No other club has more than one. And without wanting to invite crankery and conspiracy theories, the temptation is to ask why.
For all their faults, United have developed a knack for penetrating the penalty area and drawing fouls. Think Paul Pogba against Wolves, Scott McTominay against Crystal Palace and Rashford here, tempting Caglar Soyuncu into making contact without giving him much opportunity to win the ball. It is a useful skill for Solskjaer's United to have in their locker, especially as they otherwise suffer from a general lack of creativity.
Maguire unfazed by Foxes reunion
The travelling Leicester supporters made some alterations to their old Harry Maguire chant before kick-off, adding: "We don't need you, we've got Soyuncu". It was not heard too often after their new hero conceded the early penalty. Maguire, meanwhile, calmly went about the business of facing his former club.
Even though Leicester asked plenty of questions of United's defence, Maguire usually had an answer and one piece of defensive play produced the loudest cheer since Rashford's opening goal. Demarai Gray believed he could beat his old team-mate to the ball. He was wong, then he was turned by a nimble Maguire, whose show of composure had the home fans in raptures.
All-action McTominay proves his worth
One of the quiet successes of United's indifferent start to the season has been McTominay. Though hardly the most inspiring of names to see on a team sheet, the young midfielder has subtly impressed when tasked with breaking up play in the middle of the park and put in an authoritative display here.
A forceful challenge on Ben Chilwell was particularly popular with the Old Trafford crowd. It was his start to the season in microcosm. McTominay has been a reliable presence, even a driving force at times, and a foil for the more creative players around him. United could use a few more players with the same level of consistency.
Fred re-emerges from the shadows
Call off the search, he is still here. Fred was named among the substitutes by Ole Gunnar Solskjaer and brought off the bench midway through the second half for his first appearance of the season. Having missed the summer tour due to getting married, there were some who wondered whether he would wait even longer to return.
It is a big sophomore season for the £52m signing. Fred showed glimpses of what he can bring last year, but they were brief at best. Opportunities should come over the next few weeks, as United start their EFL Cup and Europa League campaigns, and the Brazilian will need to take them if he is not to prove a costly failure.
Join our new commenting forum
Join thought-provoking conversations, follow other Independent readers and see their replies