Manchester United vs Man City: Ole Gunnar Solskjaer's side lure visitors into trap on derby day
Sunday's performance symbolised City's season and why they have already lost their Premier League title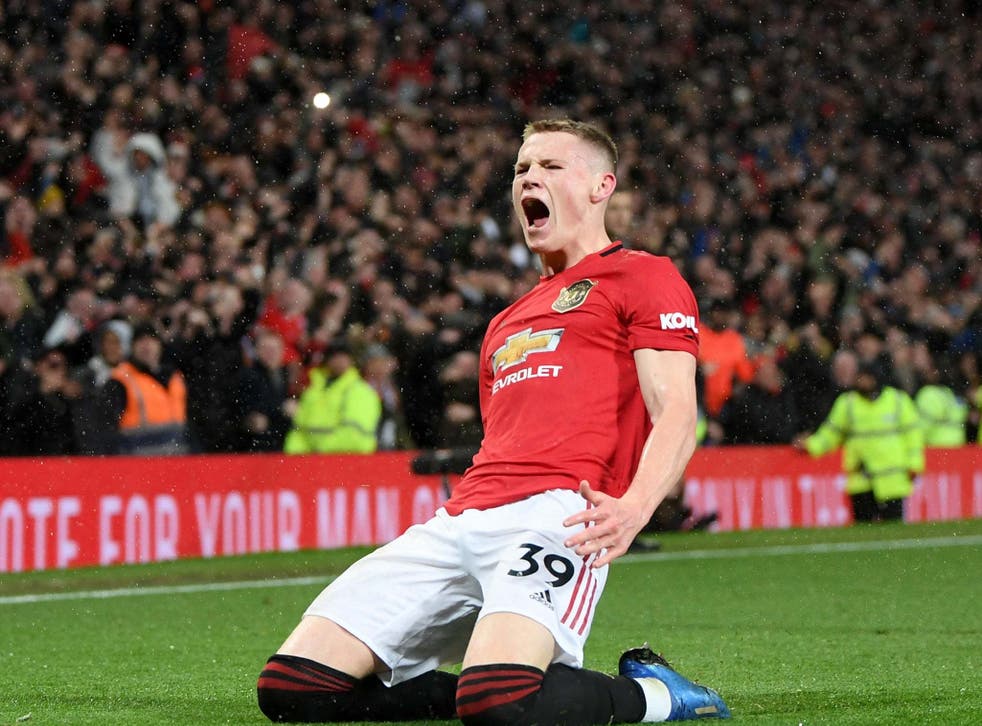 Manchester United have started to develop a mental hold over Manchester City, which showcased one big reason why the champions have almost fully lost their hold on the title. They're now within two results of losing it altogether.
That was because Ole Gunnar Solskjaer made it three wins in total over Pep Guardiola this season, the fans joyously singing his name at the end. This, for the Norwegian's part, is why so many still believe in him, and what executive vice-chairman Ed Woodward will point to as evidence of evolution.
They are confident in what they are seeing.
What should have been so galling for City, though, is that they should have seen what was coming in this match. And that doesn't just apply to Anthony Martial's sudden turn for the first goal, or Scott McTominay just standing there in acres for the second.
Solskjaer certainly has his pattern against City. In some ways, it makes the champions – for that is still what they are – easier to prepare for than most opposition. United know the basics of what they have to do: sit deep, stay tight, be ready to cede possession and counter. They now seem so comfortable in it that Solskjaer has started to add impressive little improvisations.
One of those was the free-kick that led to Martial's goal, and much of that was obviously down to the ingenuity of Bruno Fernandes. This, to go with his assertiveness, is just what he gives the team.
And, entirely appropriately for the match-winning moment, it summed up the game: United luring City into a trap. Martial led Sergio Aguero down a path, before racing straight at goal to finish.
That sharpness also characterised United's general performance, an alertness that was all the more impressive given how sloppily they'd started the game.
Harry Maguire, Luke Shaw and Brandon Williams all made errors in the opening minutes, and the game might have gone very differently had Aguero raced through on goal from one of those slips.
But this was also what made the difference with United. Their players largely got up to speed, snapping at City in a manner that really unsettled Guardiola's side. Most visibly, Aaron Wan-Bissaka more than declared himself up to the physical battle with Raheem Sterling. Dan James was a one-man pressing system. Even Martial, initially so slack, was soon chasing City players – and goalkeeper Ederson – into mistakes of their own.
This was similarly the main difference between United and City.
So many City players looked off the pace, the goalkeeper as much as anyone. He was hapless – as hapless as Claudio Bravo has ever been – for the Martial goal, and then in the second half almost made an error reminiscent of the Chilean's here in September 2016.
He then made a mistake all of his own for the second goal. There was little to compare this to. He just threw the ball into nowhere, leaving the goal gaping as McTominay lifted it in. We haven't seen that kind of mistake too much from Ederson.
Similarly, we haven't seen too much evidence of Aguero's effectiveness at marking, which begs the question as to why he was charged with picking up Martial for the goal at all.
This was all pretty much signaled by Guardiola making wholesale changes to his team in the second half, hauling off Aguero and Bernardo Silva. The Portuguese has almost personified the champions in the manner his form has dropped off this season. He's often been very good, yes, but still some way short of his best.
It was a change made before the game that signaled the most about City, though. Kevin De Bruyne couldn't play, so the team couldn't play with anything like the same energy.
He genuinely is uniquely important for this team, for reasons beyond his ability. It is as though, without him, City don't have anywhere near the same drive. That may be somewhat contradictory in the era of the super-club, when squads are so stacked that individual players tend to matter less than they ever did, but that's the importance of the Belgian.
City will still play the manager's patterns without him, sure, and it will superficially look like a Guardiola team – just not with the same intensity that more deeply defines them.
This is what De Bruyne sets. This is what City so badly lacked. There was no deeper drive from within, pushing the team forward. It was mostly limp, lacking in true incision. It all meant they had the vast majority of possession, but nothing to show for it.
It's one big reason why they won't still have the Premier League trophy at the end of this season, either. There have just been too many of these displays. Three of them have come against United.
United, meanwhile, maybe could have done with more matches against City.
Either way, they're now rightly more confident of claiming Champions League football.
Register for free to continue reading
Registration is a free and easy way to support our truly independent journalism
By registering, you will also enjoy limited access to Premium articles, exclusive newsletters, commenting, and virtual events with our leading journalists
Already have an account? sign in
Register for free to continue reading
Registration is a free and easy way to support our truly independent journalism
By registering, you will also enjoy limited access to Premium articles, exclusive newsletters, commenting, and virtual events with our leading journalists
Already have an account? sign in
Join our new commenting forum
Join thought-provoking conversations, follow other Independent readers and see their replies