Glorious home coronation awaits for Manchester City after stylish win against hapless Everton
Everton 1-3 Manchester City: In front of their own supporters and against their bitter rivals United in seven days' time, City have the chance to be crowned Premier League champions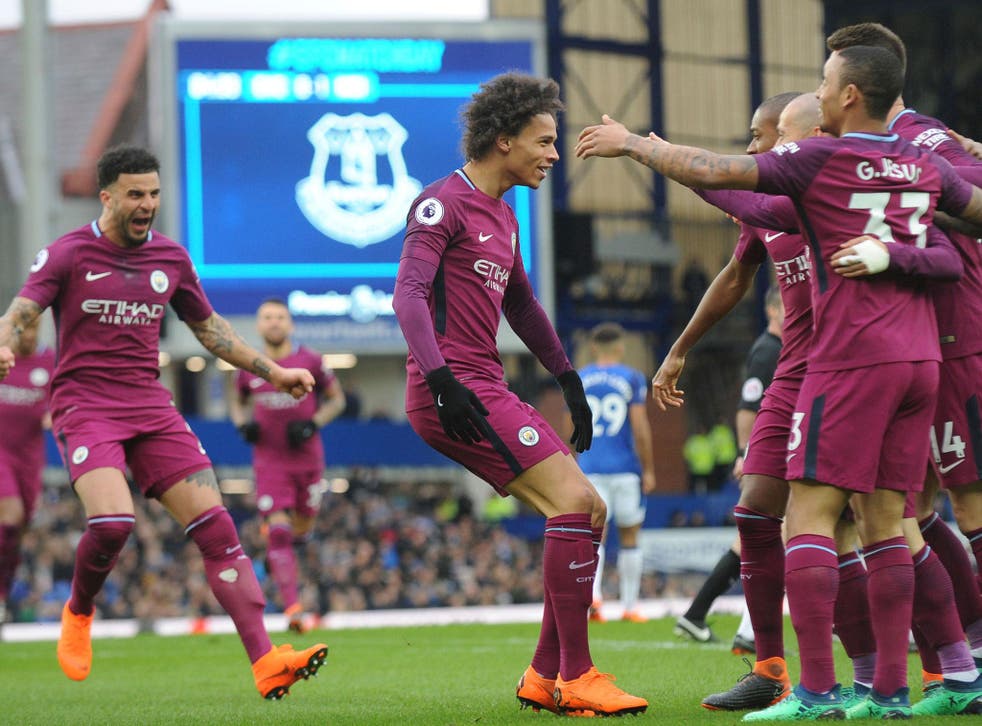 A glorious coronation to cherish for a lifetime awaits Manchester City and their supporters next weekend after this stylish victory over Everton.
In front of their own supporters and against their bitter rivals Manchester United in seven days' time, City have the chance to be crowned Premier League champions.
For Pep Guardiola's entertainers to do it against Jose Mourinho's men would provide an appropriate signature moment and possibly the standout memory of a side that have the potential to emerge as one of English football's great teams.
The football City have played in this campaign has been simply breathtaking in its quality. For those fortunate enough to watch, report or even play against it their brilliance at times will live long in the memory.
Raheem Sterling's elastic-legged dribbles, Kevin de Bruyne's laser-precision passing, Leroy Sane's ruthless finishing and David Silva's adroit turn of foot.
All of them were evident in a one-sided victory at Goodison Park secured courtesy of goals from Sane, Gabriel Jesus and Sterling despite Yannick Bolasie pulling one back for the Toffees.
Everton were actually something of an anomaly for Guardiola – the only top-flight team he had yet to score a victory over since he took over at City.
Indeed, his heaviest defeat as manager came in a 4-0 loss to Everton in the same fixture last season.
Despite their travails away from home Everton had actually 23 points from the past 30 available on home turf.
Everton vs Manchester City - player ratings

Show all 22
However, the way City started here at Goodison Park there was only going to be one outcome.
It did not take them long to assert their authority as they took the lead in the fourth minute thanks to an exquisite volley from Sane.
Aymeric Laporte sent Silva scurrying down the left edge of the box and flicked the ball into the area before crossing where it was met sweetly by the left boot of Sane who thumped it past Jordan Pickford.
Everton had a chance to equalise when Dominic Calvert-Lewin's high cross picked out Bolasie only for him to head over from close range.
The winger immediately put his head in his hands, which is exactly what the majority of the Everton did moments later when City added a second.
A lightning quick attacking move started by Ederson's quick distribution enabled City to catch Everton's midfield flat footed.
De Bruyne lifted the cross into the penalty area and Gabriel Jesus powered his header – via the shoulder of Pickford – into the net.
Since the start of the 2015-16 campaign De Bruyne has provided 42 assists in the Premier League which is more than any other player in Europe's big five leagues.
Just before half-time the match was over as a contest when another quicksilver attack saw Silva burst down the left flank and his low cross picked out Sterling who adroitly steered the ball past the hapless Pickford.
Never mind being a different planet to Everton, City were in a different galaxy.
At times Michael Keane and Phil Jagielka looked in the direction of the Everton bench like confused train commuters wondering how they were going to get home after cancellations. This was a day when the City juggernaut, in the first half at least, was simply unstoppable.
Everton did, however, pull a goal back just after the hour mark when Calvert-Lewin slid the ball into Bolasie who arrowed a low shot which rebounded in off the post.
City's attention by that stage had perhaps already drifted to the first leg of a midweek Champions League against Liverpool, before next weekend's mouthwatering occasion and the visit of United.
It will certainly be a day for City fans to savour. From the Gallagher brothers Liam and Noel, Mark and Lard to Eddie Large and Ricky Hatton.
All of Manchester City royalty will want to be present at the Etihad Stadium next Saturday tea time.
The "noisy neighbours" Sir Alex Ferguson famously dubbed City during the early days of Sheikh Mansour's reign. Well, those United fans in the away section may want to invest in some earplugs this week if things go to plan for City next weekend.
Whether Guardiola's side go on to create a Ferguson-esque dynasty of their own remains to be seen. But for now they should be celebrated for what they are – a damn good football team.
Register for free to continue reading
Registration is a free and easy way to support our truly independent journalism
By registering, you will also enjoy limited access to Premium articles, exclusive newsletters, commenting, and virtual events with our leading journalists
Already have an account? sign in
Register for free to continue reading
Registration is a free and easy way to support our truly independent journalism
By registering, you will also enjoy limited access to Premium articles, exclusive newsletters, commenting, and virtual events with our leading journalists
Already have an account? sign in
Join our new commenting forum
Join thought-provoking conversations, follow other Independent readers and see their replies