Jadon Sancho unlikely to return to Manchester City anytime soon, says Pep Guardiola
Sancho, 18, rejected the offer of a senior contract with City because he felt there was not a clear enough path to the first team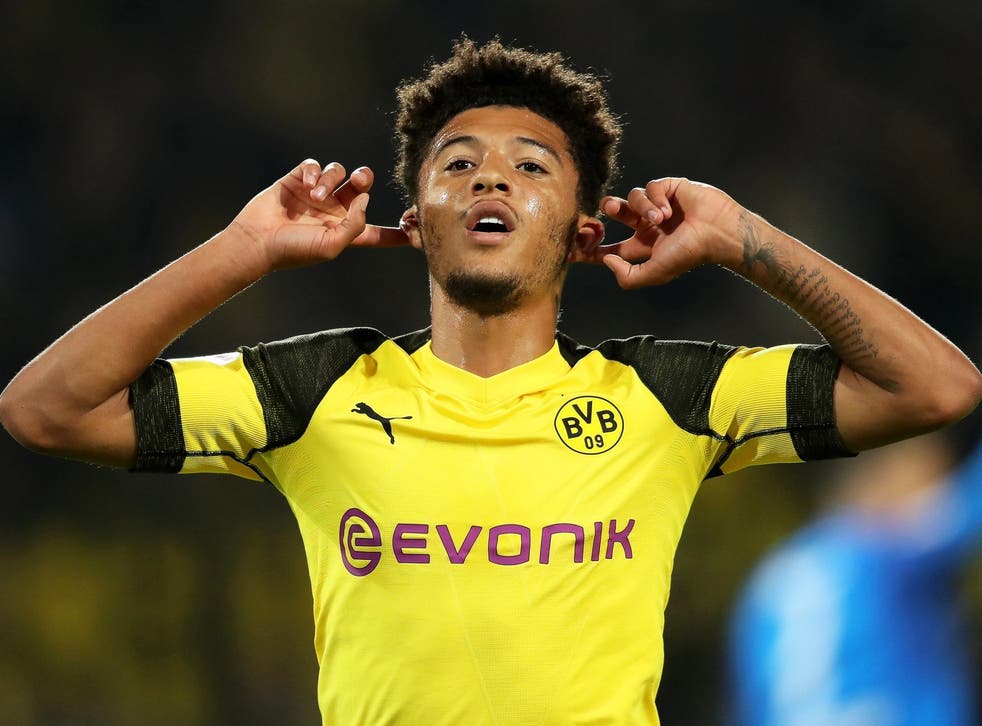 Pep Guardiola believes that Jadon Sancho will not return to Manchester City while he is still manager.
The teenage winger made his England debut in last Friday's goalless Nations League draw in Croatia, 14 months after leaving City for Borussia Dortmund in an £8m deal.
Sancho, 18, rejected the offer of a senior contract with City because he felt there was not a clear enough path to the first team.
It is understood that when Sancho moved, City agreed a clause that gave them the option to match any bid by another club should Dortmund decide to sell, but Guardiola feels a deal is unlikely.
The manager said: "I don't know, in football you never say no, but I don't know. I think when he decided to move on from here it is because he doesn't want to be here.
"When he doesn't want to be here I think he's not looking forward to coming back here. That is what I think right now. Maybe in the future – new club, new managers – but I don't know.
"We know what we have done with Jadon. We did absolutely everything and he decided to move on to Germany so all the best.
"He's doing really well. He's started his career and hopefully he can achieve what he was looking for.
"It's a good sign for England that players are going there because it's important for the future. I'm glad he's playing well."
Kevin de Bruyne, meanwhile, is in contention to make his return from injury when Manchester City host Burnley in the Premier League on Saturday.
The Belgium international, voted City's Player of the Season as they won the Premier League with a record 100 points in May, has been out of action since suffering a knee injury in training on August 15.
Guardiola initially feared that De Bruyne would be out of action until late November, but has made such good progress that he was considered to face Liverpool at Anfield just before the latest international break.
The manager instead decided to give the midfielder additional recovery time, and De Bruyne has benefited from the extra two weeks of training going into Saturday's game.
Asked if De Bruyne was ready, Guardiola said: "Yeah. I don't know if he's able to play 90 minutes but he has trained really well over the past two weeks, with no pain and ready to be part of the group.
Support free-thinking journalism and attend Independent events
"He's so important for us. When a player is out, I like it when they're back to make us stronger. Kevin no doubt how important he is for us."
Saturday's match will see Joe Hart return to City to play for the first time since his 12-year association with the club ended in August, when he moved to Burnley for £3.5m.
The England goalkeeper, who won two Premier League titles at the Etihad Stadium, returned to the club on Thursday for a small ceremony to mark the name of a training pitch in his honour, while he was also presented with a mosaic as a tribute to his efforts.
Guardiola said: "I think there no doubt how important he was and is. Tomorrow you will see how people appreciate what he has done for this club."
Join our new commenting forum
Join thought-provoking conversations, follow other Independent readers and see their replies