Kevin De Bruyne: Manchester City are desperate to win title against United
City face the mouthwatering prospect of being crowned champions if they beat bitter rivals United in Saturday's Manchester derby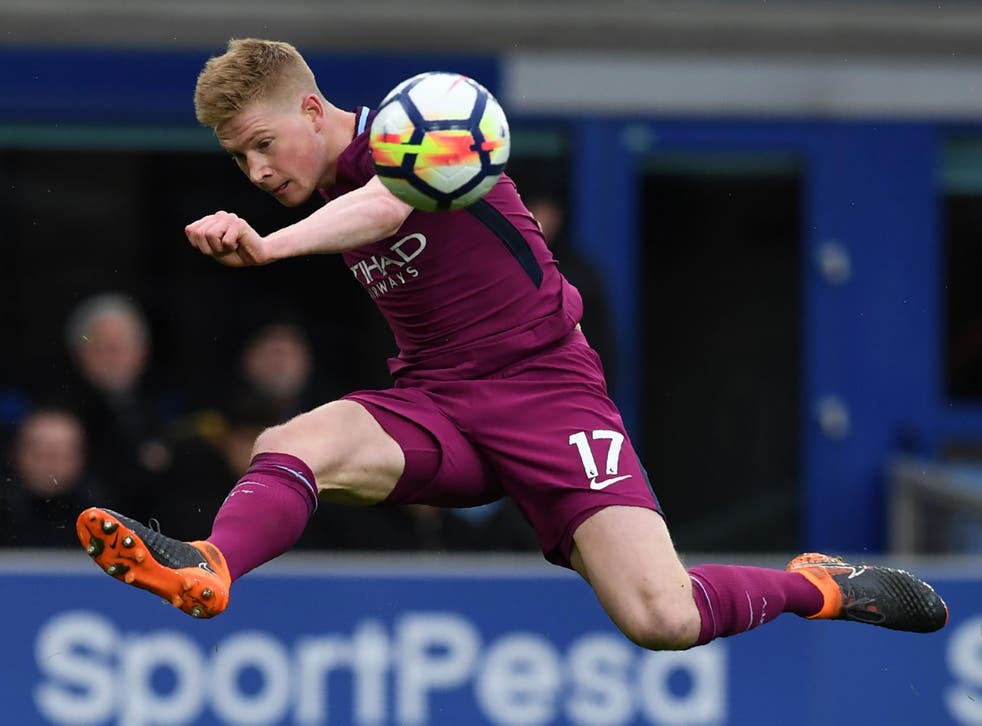 Kevin De Bruyne says Manchester City's players are desperate to give their supporters a "historic" day and clinch the Premier League title against Manchester United.
City face the mouthwatering prospect of being crowned champions if they beat bitter rivals United in Saturday's Manchester derby at the Etihad Stadium.
It is a delicious opportunity City fans would be able to dine out on for a lifetime, and would also provide a standout moment for a brilliant campaign by Pep Guardiola's side.
"I think for the fans it would be wonderful," said Belgium midfielder De Bruyne. "Obviously if we don't make it, we don't make it, we will have a lot of chances left still. But to make it against United would be special, it would be so nice to go on and win against United.
"For the fans it would something special, something different – you know how it goes between them, you know the history, so it would be historic."
However, Guardiola would not let the match occupy his thoughts with the a two-legged Champions League quarter-final against Liverpool either side of the United clash.
"I understand completely the people are happy and the enthusiasm to win the league at home against them," said the City manager. "At the end the important thing is to win but I understand to play at home Saturday 5.30 in front of our fans, it is an important game to win the Premier League.
"Before that we have Liverpool and after we have three days we have second leg so few recovery days and you have to use all the squad. I am sorry, like a manager now, Liverpool will occupy all my head."
City strolled to 3-1 victory against Everton thanks to goals from Leroy Sane, Gabriel Jesus and Raheem Sterling.
De Bruyne felt City's first-half display at Everton was the "best football we have played all season" as they silenced the home fans at Goodison Park.
And with a hostile atmosphere predicted at Anfield for the first leg on Wednesday the midfield playmaker is hopeful they can keep the Liverpool fans quiet.
"If Liverpool score you know it is going to get a bit more heated than if we score. It's just the way football goes," he said. "You saw it against Everton, they have a good crowd but if you are three goals ahead then it is really difficult also for them to get into it. Let's hope we can do the same at Anfield.
"Were we affected by the crowd last time? I don't think so. Obviously they have their style of play and to play there is very tough. Liverpool play the full press, so it will probably be very different.
"It's the Champions League, the quarter final, it is all or nothing. You have two games, so hopefully we will go there, do our thing and have a good game.
"I think in last game against Liverpool we had a spell of 10 minutes where we lost the control and we lost three goals in those 10 minutes, otherwise I think we did alright.
"In the end it was 4-3, it happens, you learn about these things, and I think we know we have to control it better. Let's see if we can control it better, do these things properly."
Yannick Bolasie pulled one back for Everton after the break in Saturday's game but De Bruyne says City strike fear into opponents.
"You could see it in their faces in the first half that they don't know what is happening," he added . "You feel in control. You feel like everything that is happening, you have power over."
Register for free to continue reading
Registration is a free and easy way to support our truly independent journalism
By registering, you will also enjoy limited access to Premium articles, exclusive newsletters, commenting, and virtual events with our leading journalists
Already have an account? sign in
Register for free to continue reading
Registration is a free and easy way to support our truly independent journalism
By registering, you will also enjoy limited access to Premium articles, exclusive newsletters, commenting, and virtual events with our leading journalists
Already have an account? sign in
Join our new commenting forum
Join thought-provoking conversations, follow other Independent readers and see their replies