Manchester City 2018/19 Premier League profile
Why the John Stones-Aymeric Laporte partnership is the next phase of Pep Guardiola's Manchester City evolution
The 24-year-old duo were used instead of Nicolas Otamendi and Vincent Kompany against Chelsea as Guardiola tipped his hand to his plans this year
The challenge for a top team is to keep evolving and Pep Guardiola knows that Manchester City cannot go into this year with just the same combination at centre-back that they used last year.
But that is why John Stones and Aymeric Laporte played together at centre-back in the Community Shield on Sunday, and why they could be the most important pairing to City's attempts to retain the Premier League and push on in Europe.
Last season City's most-used centre-backs in the Premier League were Nicolas Otamendi and Vincent Kompany, their two more conventional, confrontational old-fashioned defenders. But those two - aged 32 and 29 – were on the bench on Sunday. While Stones and Laporte, still both 24 years old, were used instead.
Community Shield: Chelsea vs Manchester City player ratings

Show all 22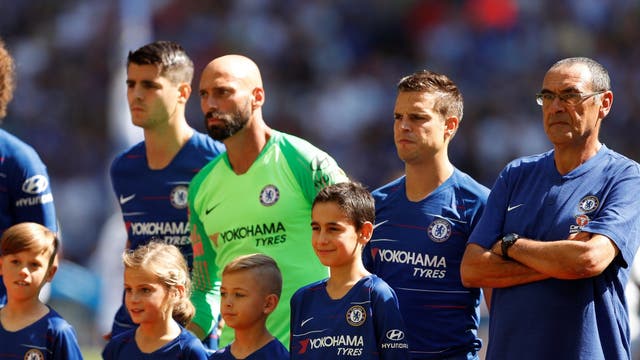 By pairing those two, City marked out their intention to play an even more assertive, proactive brand of football this season. By not starting the slower Otamendi, City could defend higher up the pitch, taking the game to Chelsea, helping them to press Chelsea high up while not sacrificing too much space between their lines.
Even more importantly than that, Stones and Laporte are both far more natural ball-players than Kompany and Otamendi. They help City to build out from the back, keeping hold of the ball well under pressure as well as piercing the opposition lines with their forward passes. Kompany and Otamendi are good defenders but City's build-up will always be better when it starts with these two.
That was the case on Sunday. City's opening goal started when Laporte pierced the lines with a forward pass to Bernardo Silva, who teed up Phil Foden on his run that led to Sergio Aguero's goal. Even more impressive was City's second, that started with Stones assertively stealing the ball from Alvaro Morata outside City's penalty area and then leading the charge up the pitch. A few seconds later Aguero beat Willy Cabellero for the second time that afternoon.
The game ended with Stones stepping up into midfield alongside Fernandinho, into a role Guardiola said he may fill this season after City's failure to sign Jorginho from Napoli this summer. That would add a new dimension to City's play, and Guardiola said afterwards that "there is a huge amount of games, and everybody will be involved." Either way, it is set to be an important year for Stones after a difficult few months just before the World Cup.
Last year after a strong start Stones faded in the second half of the season. He had one brief bad spell in January, conceding a penalty against Bristol City in the League Cup semi-final first leg, then badly exposed by Roberto Firmino in the Premier League five days after. That was enough for a spell out of the side, and a subsequent abductor problem stopped him from getting back in. After that 4-3 defeat at Anfield in January, Stones only played four of City's remaining 19 games in the Premier League and Champions League, and one of those was the effective dead-rubber at home against Basel. He ended having started 16 of City's 38 Premier League games, less than half, fewer than Kompany and miles behind Otamendi.
So there were doubts about Stones' form and confidence going into the World Cup, but he shone there at the middle of Gareth Southgate's back three. Not just with his distribution from the back and his organisation, but also with how he defended one against one. Southgate said that that side of Stones' game had not been tested too much, because he played for City, but he shone in that aspect in Russia.
Laporte was not part of the France squad but that meant he had a full pre-season with City, which should help him to start the season well while Stones, Kompany and Otamendi get up to speed. He arrived half-way through last year for a club record fee and although he was eased into the team, he would not have arrived for that much money if City did not intend to play him.
Against Liverpool in the Champions League last season Laporte played on the left of a back three, and he could likely do the same this year, with Stones in the middle and Walker or even Kompany on the right. But Stones and Laporte are now the building blocks, and will be for City for years to come.
Join our new commenting forum
Join thought-provoking conversations, follow other Independent readers and see their replies