Pep Guardiola defends Manchester City's summer of wild spending
Manchester City have spent more money than any other Premier League manager during this summer's transfer window, with an outlay of around £220m
Mike Whalley
Friday 25 August 2017 22:30 Comments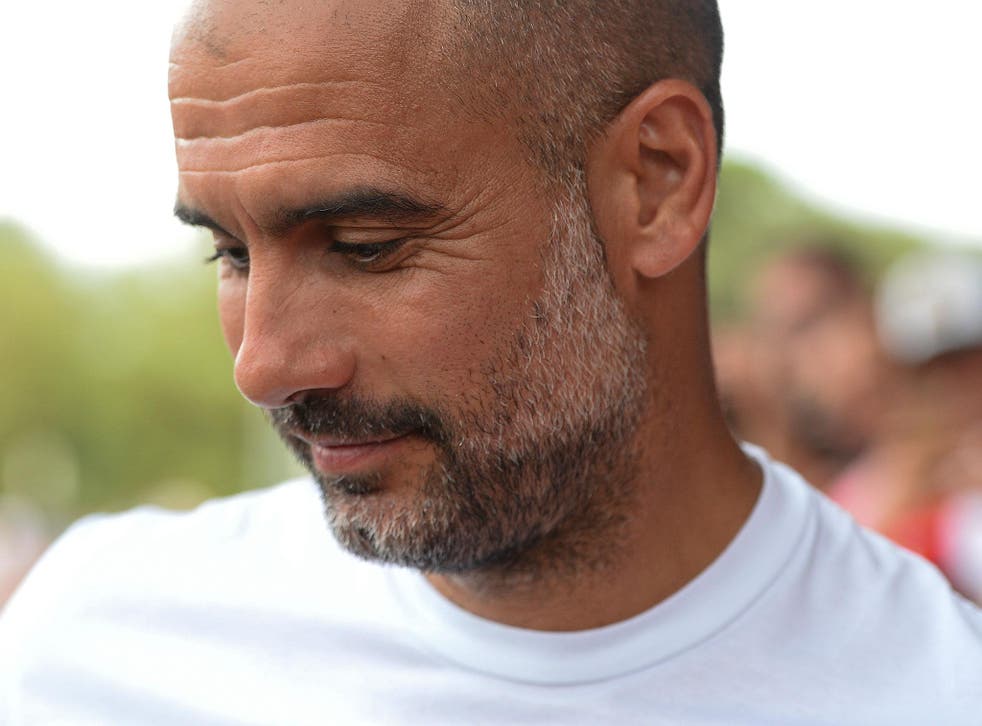 Pep Guardiola has suggested that he got three bargains when he signed Kyle Walker, Bernardo Silva and Benjamin Mendy, arguing that they would be even more expensive if he tried to sign them now.
Manchester City have spent more money than any other Premier League manager during this summer's transfer window, with an outlay of around £220m.
More than £120m of that money has been spent on full-backs, with Walker costing £50m from Tottenham, Mendy £49.3m from Monaco and Danilo £26.5m from Real Madrid.
Silva, the playmaker also signed from Monaco in a deal worth £43m, has looked promising in his two substitute appearances so far, but Mendy has yet to play after suffering a thigh injury in pre-season, while Walker is suspended for Saturday's trip to Bournemouth after being sent off harshly against Everton on Monday.
Nonetheless, Guardiola is convinced that he has conducted good business. He said: "Everyone who makes a deal would like to do it in two minutes. But sometimes the clubs take their time, they make their strategy to earn more money and it's normal.
"In that moment we decided to do that, so I think Bernardo would be more expensive now. Maybe not just Bernardo, maybe Kyle, maybe Mendy or maybe others would be more expensive now.
"It is difficult in the transfer market now but it was difficult before. You have to spend more money to buy the players right now – not just Manchester City, all the clubs.
"I think there are a lot of clubs with players who are not going to play and they are looking for the best solution."
City have had a mixed start to the season, beating Brighton before drawing with Everton, and Guardiola has expressed concerns that his team are not being clinical enough.
The manager saw his team score just once against Everton from 19 efforts at goal, suggesting that last season's failure to make dominance count is once again proving an issue.
Gabriel Jesus and Sergio Aguero both missed good chances against Ronald Koeman's side on Monday night before Raheem Sterling's equaliser saved a point, with Guardiola seeking a more ruthless touch.
He said: "I'm concerned. We have guys who can score goals. I never will doubt Sergio and Gabriel. Even Kevin [de Bruyne] is a guy who scored 12 to 15 goals last season and made 21, I think.
"We played with 10 men against 11 for more than 50 minutes when we faced Everton, and you saw how many chances were created.
"We had chances against one of the best defensive teams in the Premier League. We created enough to win the game, even with 10 men, but we weren't able to score.
"It's a little bit like last season. We are going to try to find the chance to be confident, and one day it is going to click, and we are going to score goals."
Register for free to continue reading
Registration is a free and easy way to support our truly independent journalism
By registering, you will also enjoy limited access to Premium articles, exclusive newsletters, commenting, and virtual events with our leading journalists
Already have an account? sign in
Join our new commenting forum
Join thought-provoking conversations, follow other Independent readers and see their replies