Manchester City manager Pep Guardiola says 'everybody' spies in other countries
Guardiola was twice asked whether he had employed the same tactics as Bielsa, one of his coaching inspirations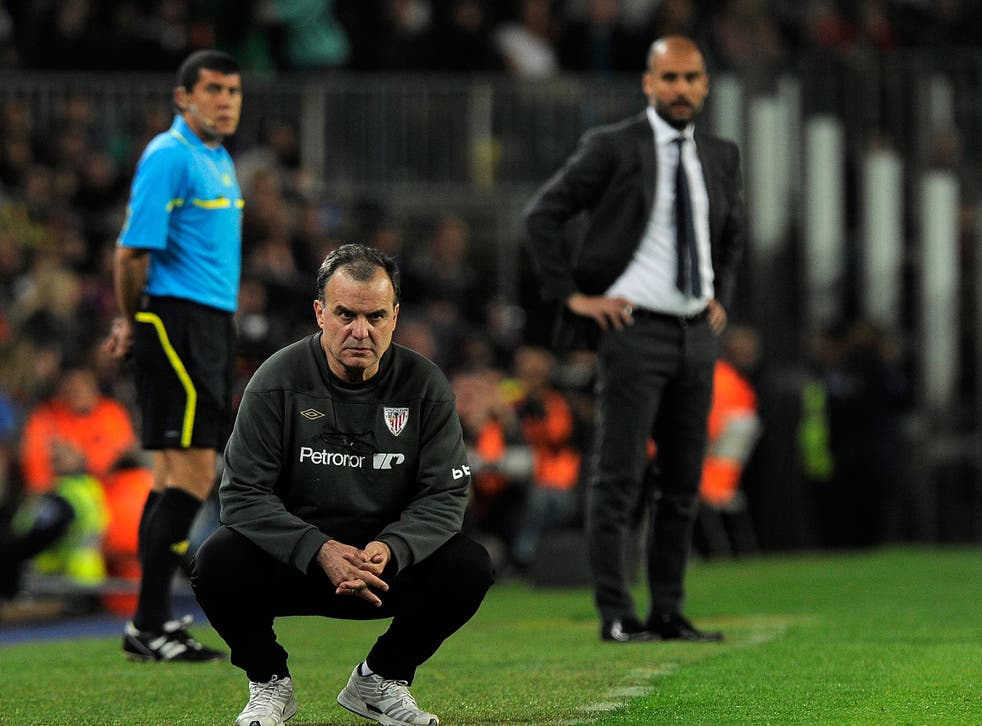 Pep Guardiola has said that "everybody" in other countries spies on opposition training grounds in the wake of the Marcelo Bielsa controversy at Leeds United.
Bielsa admitted earlier this week to spying on all of Leeds' Championship opponents thus far this season, having had a member of staff apprehended at Derby County's training ground a week earlier.
Guardiola is a great admirer of Bielsa, claiming "everyone who works with him is a better player" last week, and on Friday he said he had no reason to change his opinion of the Argentine.
The Manchester City manager also stopped short of denying that he had ever spied on an opponent's training ground, claiming it is common practice abroad.
When asked directly twice whether he had ever done the same as Bielsa in his career, he said: "In other countries, everybody does that.
"Here it's more difficult, it's private, it's closed. But in every country I've been before, everybody does that.
"When we were training at Bayern Munich there were people in the little mountains with cameras and the opponent was watching what we did. Everybody did it.
"It is the culture of the clubs. It was part of the club. Not because you said: 'You have to do it'. It is the leagues.
"I'm not going to send anyone to spy on Huddersfield [who City play on Sunday]. If that is the question, forget about it."
Guardiola has been greatly influenced by Bielsa's tactical approach, which is based around fast, intense and fluid passing football, and the City manager said he still admires him greatly.
"My respect remains the same, absolutely the same. I admired what he has done in the past, why should I change my opinion?
"I know him, I would not say perfectly, but a little bit. I understand Frank Lampard too. Both sides are understandable."
Guardiola added: "I cannot talk about what the other managers do. The truth is everybody wants to know everything. Not just in football but in society. Everybody spies on everybody in society.
"They want to see what happens with this person or the gossip about this man or that man. Everyone is curious about what the other people says. It is not just football that is exceptional. Everywhere it is like this."
Bielsa defended his use of a spy on Wednesday by giving a PowerPoint presentation to journalists which demonstrated how much preparation and analysis his staff carry out on their opponents.
The Leeds manager said that, after taking charge of Athletic Bilbao against Guardiola's Barcelona in the 2012 Copa del Rey, Guardiola told him: "You know more about Barcelona than me."
Guardiola said it would have been "impossible" for Bielsa to spy on his Barcelona side as their training ground was a "bunker" but confirmed the 2012 story.
"The story is true. I didn't see the whole press conference but I saw the highlights," he said.
"No manager has the amount of information he produces for every single game, for every single player and every single movement. Everything they do. It is not two or three games, or even one season. It is unique what he does.
"The most important thing I learned from what he said is that football belongs to the players. The players make the difference. That is what I more agree with what he said."
Register for free to continue reading
Registration is a free and easy way to support our truly independent journalism
By registering, you will also enjoy limited access to Premium articles, exclusive newsletters, commenting, and virtual events with our leading journalists
Already have an account? sign in
Register for free to continue reading
Registration is a free and easy way to support our truly independent journalism
By registering, you will also enjoy limited access to Premium articles, exclusive newsletters, commenting, and virtual events with our leading journalists
Already have an account? sign in
Join our new commenting forum
Join thought-provoking conversations, follow other Independent readers and see their replies