Pep Guardiola's meeting with Mike Riley fails to stem his feeling that Manchester City are victims
The Catalan's meeting with the Professional Game Match Officials has clearly not removed the 46-year-old's conviction that City are the victims of officialdom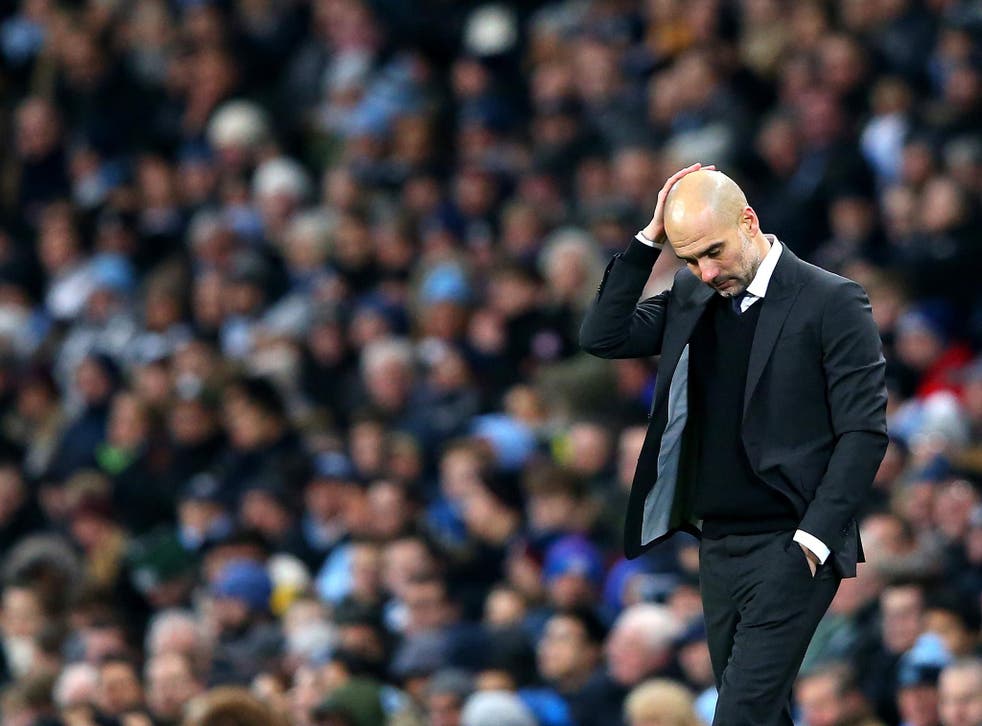 Manchester City manager Pep Guardiola has already met Mike Riley to discuss decisions he is unhappy about, despite stating after the 2-2 Premier League that he wants the referees' head to explain why his side were denied a penalty.
The Catalan first indicated that he wanted to see Riley after City were dealt a red card and conceded a questionable goal against Burnley three weeks ago and that meeting is understood to have since taken place. But in what is becoming a major frustration, the private meeting with the Professional Game Match Officials has clearly not removed the 46-year-old's conviction that City are the victims of officialdom.
The club were not willing to disclose at the weekend what the manager and Riley had discussed, though Riley is thought likely to feel that Andre Marriner's denial of a penalty to Raheem Sterling – for a push in the back in front of goal that Kyle Walker admitted to – is unfortunate in the circumstances. Marriner is also likely to feel disappointed with his decision after Sterling stayed on his feet and, off balance, shot at goalkeeper Hugo Lloris, before Spurs went up the field to score a 77th minute equaliser.
Though Guardiola said after the game that he liked players like Sterling to be "honest," City's Yaya Toure inisisted that he felt the English forward was "too honest" and should have gone to ground.
Toure said: "Have a look when the game is repeated. If he'd dived everyone would have been saying 'it's a dive'. If you have a bit of experience like me, you'd maybe dive in that situation and that's maybe what you have to do.
"He's too honest. He wants to be proper in these sort of games. If the lad's like that, you can't tell him he's wrong, if that's what he tries to do. When you see it, he can't miss from there, he was so close and after that Walker pushes him in the back."
Toure said he wanted video replays introduced to the game. "If the ref looks at the highlights as well, he is going to feel something is unfair," he said. "We all do wrongs in life but this is difficult to take. It is two points going away. We played against a good team. Tottenham are fantastic, they play well, they are strong, they fight for every ball. But we deserved three points.
"I'll go home and watch the highlights and I'll probably break the glass and be angry because we've lost two points like that. I think the referee doesn't need to be involved sometimes."
Tottenham's Toby Alderweireld has indicated that his second half departure from the field with a hamstring twinge was a precaution against the situation worsening and that he expects only a short term lay off. Danny Rose left the Etihad with his knee in a brace, but Tottenham said it was not serious.
Striker Harry Kane said it was one of the side's "worst performances of the season," and that the team had been off the pace. "I don't know why we played poorly. City came with a game plan to press, we were a bit slow on the ball, bit slow pressing and it was down to the players. No excuses from anyone." Spurs are now heading to Barcelona for warm weather training until Wednesday.
Join our new commenting forum
Join thought-provoking conversations, follow other Independent readers and see their replies