Manchester City legend Mike Summerbee: 'I want Pep Guardiola to stay forever'
The former City winger remembers his own title win, half a century on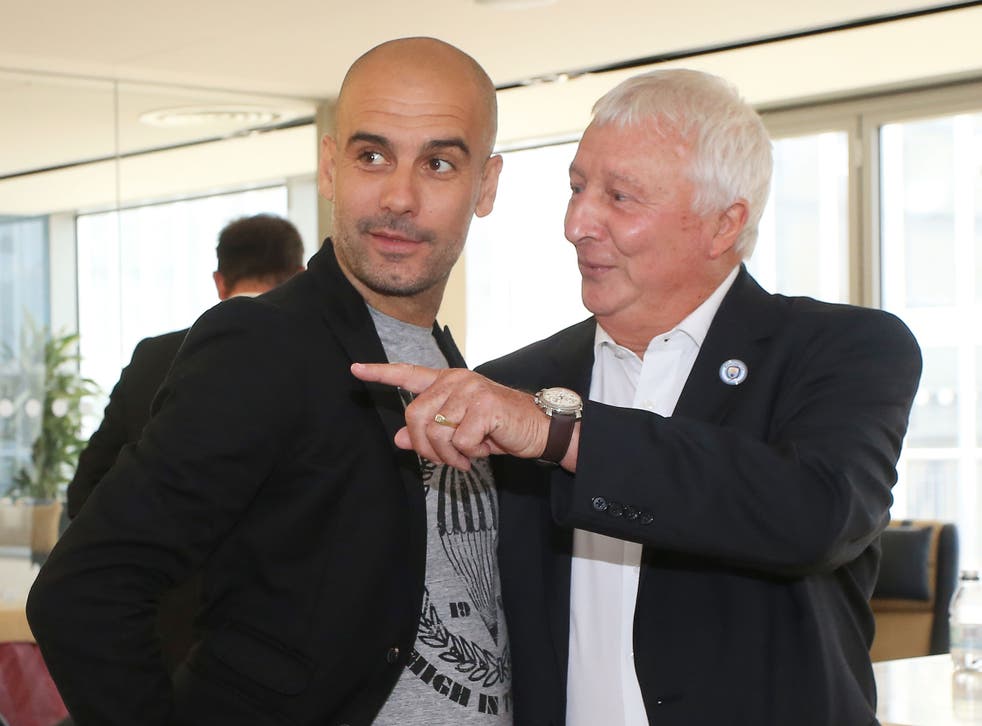 Manchester City will lift the fifth top-flight league title of their 138-year history on Sunday, 50 years to the week of their second back in 1968. Two different title wins half a century apart, won by the club at two very different points in its history.
One person who ties the two times is Mike Summerbee: then the lively, tempestuous right winger in Joe Mercer and Malcolm Allison's champions, now a club ambassador and City's most prominent, public-facing link with their past.
The 75-year-old has seen much change at the club since heading past Newcastle United goalkeeper Willie McFaul to open the scoring in the 4-3 win that secured the title on 11 May 1968, but still he sees much in common between the old City and the new.
"We were a unit together," Summerbee said of the '68 team, recalling his playing days earlier this week. "If there was a charity function, we'd all go – everyone went everywhere together, including the married players. That's what it's about, not individuals.
"Franny Lee couldn't score goals and Colin Bell couldn't play well, without [Alan] Oakes and [Glyn] Pardoe and the rest doing the work for them. It's the same now with Fernandinho – these players give other the opportunity to win the game for you."
Summerbee also remembered how Allison, nominally Mercer's assistant but the chief influence on City's champions, once knew that instructing him to take on Liverpool's Alec Lindsay would draw out Emlyn Hughes, thereby creating space for Bell.
"Pep is the same – he knows every single thing about the opposition and he implants that in the players' minds," Summerbee said.
"When I came to City there were players like Oakes, Pardoe and Mike Doyle, players who weren't rated at all. Malcolm gave those boys the confidence to be a major part of the team that won the championship. When you came off the field he would put his arm around you and give you a few words, and Pep does that all the time.
"He knew the people he could give a bollocking too. He got a response on the field, Pep gets a response on the field. I don't know the ins and outs of this dressing room, but he talks to people, has given everyone confidence."

There are even similarities in their celebrations, despite the general rule that the modern player is less inclined to partake in refreshments than those of Summerbee's day.
Some members of City's class of 2018, led by captain Vincent Kompany, drank in The Railway pub in Hale after their status as champions was confirmed. So it was with Summerbee in '68, only then it was the Cabaret Club on Oxford Street and a Manchester United player was willing to join in.
"We won the game and came back, stopping at Darlington for a few drinks. I'd agreed to meet George Best about one o'clock in the morning in the Cabaret Club. They'd just got beat," Summerbee recalled.
United lost 2-1 at Sunderland that day having began it with the hope of overtaking City and winning the title. "I got there about quarter past one and he was there. He could have bottled it but he was there, and we went out – people don't understand what a nice person he was."
Summerbee is right. The similarities are there if you search for them, and the challenge for City's current crop is to enjoy prolonged success like their predecessors.
At a time when winning consistently was a true challenge in English football, the City of '68 claimed the FA Cup the following year, then the League Cup and Cup Winners' Cup the year after that.
Summerbee believes this present-day City can be truly dominant. "I think you're looking at an era. I'm trying to be over glossy, he's created something that you know is long-standing. I think that they can go from here. I think they'll get even better," he said.
"I'm getting old but I hope to be around to see a few more trophies at this club. What has it been, two years under Pep?" Two years in, one more remaining on his contract. "I'd like to see him stay forever. He's a nice man, he knows everybody from the cleaners, by their name.
"I always find in life whether it's a cricketer, footballer, manager or whatever - Pep Guardiola, Bill Nicholson, Sir Gareth Edwards, Pele, the late, great Sir Bobby Moore… people that I've mixed with, the more famous and great they are, the more humble they are.
"The ones who think they are great can be difficult. You talk to him and I'm Mike Summerbee, who's Mike Summerbee? He's worked with people like Lionel Messi."
Summerbee and others from the '68 side will applaud City's players onto the pitch before Sunday's meeting with Huddersfield Town, then later watch Kompany lift the first title of the Guardiola era.
"Now you can feel confident that you can go on from here," he said. "Pep has to be a magician to do what he's done. You've watched games, you've watched eras, but you've never seen anything like this for a long time."
Register for free to continue reading
Registration is a free and easy way to support our truly independent journalism
By registering, you will also enjoy limited access to Premium articles, exclusive newsletters, commenting, and virtual events with our leading journalists
Already have an account? sign in
Register for free to continue reading
Registration is a free and easy way to support our truly independent journalism
By registering, you will also enjoy limited access to Premium articles, exclusive newsletters, commenting, and virtual events with our leading journalists
Already have an account? sign in
Join our new commenting forum
Join thought-provoking conversations, follow other Independent readers and see their replies