Manchester City manager Pep Guardiola pleased with Sergio Aguero and Gabriel Jesus' growing partnership
The Manchester City manager believes that the pair proved in Saturday's 5-0 win over Liverpool that they can play alongside one another
Mark Critchley
Northern Football Correspondent
Sunday 10 September 2017 22:56 Comments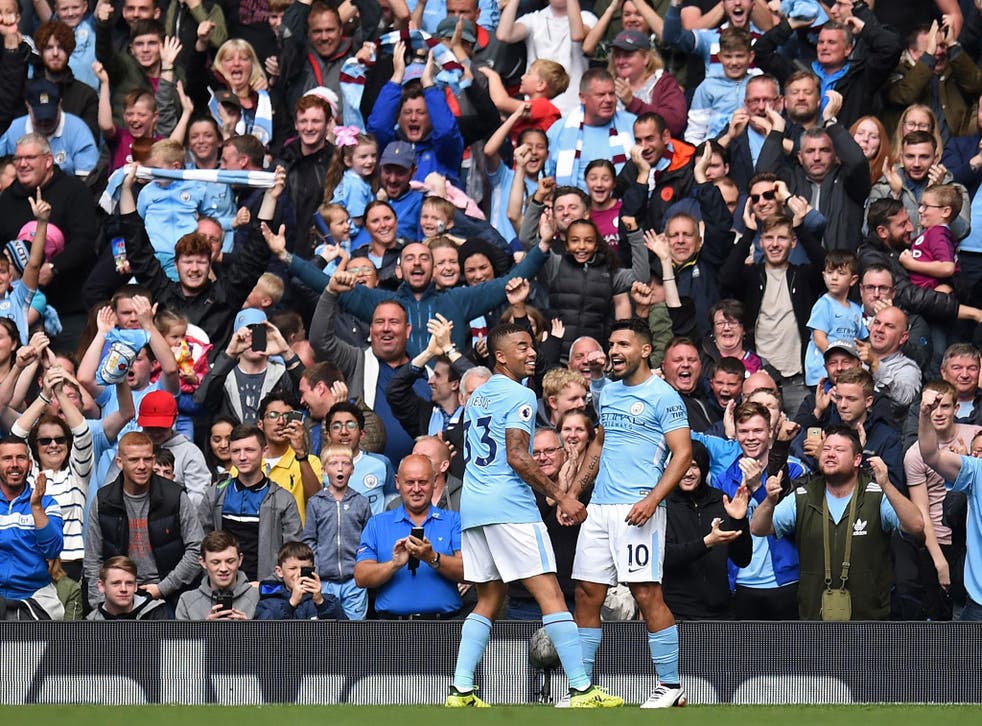 As if the evisceration of Jurgen Klopp's Liverpool was not proof enough, for Pep Guardiola, one moment in Manchester City's 5-0 victory on Saturday showed once and for all that Sergio Aguero and Gabriel Jesus can play together.
With the hosts two-up and the pair having scored one each, Aguero was slid through one-on-one with Simon Mignolet by a superb Fernandinho pass. The Etihad expected the greatest non-European goalscorer in Premier League history to convert. Instead, he sought to pass.
"I don't say to the striker pass the ball, I say score a goal please," Guardiola insisted after the game, but in this instance he was delighted by Aguero's selflessness. The Argentine laid the ball off to Jesus, his some-time rival for a starting spot, allowing the Brazilian to dink it home.
Aguero was arguably in a better position, with Jesus' angle much narrower, and Guardiola may not have been so pleased by the move had the pair contrived to miss the chance.
Yet after months of suggestions that Aguero is not fond of playing second fiddle and claims that the two cannot operate together effectively, Guardiola was especially pleased with them combining to score.
"It means a lot to me, what Sergio did. A lot," he said. "They are both good guys. Both are exceptional players, their relationship is top. Of course both want to score goals and we need that, that egoism, wanting to score more than your team-mate, but they have the ability to choose the right decision like Sergio did.
"He was one-against-one with the goalkeeper but had the ability to pass the ball. When this happens the next time, Gabriel is going to do it for Sergio, and that's good."
For Guardiola, it was the highlight of a day where almost everything went right for City. It was only dampened by the injury to Ederson, caught by Sadio Mané in a challenge that saw the Liverpool winger sent off, though the goalkeeper is not expected to be sidelined as a result.
The ruthlessness of City's play once facing 10 men particularly pleased Guardiola.
"Maybe the fact that Sergio and Gabriel are playing together means we have more chances because they are central to the goal.

"Football is boxes, every manager has ideas, a way they play. It doesn't matter how, everything is well done, but of course the boxes make the difference.
"1-0, 10 against 11, we score four goals. We didn't concede one chance from them and we were calm in attack in the right moments. We were quick in the last part and in others, a little slower. That's what I'm looking for."
Register for free to continue reading
Registration is a free and easy way to support our truly independent journalism
By registering, you will also enjoy limited access to Premium articles, exclusive newsletters, commenting, and virtual events with our leading journalists
Already have an account? sign in
Join our new commenting forum
Join thought-provoking conversations, follow other Independent readers and see their replies