Manchester City to sell £265m stake to China Media Capital to narrow Manchester United gulf
Possibilities endless as cash-rich, government-backed company buy 13 per cent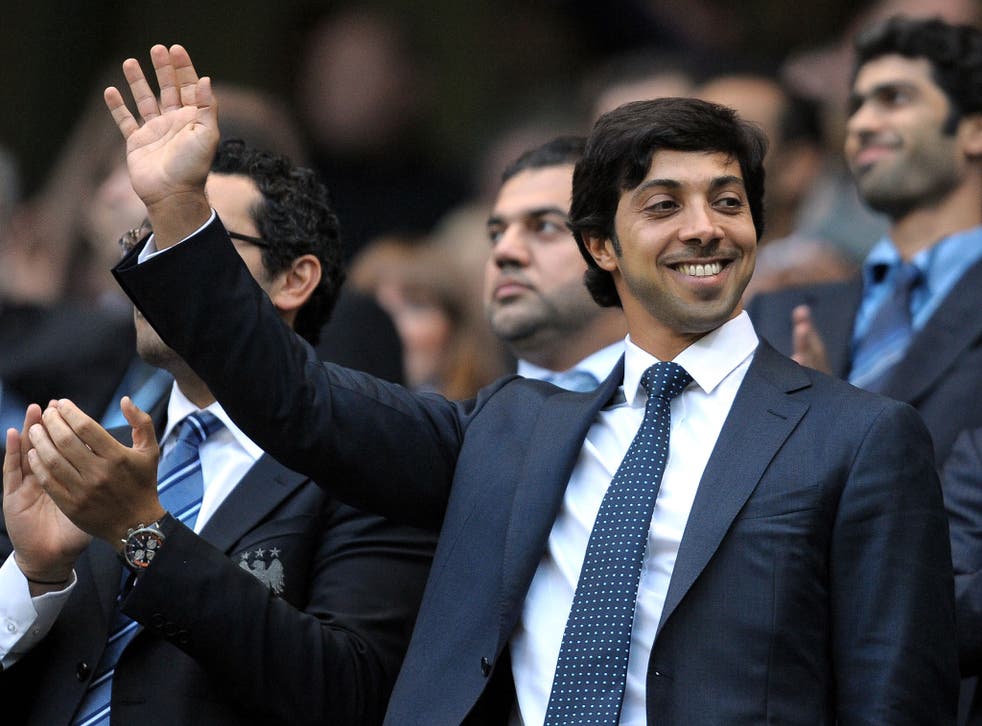 Manchester City are convinced they can narrow the huge revenue-earning gap between themselves and Manchester United, after securing a deal which will see the Chinese state invest $400m (£265m) and take a 13 per cent share in the club's holding company.
The club recognise that United have a substantial lead in the Chinese market. But while the strategy of both clubs has been to secure sponsorship deals which make Far East firms their official noodle, credit card, or potato snack partners, City feel that approach has its limits. With cash-rich state-backed China Media Capital (CMC) ploughing the money in, City want a broader profile and there is a strong chance that a City team in China may now be on the way.
City, who will open a new office in Beijing to go with their Japanese and Singaporean operations, will also find access to the Chinese market for all four of its football clubs – Manchester City, New York City FC, Melbourne City FC and Yokohama F Marinos of Japan's J-League. They also anticipate being able to complete lucrative deals for sponsors who want profile in the four continents the club now occupy.
City chief executive Ferran Soriano has been unconvinced in the past about the value of investing in China. "You could say [there is opportunity in] China, where there is obviously more population, more growth, but football is not well established there yet, the league is not stable," he said in his only in-depth British newspaper interview, in New York two and a half years ago.
But with the Chinese president Xi Jinping – a huge football fan – behind the drive to see the sport grown in the country, City decided that the approach from a consortium led by CMC was too good to refuse. They have rejected such investment requests in the past but believe that their group structure allows them to conclude the deal without the Chinese taking a chunk out of the core Manchester City Football Club. Building international relations with countries such as China was also a significant part of Abu Dhabi's incentive for investing in City in 2009.
Sources insist that the deal, which values the City Football Group holding company at $3.3bn (£2.1bn), is not a way of securing cash to help avoid falling foul of Uefa's Financial Fair Play – though there is to be a relaxation of that regime where new ownership of clubs is concerned. They also moved to reject any idea of owner Sheikh bin Zayed al-Nahyan is beginning to disinvest, after ploughing in estimated £1n.
City said that their announcement followed more than six months of discussions. It certainly reveals the significance of the visit to the Etihad of the Chinese premier, Xi Jinping, last month and the induction of the former City Chinese player Sun Jihai as one of the least worthy members of Manchester's National Football Museum's Hall of Fame, during that visit. Sun was also appointed as a City ambassador in China in September.
The prospect of this deal securing exciting future Chinese talent may not be such a remote hope. Asked about his personal ambitions for China four years ago, Mr Xi replied: "To qualify for the World Cup, to host the World Cup and to win the World Cup." There is an intense drive to develop better players.
CMC announced two weeks ago that they had paid $1.3bn (£862,000) for the global broadcast rights for Chinese domestic Super League football, which only generated $21m (£13.9) for the 2014 and 2015 seasons combined. They find themselves with a need for premium Manchester City content, while City have a need for the audience. The new consortium includes investment firm CITIC Capital, which invests in property and private equity investments around the world.
Juventus vs Manchester City - player ratings

Show all 24
The size of the deal reveals how City have already closed the gap on United – who are currently valued at $3.05 billion (£2.02bn) in the New York Stock Exchange.
Ruigang Li, CMC's chairman and also an influential Shanghai Communist Party member, will join the CFG board. Khaldoon Al Mubarak, chairman of City Football Group, said: "In China, the exponential growth pathway for the game is both unique and hugely exciting. We have therefore worked hard to find the right partners and to create the right deal structure to leverage the incredible potential that exists in China."
Register for free to continue reading
Registration is a free and easy way to support our truly independent journalism
By registering, you will also enjoy limited access to Premium articles, exclusive newsletters, commenting, and virtual events with our leading journalists
Already have an account? sign in
Register for free to continue reading
Registration is a free and easy way to support our truly independent journalism
By registering, you will also enjoy limited access to Premium articles, exclusive newsletters, commenting, and virtual events with our leading journalists
Already have an account? sign in
Join our new commenting forum
Join thought-provoking conversations, follow other Independent readers and see their replies