Sergio Aguero suggests he could leave Manchester City at the end of the season
The Argentina international wishes to stay at the Etihad, despite losing his starting place, but he claims his long-term future is down to the club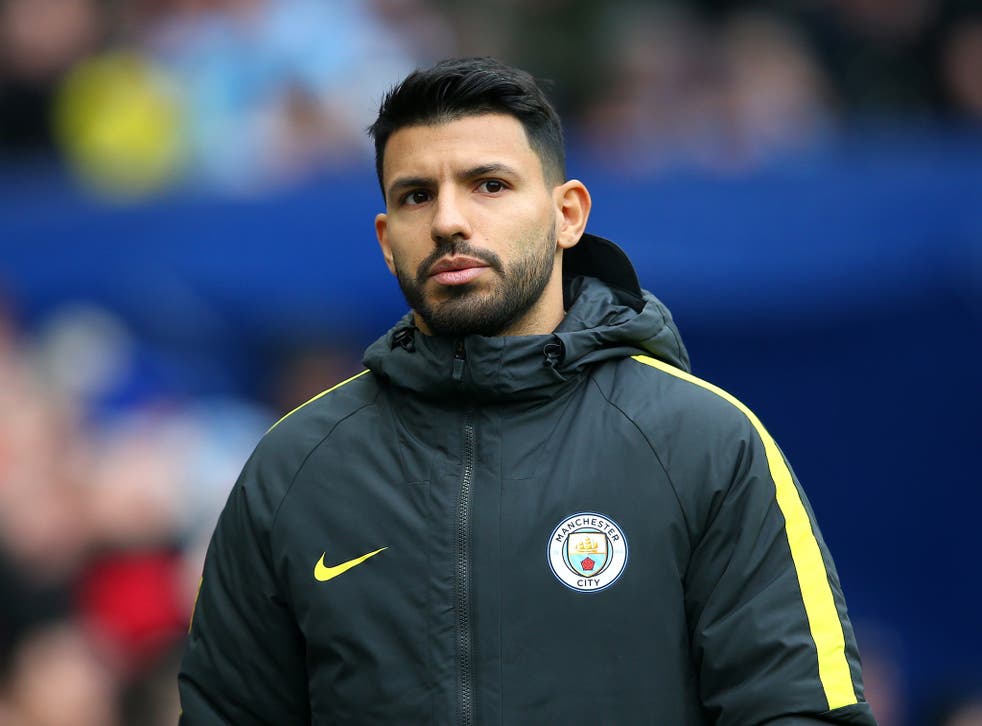 Sergio Aguero responded to Gabriel Jesus's spectacular arrival that has seen him dropped to the bench by insisting he wants to stay at Manchester City next season. However, the 28-year-old acknowledged that it would the club not him that would decide his future.
Pep Guardiola's decision to play Jesus almost immediately after his arrival from Palmeiras in January has borne instant results, with Wednesday's 4-0 win over West Ham followed up by this afternoon's narrow 2-1 victory over Swansea. Jesus scored three times in those two games and it was his stoppage-time winner that ensured Manchester City moved up to third in the Premier League.
However, Aguero who has been City's leading striker since his arrival from Atletico Madrid in 2011, has been the principal casualty and speculation has mounted that he may be tempted by a move to Chelsea should Diego Costa leave for the Chinese Super League.
However, speaking after the win over Swansea in which he appeared for just the final seven minutes, Aguero said: "I want to stay for next season but we will have to see what the club wants." He added: "I am fine. It is normal. Sometimes this happens and when you are on the bench you have to wait for your opportunity. I have three months to do my best and try to help the team. We will see what happens with my future.
"I am not thinking about leaving. I have to help the team as much as I can in these three months. Afterwards, we will see what the club wants to do with me."
Aguero confirmed he had had a meeting with his manager, Pep Guardiola, but insisted that: "It was things to do with the club, nothing strange. They were private things that have to stay inside those walls. My contract is up in three years and that's why I say I am happy at the club. In these last three months that are left, I have to help the club and, as I say, the club will decide if I have a place here or not."
Manchester City 2 Swansea 1 player ratings

Show all 22
​Guardiola said he understood why Aguero would not have been happy at being left out but he insisted that both he and Gabriel Jesus could play in the same side and with Manchester City still involved in the Champions League, the FA Cup and the league, there would opportunities for the Argentine.
"It must not be easy for him, I understand that," he said. "But Sergio remains one of the most important players in our squad. He knows what he has to do and he will be so important for us. He is going to play a lot of games with Gabriel and without Gabriel. Today I decided to play with Gabriel. Sergio's reaction was perfect don't worry about that. Of course he wants to play."
Guardiola added that he was not surprised with the instant impact Jesus has had since his arrival in Manchester from Sao Paulo where he had won the championship with Palmeiras. "We are delighted because most of the big, important clubs in Europe wanted him and he decided to come here," he said. "We expect the best because he is a striker for Brazil and it is not easy to play for the Brazil national team. Suddenly, you arrive and you have to play immediately. He had eight minutes against Tottenham and you think: 'Wow'. He is hungry, he has desire and he shows so many good things.
"When he arrived after the end of the season when he was a champions with Palmeiras we spoke about tiredness. He has not had a break in the last two to three years. I told him to take his time and come back when he was ready but he is 19 years old, he is Brazilian, he is physically strong and he needs few training sessions to be ready. We have to protect him but everybody is surprised by his level."​​
Join our new commenting forum
Join thought-provoking conversations, follow other Independent readers and see their replies