Manchester City striker Carlos Tevez escapes jail sentence after admitting motoring offences
Argentina international admitted to driving while disqualified and without insurance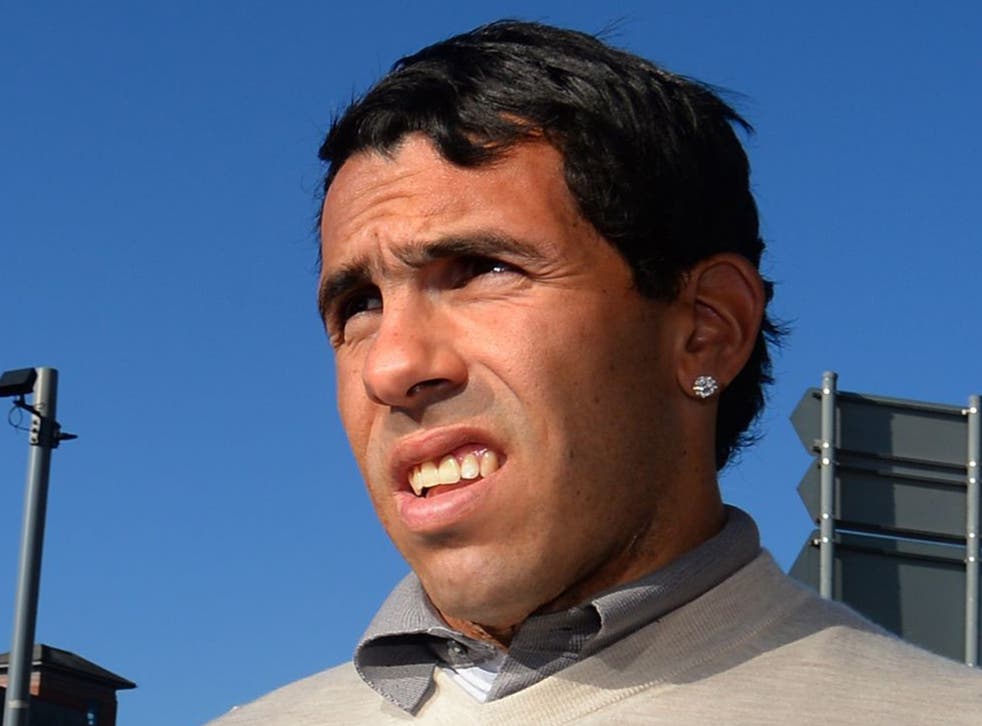 Manchester City striker Carlos Tevez today escaped a custodial sentence for a series of driving offences.
After pleading guilty to driving while disqualified and without insurance, the Argentina international was sentenced to 250 hours of community service, a six-month driving ban and a £1,000 fine.
There had been a very real possibility that the former Manchester United striker could face time in prison. Driving while disqualified carries a maximum penalty of a six-month custodial sentence and a £5,000 fine. The website drivingban.co.uk, which gives legal advice to motorists, states: "A prison sentence is a very real possibility, particularly if the court feels that by driving you have shown disrespect to the court that imposed the original suspension."
Earlier in the day the 29-year-old entered his guilty plea in his native Spanish with the aid of an interpreter as he stood in the dock at Macclesfield Magistrates' Court.
JPs heard that the Argentinian, who gave his full name as Carlos Alberto Tevez, has not yet got a UK driving licence, partly because he has struggled to pass the theory test, which is conducted in English.
Tevez pleaded guilty to driving while disqualified and without insurance after being stopped as he left a golf club in a Porsche Cayenne on the afternoon of 7 March this year following an anonymous tip-off to police.
Tevez was banned and fined £1,540 by Manchester magistrates in January after he failed to respond to letters from both Cheshire and Lancashire police after being caught speeding in his Hummer on two occasions. He pleaded guilty but said he did not understand the letters because of his lack of English. He also admitted not having a proper UK driving licence.
Kate Marchuk, prosecuting, told the court a police officer was called to the Mottram Hall Hotel and Golf Club in Cheshire at around 4pm on March 7.
"There had been a call from an anonymous caller, that the defendant had driven a white Range Rover to the golf club whilst disqualified.
"The officer confirmed this on the Police National Computer."
But Miss Marchuk said Tevez had been disqualified from driving on January 16, until May 25.
In fact Tevez, who lives in nearby Alderley Edge, did not get into the Range Rover, but instead at around 5pm left the club, got into a white Porsche Cayenne and drove off.
He was stopped nearby and arrested for driving while disqualified and having no insurance.
He told the officer: "I only live down the road. Two minutes."
Tevez was taken to the police station and later bailed but at a second interview made no reply to police questions.