Pep Guardiola defends Manchester City fans over post-Swansea pitch invasion
Guardiola jokingly told supporters to 'save the grass' and said he would have 'no problem' with an FA probe into the scenes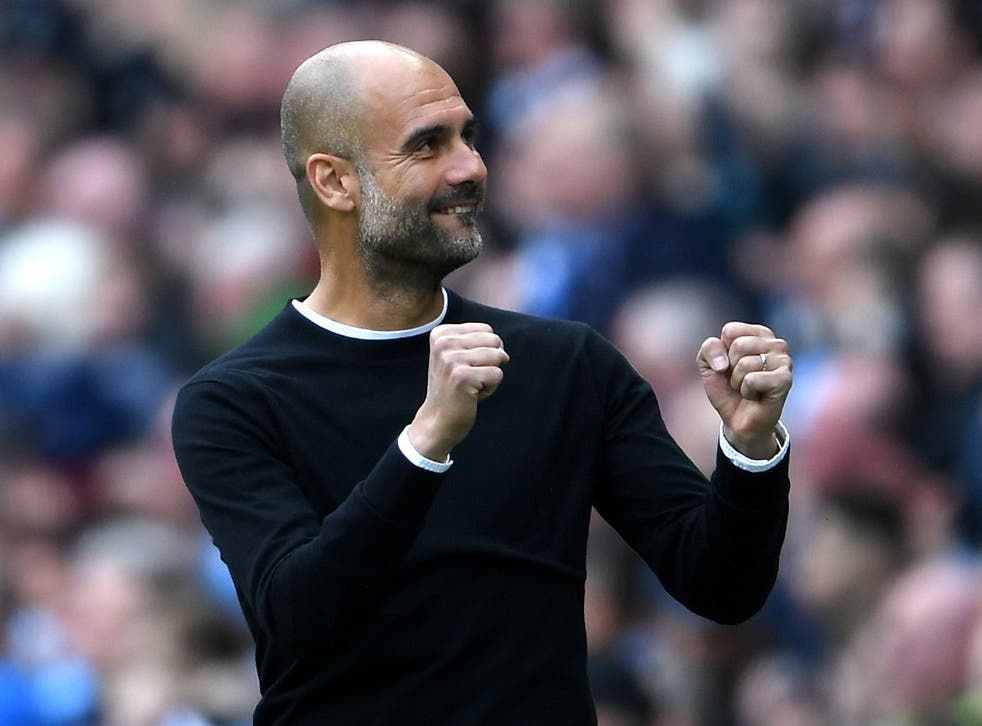 Pep Guardiola has said he would have "no problem" with Manchester City receiving a Football Association charge for failing to control their supporters after a pitch invasion followed their 5-0 win over Swansea City.
Players were surrounded and at least one flare was lit by encroaching supporters following City's first match at the Etihad Stadium since being confirmed as Premier League champions.
Most City players avoided the crowds by quickly running down the tunnel but Vincent Kompany and Benjamin Mendy stayed back for a few moments to celebrate with joyous supporters.
Despite there being no sign of any violence, unlike during the pitch invasion that followed Citys FA Cup defeat to Wigan in February, the FA are still likely to take a dim view of the scenes.
Wigan were charged by English football's governing body for their supporters' encroachment at the DW Stadium and sought observation from City earlier this month after a flare was thrown onto the pitch during the Manchester derby.
When asked for his reaction to the pitch invasion, Guardiola jokingly told supporters to "save the grass" before defending their behaviour and insisting he would have "no problem" if the FA choose to act.
"Football is an emotional game," he said. "I understand you have to be careful, but when they feel they want to share that they are happy, it is better they stay where they should stay, but I'm not going to tell them don't do that.
"If they are happy I like to be close with the team. They show how happy they are and that is the most beautiful thing, we can live like professionals, a manager and football players. We felt that today. The fans here were so happy.
"Just arriving on the bus, the way people look at us and celebrate in the stadium and jump. I'm sorry that's good. It's time to celebrate it. I'm not going to tell anybody don't enjoy it. I'm not going to tell them."
Guardiola added: "Our fans, today from the beginning they were there and singing and close to us. Sometimes they are more cold.
"Especially Liverpool after 1-1 from Salah [in the Champions League earlier this month], the people react amazingly, so close to the team. That means a lot to us.
"They know we are an honest team, a humble team, in the way we play without the ball, the way we press, the way we try to be honest. People realise that. That's why we are close."
Register for free to continue reading
Registration is a free and easy way to support our truly independent journalism
By registering, you will also enjoy limited access to Premium articles, exclusive newsletters, commenting, and virtual events with our leading journalists
Already have an account? sign in
Register for free to continue reading
Registration is a free and easy way to support our truly independent journalism
By registering, you will also enjoy limited access to Premium articles, exclusive newsletters, commenting, and virtual events with our leading journalists
Already have an account? sign in
Join our new commenting forum
Join thought-provoking conversations, follow other Independent readers and see their replies