Manchester City in league of their own as they make light work of helpless Tottenham
Manchester City 4 Tottenham Hotspur 1: Goals from Ilkay Gundogan, Kevin de Bruyne and Raheem Sterling fired Pep Guardiola's men to a 16th consecutive victory
Miguel Delaney
Etihad Stadium
Saturday 16 December 2017 20:08 Comments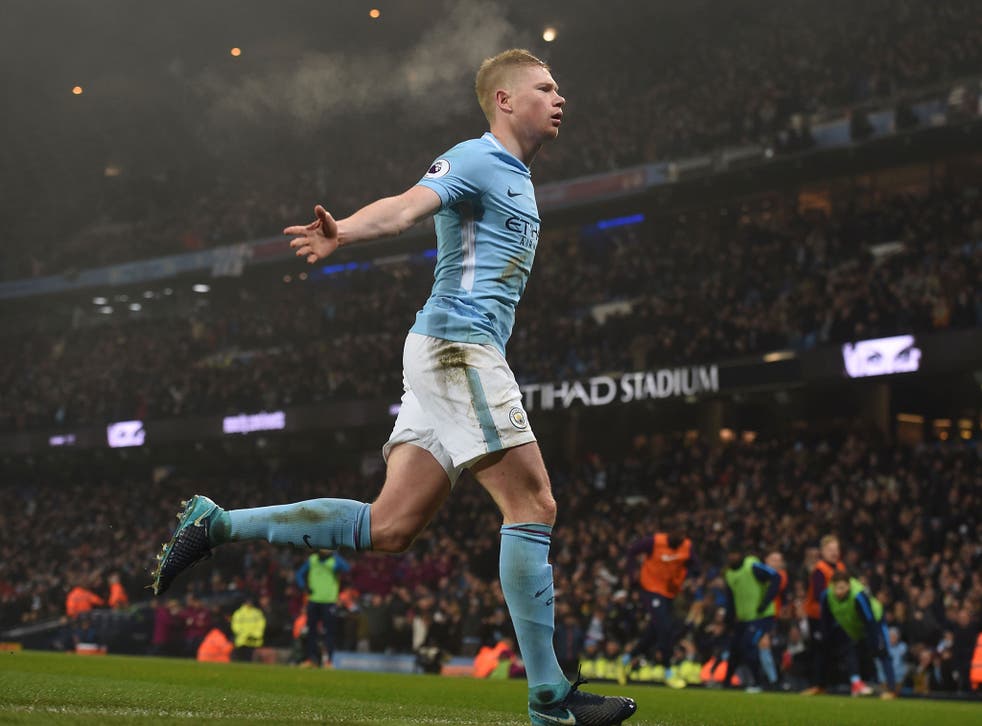 Since it's long been beyond any reasonable doubt that Manchester City will win the title, the only real searching question about their season is just how long this remarkable record-breaking run will go on for, just how many goals they'll rack up.
This thumping 4-1 win was sweet 16, and came after making another notional top-six team look like a mere mid-table side, and that before a run of games against actual mid-table sides. This could really get ridiculous, but then it would be such a natural and fitting consequence of some ridiculously good football, and some ludicrous riches of talent and resources. You could say City ran a pretty pathetic Tottenham Hotspur ragged, reduced them to rubble, all the rest of it, but then such imagery doesn't really match the elegant beauty of so much of their football.
The outstanding Kevin De Bruyne was just one of many City players on another level, and they never looked like coming down off it once Ilkay Gundogan had opened the scoring with another set-piece goal after a mere 14 minutes.
You could also justifiably put this down to Tottenham hitting a ceiling, to pressing questions about their ability to win away to the rest of the top six and how exactly they approached this game.
The simple logic is really that City are just this good, this potentially historic. They can win it all, as shown by how they are battering all.
Pochettino had actually gone against general logic early on, as well as his own approach against sides like Real Madrid and Borussia Dortmund, to trust his core belief that to beat a Guardiola side you have to "rattle them" and "make them play in a way to which they are unaccustomed". So Spurs didn't sit back like so many others do, and looked to squeeze the space around City's box… but that won't make too much of a difference if you completely offset it by leaving so much space around your own box for a set-piece in the first 14 minutes.
It is one of the little recent quirks of this long three-month run. The last week has seen them weave some wonders against two other top-six sides, and pull them all over the place, but yet three of the goals have come from set-pieces and all of them through players under six foot.
Just like David Silva and Nicolas Otamendi against Manchester United, though, Gundogan didn't exactly have to jump to finish. He just moved himself into the open space in front of Hugo Lloris left by Dele Alli's collision with Harry Kane, and powered a low header into the net.
The pattern was now set, the "aura" only further illuminated. Pochettino had said before the game that City are on the kind of run when, just like Spurs at White Hart Lane last season, you would feel like you were 1-0 up upon stepping out on the pitch. So, here they were, actually 1-0 up and apparently playing with double the confidence.
There were points in the first half when it looked like it could have been embarrassing for Spurs. It was certainly tough for Kieran Trippier, as an almost gliding Leroy Sane turned him this way and that, and then back the other way for fun. In the second half, Harry Winks had to go over there so much more often to help his right-back out. That was a difficult task, but not as difficult as trying to pick who was better between Sane and De Bruyne. If the former's runs were impossible to pin down, the latter was just running the game. They of course combined for one of the best link-ups of the game, De Bruyne spraying the ball to Sane with one special pass.
It was all the more impressive that this was happening without David Silva, who had to miss the game due to personal reasons. That his presence was hardly missed in general play should be full notice of City's quality.
There was also the fact Spurs seemed to increasingly resort to some desperate, and occasionally outright overzealous, challenges in response, forced to try and completely fill every attempt at a physical interaction as they chased mere shadows. It saw Kane lucky not to be sent off for one attempt on Sterling, Alli even more fortunate with another on De Bruyne… before the Belgian got revenge in the best possible way.
Having been left on the ground in pain, the Belgian just got up and put Spurs through more psychological torture. He powered a rocket of a shot through Lloris' arms, the goalkeeper making contact but nowhere near enough to stop that kind of force.
Another desperate Spurs challenge on De Bruyne brought the penalty moments later, but substitute Gabriel Jesus could only hit the post.
This was the greater frustration for Spurs, and the greater worry for the league. It was as if, no matter Pochettino's side were trying, they just couldn't keep up with City in any way.
Soon they could barely try anything at all, just battered into submission, as Guardiola's side submitted another battering to their season.
Raheem Sterling scored twice late on, with De Bruyne again the architect, before Christian Eriksen got a stoppage-time consolation.
It is no consolation for the league. City's next four league games are Bournemouth at home, Newcastle United away, Crystal Palace away, Watford at home and then Liverpool away.
Who knows what the numbers will be by then, but relaying on them might be the only way to do this team justice.
Whatever about justice, mind, City are just showing no mercy.
Register for free to continue reading
Registration is a free and easy way to support our truly independent journalism
By registering, you will also enjoy limited access to Premium articles, exclusive newsletters, commenting, and virtual events with our leading journalists
Already have an account? sign in
Join our new commenting forum
Join thought-provoking conversations, follow other Independent readers and see their replies