Record-breaking Manchester City weren't even that good - but they were far too good for United
Manchester United 1 Manchester City 2: Goals from David Silva and Nicolas Otamendi ensured a record-breaking 14th consecutive win and with it, in all likelihood, the title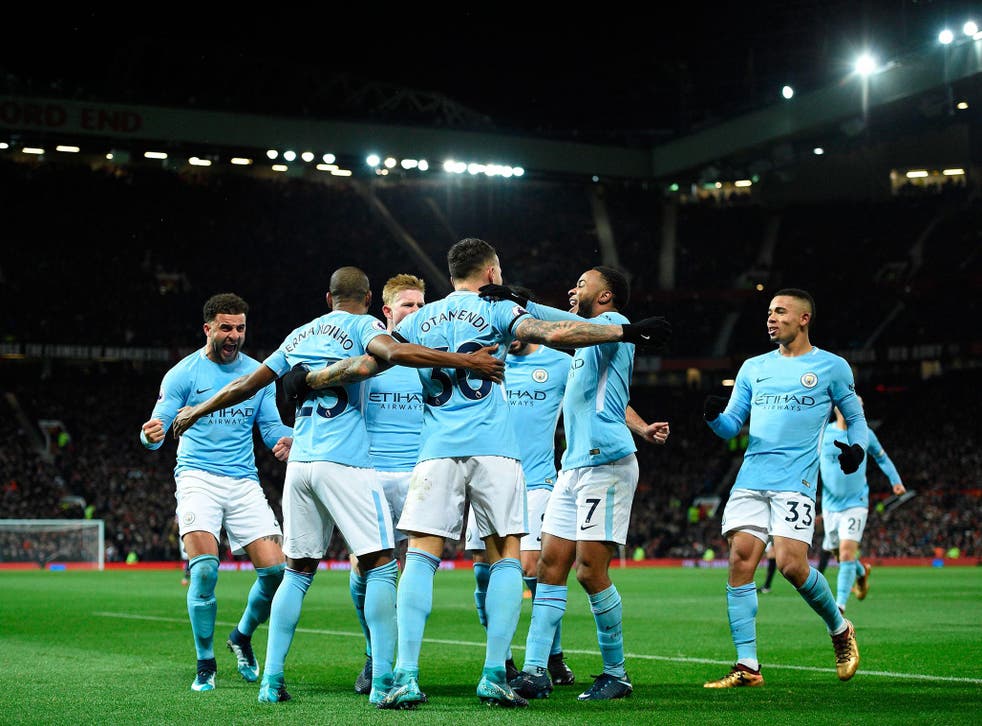 A record broken by Manchester City, and it may well lead to a record gap in a title race - if that is even the right word - that could well already be settled. Pep Guardiola's side certainly celebrated like that after rather easily beating Manchester United 2-1 to go 11 points clear at the top and become the first Premier League side to complete what should have been the much more difficult task of winning 14 successive games in a single season. That they did it at Old Trafford only emphasising the completeness of this team.
A few typically divine moves aside, though, whether City were actually that good in this game is even debatable. Really, United were mostly just so, so meek.
It wasn't even that they played defensively, since that had some justification. It was that they were so lacking in bite, in a game they really had to win. The absence of the suspended Paul Pogba only goes so far to explaining that, as a club of such resources should really be able to do more without one player, no matter how good he is. Romelu Lukaku was almost completely ineffective - except at the wrong end. He was responsible for two goals, but for City.
Manchester United vs Manchester City player ratings

Show all 22
That is where also Jose Mourinho will have some justifiable frustration. While there will always be arguments over whether he should set up so defensively in such matches, he can reasonably expect his side to actually be able to defend. This wasn't even a passable impression, as they left so much space for City, and then basically let them score from two set-pieces.
The fact that was where the game was won inverted so many expectations from the build-up to this game, and all the talk about how United's size could hurt City, but it unfortunately for them didn't invert Lukaku's form.
It stood out all the more because of who won it for Guardiola. This may not have been a classic City display, but it did further display a classic piece of coaching improvement from the Catalan. Nicolas Otamendi was one of those more battle-hewn players many thought might be discarded under such a distinctive managerial style, but here he was hitting the key goal, his fifth in his last 15 games in all competitions, having only scored twice in his previous 97.
Such goals should now be expected, although this match only partially lived up to expectations - and in some curious ways.
For all the eyebrows raised by Mourinho's starting XI, and all the heckles raised by the City supporters' chants of "park the bus, park the bus Man United", there were a surprising amount of free spaces in the home side's predictably withdrawn side. It wasn't so much a bus or an airplane being parked - to use one of the Portuguese's famous phrase - but a few rusted bicycles.
It looked the worst of both worlds for the home side, and a matter of time until City would make full use of it.
Guardiola's side were working the ball through those gaps with equally predictable ease. Raheem Sterling found Gabriel Jesus early on, Kevin De Bruyne sent Sterling in, and Jesus himself just ran right through the United backline but one reason that these moves didn't really trouble De Gea was because of a needless over-elaboration from City's attackers thereafter. There were so many moments when they so slickly and incisively play themselves into the box, only for a sudden inefficiency to take over.
It took Leroy Sane to end that with one powerful drive, that brought De Gea's first proper save, and also the first goal.
There followed the unexpected, as David Silva - one of the smallest players on the pitch, who had just minutes beforehand been flattened in an aerial challenge - stabbed the ball past De Gea.
Having been so bizarrely meek, even in defensive challenges, United did at least get jolted into life and produced a strong response. It also produced their initial equaliser through Rashford, and brief best spell of the game - but didn't do anything to eradicate some of the worst defending ever seen from a Mourinho side.
He will be right to be frustrated, especially given how Rashford had so ruthlessly capitalised on City's own sloppiness to surprisingly get United back into the game. That came from a long punt - and pretty much all United had in attack without Pogba - a Vincent Kompany slip and the young forward's now customary cool finishing.
United were energised, and started the second half well to begin exposing more shakiness in City's defence - only to be undone by even worse sloppiness in their own. They again failed to defend a set-piece, Lukaku again failed to properly control a ball, and Otamendi again scored.
United had no choice but to up it and finally attack, but they didn't have all that much bar one fine chance set up by Anthony Martial.
The ball came to Lukaku, but this just wasn't one of those days when the ball fortunately goes in off his backside. It instead came off Ederson's face.
That was the only scare City had, although Ander Herrera was booked for a dive.
Everything otherwise ran so smoothly for the prospective champions, as that gap and this record run emphasise.
Two set-pieces and likely just game, set and match.

Join our new commenting forum
Join thought-provoking conversations, follow other Independent readers and see their replies